COVID-19 News: Study Finds The Presence of SARS-CoV-2 In Middle Ear Fluid - Implications For Otitis Media With Effusion In COVID-19 Patients
COVID-19 News
: The COVID-19 pandemic, caused by the severe acute respiratory syndrome coronavirus-2 (SARS-CoV-2), has swept across the globe, leaving healthcare professionals racing to understand its multifaceted impact on human health. Initially recognized for respiratory symptoms such as fever, cough, and shortness of breath, COVID-19 has revealed its enigmatic nature with various clinical presentations, including those related to the ear, nose, and throat as detailed in previous studies and
COVID-19 News
.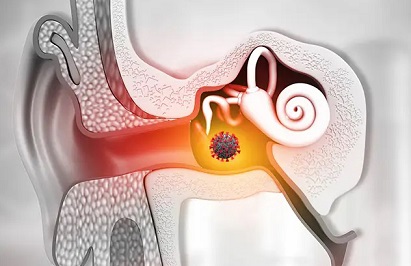 This new study delves into a fascinating aspect of COVID-19's clinical manifestations - its potential link to Otitis Media with Effusion (OME), a condition affecting the middle ear. Researchers from Peking Union Medical College Hospital, Chinese Academy of Medical Science and Peking Union Medical College in China conducted a case-control study to investigate whether SARS-CoV-2 is present in the middle ear fluid (MEF) of COVID-19 patients with OME.
The Emergence of OME in COVID-19 Patients
As the world grappled with the COVID-19 pandemic, reports began to surface regarding unusual ear-related symptoms in some patients. While the primary focus was on respiratory symptoms, an intriguing subset of patients presented with aural fullness and hearing loss, which were subsequently diagnosed as OME.
Otitis Media with Effusion, characterized by the accumulation of fluid in the middle ear without signs of acute infection, raised questions about a possible link between SARS-CoV-2 infection and ear-related issues. To shed light on this connection, the research team embarked on a pilot study to detect SARS-CoV-2 and other respiratory viruses in the middle ear fluid of COVID-19 patients with OME, as well as individuals with no history of SARS-CoV-2 infection.
The Study's Findings
The study yielded intriguing results that might reshape our understanding of COVID-19's impact on the middle ear. Of the COVID-19 group, 18 out of 27 MEF specimens tested positive for SARS-CoV-2, with varying levels of viral load represented by cycle thresholds. One patient in this group also tested positive for Human Rhinovirus (HRV). Conversely, in the control group, all 15 MEF specimens were negative for SARS-CoV-2, though two patients tested positive for HRV. These findings point to a remarkable presence of SARS-CoV-2 in the MEF of COVID-19 patients, even when nasopharyngeal swabs returned negative results, suggesting that the virus might persist longer in the middle ear than in the nasopharynx.
Low Rates of Viral Coinfection
One noteworthy observation from the study was the low rate of viral coinfections in the MEF of the COVID-19 group. Only one patient displayed a co-infection with HRV (Human Rhinivirus), accounting for just 2.4% of cases. Interestingly, HRV was also the sole respiratory virus detected in the MEF of the control group. This aligns with previous research indicating HRV's prevalence in MEF. These findings highlight the unique relationship between SARS-CoV-2 and OME, with a distinct viral presence in the middle ear.
Demographic and Clinical Considerations
< br /> The study analyzed various demographic and clinical factors among the COVID-19 and control groups. Surprisingly, there were no significant differences in age, gender, history of OME, or the severity of hearing loss between the two groups.
However, the duration of ear symptoms was notably shorter in the COVID-19 group, possibly due to heightened awareness of symptoms in these patients, leading to earlier medical intervention. Furthermore, the outcomes for patients with COVID-19-associated OME were generally favorable, with 92.6% reporting either complete resolution or improvement following treatment, administered over an average of 16.5 ± 6.7 days. Only two patients did not experience improvement and were considered for tympanic catheterization.
Implications for OME and COVID-19
As the COVID-19 pandemic evolved, so did our understanding of its clinical manifestations. While the outbreak in China had seemingly subsided within a few months after the re-opening in December 2022, sporadic cases continued to appear. Notably, ENT clinics continued to receive patients reporting OME symptoms after their second or third COVID-19 infections. This study thus offers valuable insights into the clinical characteristics and prognosis of COVID-19-associated OME, urging healthcare professionals to consider OME as a potential symptom of COVID-19 when diagnosing and treating patients.
Limitations and Future Research
While this study provides significant insights, it is essential to acknowledge its limitations. The relatively small sample size poses a constraint on the generalizability of the findings. Furthermore, severely ill COVID-19 patients, particularly those requiring mechanical ventilation, were not included in the study. Future research should consider exploring the long-term persistence of SARS-CoV-2 in the middle ear to provide a more comprehensive understanding of the virus's impact on OME.
Conclusion
In conclusion, this case-control study presents compelling evidence of the presence of SARS-CoV-2 in the middle ears of former COVID-19 patients diagnosed with OME. These findings suggest a potential causal relationship between SARS-CoV-2 infection and OME, expanding our understanding of COVID-19's diverse clinical manifestations. Clinicians should be vigilant in considering OME as a possible symptom of COVID-19, especially when dealing with patients presenting with hearing issues or aural fullness. As the pandemic continues to evolve, it is imperative that healthcare professionals remain attuned to emerging research and clinical insights to provide the best care for their patients. This study underscores the importance of a holistic approach to understanding the complex and evolving nature of COVID-19's impact on human health.
The study findings were published in the peer reviewed International Journal of Infectious Diseases.
https://www.sciencedirect.com/science/article/pii/S1201971223007099
For the latest
COVID-19 News
, keep on logging to Thailand Medical News.