UK Medical News: COVID-19 Infections In Britain Reach Highest Levels As British Government Halt Collation Of COVID Data. Imminent Catastrophe Coming!
UK Medical News
: COVID-19 cases in the United Kingdom have climbed to their highest levels since the beginning of the year, with an estimated 1.7 million people in private households likely to have had the virus in the week ending 13 March according to the last ONS (Office for National Statistics) COVID-19 infection survey report.
https://www.ons.gov.uk/peoplepopulationandcommunity/healthandsocialcare/conditionsanddiseases/articles/coronaviruscovid19/latestinsights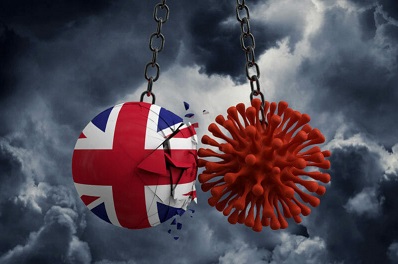 Zoe app COVID-19 statistic show that there were about 114,359 new symptomatic COVID-19 infections for the 24
th
of March 2023.
https://health-study.joinzoe.com/data
COVID-19 Hospitalizations in the UK are also rising according to some online reports.
https://mobile.twitter.com/LawrenceGilder/status/1638973057615163400
COVID-19 weekly average death rates according to official figures comes hover between 550 the last few weeks to about 600 in the last week.
https://www.ons.gov.uk/peoplepopulationandcommunity/healthandsocialcare/conditionsanddiseases/articles/coronaviruscovid19latestinsights/deaths
Due to dubious methods of data collation imposed by the British public health authorities, COVID-19 death rates and excess death rates are speculated to be much higher in the rate of 6 to 7-fold!
Various XBB sub-lineages are behind the new onslaught in the United Kingdom including the XBB.1.9.1 and EG.1 (XBB.1.9.2.1)
https://cov-spectrum.org/explore/United%20Kingdom/AllSamples/Past6M
The situation according to some are expected to worsen in coming weeks in the United Kingdom and also in many parts of Europe!
https://mobile.twitter.com/edwinhayward/status/1639427891665719296
While COVID-19 Infections are rising in the country, the British government has decided to axe the Office for National Statistics (ONS) survey which provides official estimates of UK infections due to costing issues.
The British government is instead using massive amounts of British tax payers' monies decorating up London for the Muslim Ramadan festive month, trying to portray the United Kingdom as some sort of Muslim state in Europe!
https://www.arabnews.com/node/2272911/world
https://gulfnews.com/photos/news/photos-london-lights-up-with-first-ever-ramadan-decorations-1.1679481179779
.alarabiya.net/News/world/2023/03/22/London-s-Piccadilly-lights-up-with-Ramadan-decorations-for-first-time-ever">https://english.alarabiya.net/News/world/2023/03/22/London-s-Piccadilly-lights-up-with-Ramadan-decorations-for-first-time-ever
https://www.kalerkantho.com/english/online/international/2023/03/20/50926
The British royal mint has even come up with gold bar with the Kaaba design on it.
https://www.arabnews.com/node/2269091/world
It seems that the current British government is trying to attract more Muslims to the country and is spending more monies on welfare for the Muslims while the ONS survey, deemed "the envy of the world" for its success in tracking the virus, has been halted, with the UK Health Security Agency stating that further monitoring of the virus will be announced after a review to ensure cost-effectiveness.
The survey has provided valuable weekly data on virus levels, antibody levels, and long COVID, allowing successive waves and new variants to be identified and tracked.
Oxford University virologist Professor Aris Katzourakis called the decision "incomprehensible" and warned that the UK could be "fighting blind" against COVID in the absence of regular updates. He believes this is a disservice to public health and scientific advancement, as people will now have to rely on secondary analysis, such as that provided by the COVID ZOE app, to monitor developments.
According to latest
UK Medical News
updates, in England, the estimated percentage of individuals testing positive for COVID increased in the North West, East Midlands, and South East. The figure also increased among children aged two to 15/16 years old and those aged 50 and over, with uncertain trends in the remaining age groups.
Thomas House, professor of mathematical statistics at Manchester University and one of the academic collaborators on the survey, acknowledged the survey's high cost but expressed disappointment at its termination. He suggested that the survey could have been scaled down instead of being stopped entirely, as the long-term prevalence of COVID and the potential challenges of the upcoming winter remain unknown.
Interestingly, a Muslim in Britain, Professor Majeed Azeem, head of public health at Imperial College London commented that the ONS survey cost was high and also argued that it is time to treat COVID like other infections. He emphasized that the National Health Service (NHS) and public spending are under pressure and that funds allocated to the survey could be spent elsewhere. (Ramadan decorations and festivities I guess!)
Despite its value to public health, active surveillance, such as the ONS survey, is expensive and not routinely performed outside of an active health emergency. Mark Woolhouse, professor of infectious disease epidemiology at Edinburgh University, stressed the importance of maintaining the capacity to perform such surveys when needed.
In the absence of official estimates, hospital admissions and death registrations will be among the few remaining sources of data to provide insight into the prevalence of the virus but even that is being manipulated by reporting strategies imposed by the Tories.
As COVID-19 cases continue to rise in the UK, the lack of official infection estimates places greater importance on alternative methods for monitoring the virus's spread. Many experts warn that the ONS survey's cancellation could leave the UK "fighting blind" against COVID.
Professor Katzourakis suggested that the increase in cases could be due to waning immunity or a variant-driven wave. However, without official variant data, determining the cause remains unclear. The termination of the ONS survey leaves the UK with limited tools to assess the potential impact of new variants or other unforeseen developments in the pandemic.
Michelle Bowen, ONS head of health surveillance dissemination, stated that while infections are rising in England, the trend remains uncertain across the rest of the UK. She noted that positivity increased in children and those aged 50 and over, with infections also increasing in the North West, East Midlands, and South East of England. However, the trend in other regions remains uncertain.
Sir David Spiegelhalter, emeritus professor of statistics at Cambridge University and chairman of the advisory board for the survey, praised the survey as an "extraordinary achievement" that provided "vital evidence of great value both to national policy and international scientific understanding." He acknowledged the survey's high cost but emphasized that the participant group is not being disbanded, and the survey could ramp up when necessary.
As the UK moves towards living with COVID, a policy peddled by those controlling to COVID-19 narratives, more people are expected to die and millions more expected to live with debilitating conditions due to Long COVID. We can expect to see excess death rates shoot up exponentially. The Brits deserve what they facing as it was they who voted in this filthy government and also brough various 'Pakis' and Muslims into power!
For the latest
UK Medical News
, keep on logging to Thailand Medical News.