BREAKING Thailand News! SARS-CoV-2 BA.2.86 Variant Detected In Waste Water Samples In Thailand According To Local Expert
Thailand News
: A local leading doctor who specializes in infectious diseases and is involved with waste water monitoring in Thailand has confirmed that the SARS-CoV-2 BA.2.86 has been detected in waste water samples in Thailand.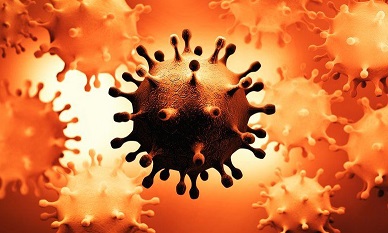 Dr Dhammika Leshan Wannigama who is involved in waste water monitoring reported in his twitter account as of 12 hours ago confirming the detection of the BA.2.86 variant in waste water samples in Thailand.
https://twitter.com/dr_leshan/status/1694368402624893045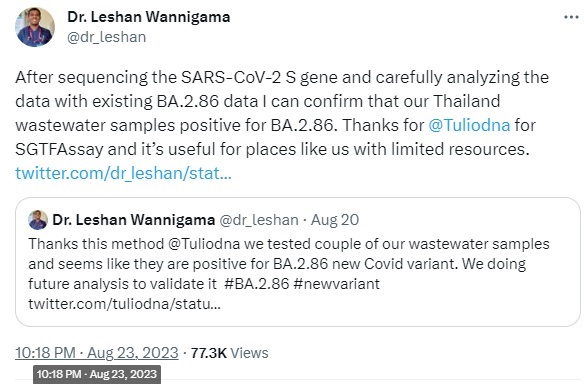 There was however no indication of where the waster water samples were from in the country and whether it was just Bangkok or whether other provinces were involved as well.
This discovery if validated, will make Thailand the seventh country where the worrisome BA.2.86 variant has been discovered so far. To date, the BA.2.86 variant has been found in Israel, Denmark, United States, United Kingdom, South Africa and Switzerland.
https://github.com/sars-cov-2-variants/lineage-proposals/issues/606#issuecomment-1690168744
The discovery of BA.2.86 in South Africa and Switzerland was made in the last 36 hours.
https://www.thailandmedical.news/news/covid-19-news-spain-witnessing-a-surge-in-covid-19-hospitalizations
https://www.thailandmedical.news/news/breaking-covid-19-news-two-genomic-sequences-of-ba-2-86-detected-in-south-africa-total-number-of-ba-2-86-cases-stands-at-9-across-5-countries
The extremely low levels of genomic sequencing being conducted by countries across the world, with some no longer even doing any genomic surveilance....is making it very difficult for scientists, virologists and variant hunters to actually monitor the current evolution of the SARS-CoV-2 virus and the sub-lineages and mutations that it is currently spawning. It is believed that the number of cases of BA.2.86 discovered so far is just the tip of an iceberg. Furthermore, it is widely accepted now that many more new worrisome SARS-CoV-2 variants and sub-lineages are out there but have yet to have been discovered or identified yet!
Although the BA.2.86 variant carries over 30 mutations on it and is highly divergent from the Omicron variant, there are no evidence or data at the moment that it drives disease severity.
In terms of the possible long term health issues that it can cause or details about its pathogenesis, there are data on those issues as well.
The U.S. CDC has however in the last few hours published a risk assessment about the BA.2.86 variant.
https://www.cdc.gov/respir atory-viruses/whats-new/covid-19-variant.html
The U.S. CDC report was vague as they themselves admitted that there are many unknowns at the moment but they did claim that current U.S.FDA therapeutics such as Paxlovid, Veklury, and Lagevrio are still effective to treat infections with the BA.2.86. (We cannot ascertain at the moment how much of this is true considering the track record of the U.S. CDC and the U.S. FDA!)
Around the world, many countries are at the moment experiencing a surge in COVID-19 cases lead by the more transmissible and immune evasive EG.5.1 variant and its various spawns. However, many governments and health authorities are either downplaying these surges or are concealing the actual COVID-19 statistics and excess death rates. Mainstream media and American social media platforms and search engines have also been recruited by various entities to assist governments in downplaying the COVID-19 impact.
Thailand is no different from many from any other countries. A recent report about excess death rates in Thailand showed alarming data but no politicians in the country were concerned about it and no mainstream media or
Thailand News
outlets bothered to take up the issue.
https://www.thailandmedical.news/news/thailand-medical-experts-and-authorities-should-answer-as-to-why-excess-deaths-in-the-country-have-been-rising-at-worrisome-rates-since-2021
Meanwhile, many private hospitals across Thailand are reporting a slight increase in COVID-19 cases but there are not much of cases of ICU admissions for COVID-19.
The Thai public should not panic over the discovery of the BA.2.86 variant in Thailand but rather they should continue with masking and taking proper COVID-19 measures irrespective of what others might tell. It is also important that schools, offices, malls and even residential buildings install more air-filtration and air-disinfecting devices and also ensure that all COVID-19 preventive measures are once again adopted.
For the latest
Thailand News
, keep on logging to Thailand Medical News.