COVID-19 News: There Is No Scientific Evidence That Nattokinase 'Clears' SARS-CoV-2 Spike Proteins In the Vaccinated or Infected!
COVID-19 News
: For a while now there has been many charlatans and dubious groups online promoting nattokinase as a product that can help clear the toxic SARS-CoV-2 spike proteins in the vaccinated or in those that are infected. There is no real scientific studies that can prove this neither has there has been any clinical trials ever conducted to back these dubious claims.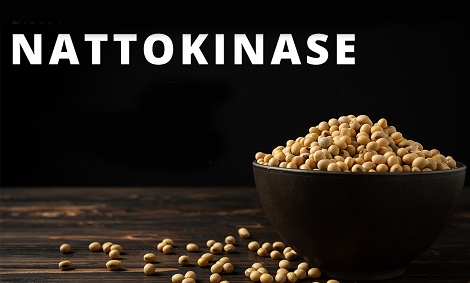 There were a number of in vitro studies especially by Japanese researchers with links to companies selling nattokinase products and supplements that demonstrated that nattokinase could degrade the spike proteins but readers have to be aware that in vitro studies are very misleading as I have mentioned in the past….even ur saliva, urine, saine water ..literally anything can be made to show that it inhibits or degrades the SARS-CoV-2 virus or its proteins with other factors at play ie temperature, humidity, pH, electromagnetic fields, electrostatic currents, time etc!
While these vitro studies suggesting that nattokinase may have the ability to break down the spike protein of SARS-CoV-2, there is currently no evidence to suggest that it is effective in removing SARS-CoV-2 spike proteins in human beings.
Nattokinase is a type of enzyme that is derived from a traditional Japanese food called natto, which is made from fermented soybeans. It has been shown to have a number of potential health benefits, including the ability to improve blood flow and reduce blood clotting. (Note again, because the mechanism of blood clotting in SARS-CoV-2 is different from other normal medical scenarios, nattokinase is also not effective in preventing or treating clots issues in the COVID-19 context!)
Initial claims that nattokinase could be used to clear spike proteins introduced into the human body started appearing online by some non-medically trained 'experts' online after two studies by Japanese researchers were published online.
One was published in the journal: Biochemical and Biosphysical Communications in September 2021.
https://www.sciencedirect.com/science/article/pii/S0006291X21010718
Another published in the Journal: Molecules in July 2022.
https://www.mdpi.com/1420-3049/27/17/5405
A number of earlier studies by Japanese researchers between June 2020 to April 2021 that claimed that nattaokinase was effective to treat or prevent COVID-19 were retracted!
While these in vitro studies suggest that nattokinase may have some potential in combating SARS-CoV-2, it is important to note that they were conducted in a laboratory setting and did not take into account the complex environment of the human body. Moreover, these studies did not involve human subjects, and it is unclear whether the findings would be applicable in vivo.
Sales of nattokinase products have soared in the last 18 months and many are consuming it under the fallacy that nattokinase is going to rid their bodies of all the toxic SARS-CoV-2 spike proteins!
Many other Japanese studies and
COVID-19 News< /span>
articles have also made claims about nattokinase and its ability to prevent SARS-CoV-2 but to date, despite nattokinase being a very staple component in the Japanese diet, millions of Japanese still contracted the SARS-Cov-2 virus in the last few surges and onslaughts and many have also died!
The Hong Kong Baptist University has also put-up fact check warning people that there is no evidence that nattokinase works in the human body against the SARS-CoV-2.
https://factcheck.hkbu.edu.hk/home/en/fc_report_eng/natto_alpha_variant/
Even if nattokinase were effective in degrading spike proteins, this would not necessarily translate into an effective treatment for COVID-19. COVID-19 is a complex disease that involves a number of different factors, and it is unlikely that a single treatment would be able to effectively combat all aspects of the disease. Plus there are so many potential reservoirs for the SARS-CoV-2 virus and its proteins in the various 'compartments' of the human body and nattokinase which is easily broken down by the stomach acids are unlikely to make it to the deep tissues in the human body even in encapsulated forms!
Furthermore, there are concerns about the safety and efficacy of nattokinase. While nattokinase has been shown to have potential health benefits, including the ability to improve blood flow and reduce blood clotting, it can also have side effects such as bleeding and allergic reactions.
As the world continues to grapple with the COVID-19 pandemic, it is important to rely on scientifically proven treatments and to avoid putting too much faith in unproven remedies. Researchers are continuing to investigate potential treatments for COVID-19, and it is important to support their efforts by participating in clinical trials and following public health guidelines to prevent the spread of the virus.
For the latest
COVID-19 News
, keep on logging to Thailand Medical News.