Spanish Study Reveals Alarming Risks of Maternal Death and Preeclampsia In Pregnant Women Infected With COVID-19
This is our 6th installment of a series of 25 articles as to why couples should refrain from conceiving while the COVID-19 crisis I still ongoing. Links to previous articles can be found below.
COVID-19-Pregnancy
: A recent study conducted in Spain has shed light on the heightened risks faced by pregnant women infected with COVID-19. The research has uncovered a significantly higher likelihood of maternal death, preeclampsia (PE), ICU admission, preterm delivery, and stillbirth among expectant mothers who contract the virus. These findings have sparked a deeper exploration into the mechanisms behind this correlation and the potential implications for maternal health and
COVID-19-Pregnancy
issues and risks.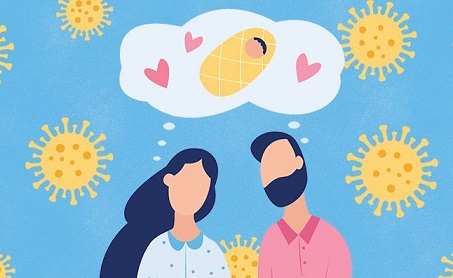 Unraveling the Link between COVID-19 and Preeclampsia
The study reveals a strong association between COVID-19 and preeclampsia, particularly in severe cases. Several mechanisms have been identified as potential contributors to this link, including the direct impact of the virus on trophoblast function and arterial walls, an exaggerated inflammatory response in pregnant women, local inflammation leading to placental ischemia, SARS-CoV-2-related myocardial injury, cytokine storms, and thrombotic microangiopathy.
Understanding the Similarities
COVID-19 and preeclampsia share striking similarities in their clinical manifestations. Pregnant women infected with the virus often exhibit symptoms that mirror those seen in preeclampsia, emphasizing the need to examine these conditions collectively to enhance our understanding of preeclampsia. By doing so, we can uncover valuable insights into the potential for COVID-19-induced myocardial injury and its connection to increased maternal mortality rates.
Pregnancy and Viral Infections
Pregnancy inherently makes women more susceptible to complications from respiratory infections, as evidenced by previous outbreaks such as SARS and Middle East respiratory syndrome. The physiological and immunological changes during pregnancy create a vulnerable state, leading to a higher risk of severe respiratory illnesses. Studies have consistently shown an elevated risk of maternal morbidity and mortality when pregnant women contract respiratory viral infections like influenza.
The Role of Inflammation
Both COVID-19 and preeclampsia are characterized by an associated proinflammatory state known as a cytokine storm, which acts as a risk factor for severe disease progression. The elevated levels of proinflammatory enzymes and cytokines observed in both conditions contribute to adverse outcomes, including preterm birth, intrauterine growth retardation, and increased maternal morbidity.
Thrombotic Microangiopathy and Coagulopathy
Thrombotic microangiopathy (TMA) plays a significant role in both COVID-19 and preeclampsia. The virus-induced coagulopathy seen in COVID-19 patients, combined with the hypercoagulable state of pregna ncy, increases the risk of maternal thrombotic complications. Furthermore, viral infections have been linked to TMA, and the direct endothelial damage caused by the virus may contribute to its development.
The Imbalance of Angiogenic Factors
COVID-19 impacts the secretion of cytokines and growth factors, including those involved in placental dysfunction. Imbalances between pro-angiogenic and anti-angiogenic factors have been observed in both COVID-19 and preeclampsia, resulting in disrupted placental function and vascular malperfusion. The use of angiogenic markers, such as sFlt-1 and PlGF ratios, has shown promise in differentiating preeclampsia in relation to COVID-19.
Maternal Cardiovascular Dysfunction
The involvement of the cardiovascular system is evident in both severe COVID-19 disease and preeclampsia. Pregnant women infected with COVID-19 are at a higher risk of developing myocardial injury, left ventricular dysfunction, and cardiac complications. This dysfunction, combined with acquired uteroplacental malperfusion and ischemia, may contribute to the development of preeclampsia in infected pregnant women.
Conclusion
The Spanish study highlights the alarming risks faced by pregnant women infected with COVID-19, including an increased likelihood of maternal death and preeclampsia. The similarities observed between COVID-19 and preeclampsia underscore the need for further research into their shared pathophysiological mechanisms. By understanding these connections, healthcare professionals can provide better care for pregnant women, minimize adverse outcomes, and develop targeted therapeutic interventions. Vaccination against COVID-19 is crucial in reducing the severity of the disease, especially among pregnant women. Ongoing research is needed to assess the impact of new variants on the health of mothers and infants and to monitor the long-term consequences of COVID-19-associated preeclampsia.
The study findings were published in the peer reviewed journal: Viruses
https://www.mdpi.com/1999-4915/15/7/1564
For more about
COVID-19-Pregnancy
, keep on logging to Thailand Medical News.
Read Also:
https://twitter.com/THAILANDMEDICA1/status/1673196956670398464
https://www.thailandmedical.news/news/breaking-news-covid-19-exposure-during-pregnancy-leads-to-epigenetic-changes-in-newborns,-paving-the-way-for-health-issues-later-in-life
https://twitter.com/THAILANDMEDICA1/status/1675106265750700032
https://www.thailandmedical.news/news/breaking-news-covid-19-infection-in-pregnant-women-alters-microbiota-composition-passed-onto-infants,-impacting-their-long-term-health
https://twitter.com/THAILANDMEDICA1/status/1675352015646633985
https://www.thailandmedical.news/news/breaking-news-offspring-of-pregnant-women-with-covid-19-will-likely-have-altered-brain-developments-especially-males
https://twitter.com/THAILANDMEDICA1/status/1675753463488348160
https://www.thailandmedical.news/news/breaking-news-covid-19-infections-during-pregnancy-alters-expression-of-important-pregnancy-genes-that-can-give-rise-to-complications
https://twitter.com/THAILANDMEDICA1/status/1675919608283545600
https://www.thailandmedical.news/news/covid-19-infection-during-pregnancy-increases-risk-of-adverse-maternal,-fetal,-and-newborn-outcomes-and-increases-risk-of-death
https://twitter.com/THAILANDMEDICA1/status/1677159324064567298