Latest COVID-19 News: SARS-CoV-2 Resurgence Sweeps Across Europe - Greece, Spain And Italy Report Alarming Increase In Infections
COVID-19 News
: As the world breathes a collective sigh of relief with the declaration of the COVID-19 pandemic's end, a startling resurgence of the virus is sweeping through Europe, with Greece, Spain, and Italy grappling with a surge in infections. This unexpected turn of events is serving as a stark reminder that the battle against the virus is far from over.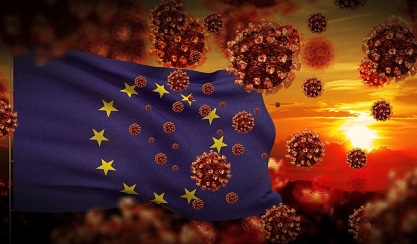 Greece Faces Mounting COVID Load
In Greece, the ominous signs of a COVID-19 resurgence are undeniable. Recent tests on urban wastewater have revealed a troubling increase in the presence of the virus responsible for COVID-19.
The National Organization for Public Health (EODY) issued a weekly bulletin stating that nine out of the ten regions under surveillance across the country displayed a rise in SARS-CoV-2 load during the July 31 to August 6 period. This marked a significant escalation compared to the previous week, which had seen only eight regions affected.
Furthermore, the surge has extended beyond wastewater samples, as hospital admissions for COVID-19 patients have witnessed a substantial increase. The past week alone saw 468 hospital admissions, compared to the prior period's 321, indicating a worrisome 78% spike. Tragically, 22 lives were claimed by the virus during this period, a minor decline from the preceding week's toll of 24.
https://www.ekathimerini.com/news/1217501/covid-load-spreads-across-greece/
Spain's Alarming COVID-19 Comeback
Spain, too, is grappling with an alarming resurgence of COVID-19 cases. Despite the official declaration of the pandemic's conclusion, Spain has experienced a staggering 36% rise in the number of coronavirus infections. This resurgence has been attributed to increased social interactions during the summer vacation season, leading to heightened transmission rates. Acute respiratory infection surveillance services have reported that the virus is morphing into a summertime respiratory infection.
Microbiologist María del Mar Tomás emphasized the impact of increased social gatherings during vacation periods, resulting in more diagnoses and a surge in overall incidence rates. Notably, the primary care sector has seen the most significant uptick in infections, particularly in children under 5 years of age.
While health authorities remain optimistic due to the predominance of Omicron sublineages - generally causing mild or asymptomatic cases - concerns have been raised about a new variant called eg.5 or Eris. This strain is a descendant of Omicron and is known to spread more easily. Microbiologists and healthcare professionals urge vulnerable individuals to exercise caution, suggesting mask-wearing and social distancing.
Local Spanish
COVID-19 News
coverages reported that during the last week of July, coronavirus tests detected 75 infections per 100,000 inhabitants (the incidence rate) in Primary Care facilities, which was an increase on the 55 cases reported the previous week. By age group, the highest incidence so far this summer has been in children under 5 years of a ge (119.5 cases per 100,000 people).
https://murciatoday.com/covid-comeback-infections-skyrocket-in-spain-this-summer_2213767-a.html
Latest updates for this week are however showing that the rate of COVID-19 in primary care stood at 88 cases per 100,000, up from 76 in the previous week. The rate in children under five years of age is 180.3 cases per 100,000!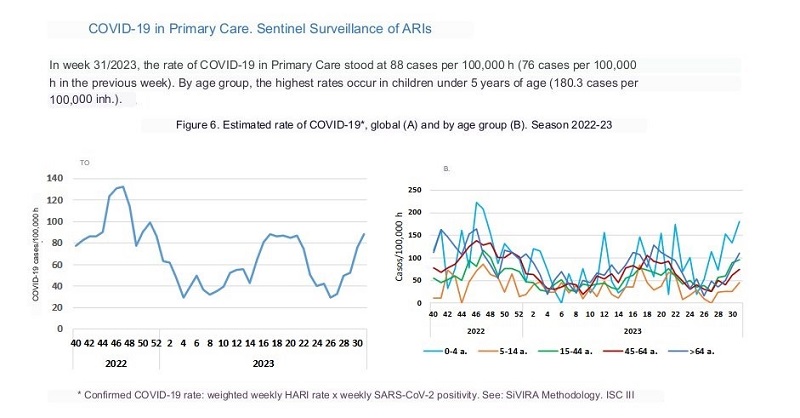 Italy Battles COVID-19 Resurgence
Italy, a nation that has experienced the ebb and flow of COVID-19 over the past months, is grappling with a recent resurgence of infections and deaths. In the week spanning August 4 to 10, a staggering 6,056 new cases were reported, shattering the trend of decreasing infections observed in recent months.
This rise signifies a notable shift and mirrors an alarming recovery in cases, particularly when compared to the approximately 5,700 cases reported the previous week.
The decrease in the number of swabs conducted suggests a potentially larger number of undetected cases, driving the positivity rate to a concerning 5.2%. Additionally, the week saw an unfortunate uptick in COVID-19-related deaths, with 65 reported, compared to 41 in the prior week.
Despite the resurgence, there is some respite in the realm of hospitalizations. An increase in COVID-19-related hospitalizations was primarily noted in regular wards, with intensive care unit numbers remaining stable. This disparity suggests that while the overall number of hospitalizations is rising, severe cases requiring intensive care are relatively limited.
https://news.italy24.press/covid-19/769942.html
Vaccination Efforts Continue In Italy
Italy continues its vaccination drive in the face of this resurgence. As of August 11, a staggering 145,117,553 doses of COVID-19 vaccines have been administered, with over 90.25% of the population over the age of 12 completing the vaccination cycle. Additionally, a booster vaccination campaign has been initiated, with 6,728,146 individuals receiving their second booster dose, aiming to bolster immunity levels against emerging variants.
Europe Expected To Have Bad Late Autumn And Winter 2024 Is Expected To Be Bad!
At present, COVID-19 surges are being witnessed also in countries like Belgium, France, Germany, United Kingdom, Denmark, Sweden, Finland, Austria etc.
In the midst of these concerning developments, health authorities across Europe are closely monitoring the situation and adapting their strategies accordingly. As the battle against COVID-19 continues, the importance of vaccination, preventive measures, and public cooperation remains paramount in ensuring the safety and well-being of all citizens.
The resurgence of COVID-19 in Greece, Spain, and Italy serves as a stark reminder that the virus remains a formidable adversary, capable of staging a comeback even as progress is made. While the road ahead may be challenging, the collective determination to overcome this threat is unwavering, and the lessons learned from previous waves of the pandemic are guiding efforts to mitigate the impact of this new surge.
Projections by experts and modelling platforms are already indicating that with the new SARS-CoV-2 sub-lineages still evolving towards increased transmissibility, increased immune evasiveness and also increasing pathogenicity, the coming Autumn and Winter of 2024 will likely be a bad season for the whole of Europe in terms of COVID-19 and also other respiratory infections.
For the latest
COVID-19 News
, keep on logging to Thailand Medical News.