WARNING! Numerous Studies Are Showing That Mild Symptomatic SARS-CoV-2 Infections Can Lead To A Variety Of Cardiac Issues, Some With Fatal Outcomes!
Despite numerous warnings and even media coverage of studies regarding the long-term effects of COVID-19 on heart health, many people are still either not taking precautions to not get infected with the virus or to go for regular heart screenings after a SARS-CoV-2 infection even if it mild.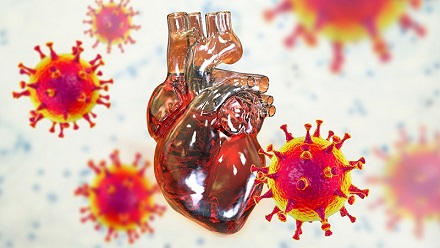 Considering that excess deaths related to COVID-19 involving heart failures is rising exponentially in many countries across the world, people should start to get serious and start taking care of themselves and continue to monitor their heart health.
Thailand
Medical News
warns that the incidences of heart failures are going to increase exponentially especially with the coming surges involving the newer emerging variants that are more 'aggressive' in pathogenesis involving the brain, heart, kidneys, liver, gastrointestinal tracts and the vascular system besides the lungs. Re-infections and Co-infections will also increase the vulnerability of the human host and its organs and tissues.
Cardiac inflammation after mild COVID-19 in previously healthy individuals is just one of these emerging heart conditions.
Past research has recognized several post-acute-COVID-19 outcomes, such as lingering cardiac symptoms involving tachycardia, exercise intolerance, and chest pain.
Though it has been found that many patients with severe disease, pre-existing conditions, and cardiac injury commonly show cardiac symptoms, in many instances, individuals with mild COVID-19 also showed rare signs of cardiac damage, wherein the cardiac symptoms were profound.
Furthermore, subtle non-ischemic cardiac inflammatory changes have been observed previously in populations comprising young athletic individuals following COVID-19 infections. However, whether these early signs are related to cardiac symptoms or persist with time is unclear.
One study conducted by researchers from the University Hospital Frankfurt-Germany published in the peer reviewed journal: Nature Medicine showed persistent cardiac inflammation in individuals who had previously experienced mild symptomatic SARS-CoV-2 infections.
https://www.nature.com/articles/s41591-022-02002-y
The study involved individuals with no heart disease and who experienced mild, acute COVID-19 illness. They underwent serial blood tests and had to answer standardized symptom questionnaires. The baseline assessments were carried out after four weeks of COVID-19 diagnosis, while follow-ups were carried out for at least four months. Detection of subtle changes in strain and function was done using sensitive MRI measurements.
Detailed tissue mapping was used to assess diffuse myocardial infarction where T1 mapping measured abnormal myocardium and T2 mapping measured inflammatory myocardial edema. The presence of extracellular space and pericardial fluid within the pericardium and myocardium was also evaluated.
The study findings showed that 73% of the participants showed cardiac symptoms at baseline, while 57% continued to experience the symptoms at follow-up. Signs of inflammatory cardiac involvement were observed that persevered for many months post-acute COVID-19 and were more prominent in p articipants with symptoms than those without symptoms.
These changes however were not observed to be associated with increased biomarkers or structural heart disease. At follow-up, T2 was reported to be higher for participants with persistent cardiac symptoms. Moreover, abnormal myocardial measurements and female sex were indicative of persistent symptoms at follow-up.
The study findings confirmed that cardiac symptoms as an important risk factor for post-acute COVID-19 in people with mild COVID-19. These symptoms can be due to cardiac inflammation, leading to poor prognosis and heart failure. However, further research must be done to accurately predict the cause and impact of such symptoms and interventions for preventing them.
Another study by researchers from VA St. Louis Health Care System, Missouri-USA and Washington University School of Medicine, Missouri-USA found even those with mild disease appear to be at a higher risk of heart problems one year after COVID-19 infection. These study findings were also published in the journal: Nature Medicine.
https://www.nature.com/articles/s41591-022-01689-3
The study team crunched the numbers on heart and other cardiovascular issues during the first year after infection among 153,760 COVID patients from the national health care databases of the VA. They then compared these patients with two control groups: a contemporary cohort who never became infected and a historical group from before the pandemic.
It was found that overall, the risk of any heart complication over the course of one year was 63 percent higher in individuals who had gotten COVID compared with those in the contemporary control group.
Shockingly, at the end of a year, there were 45 additional cardiovascular events such as stroke or heart failure per 1,000 people among those who tested positive for COVID. The comparison with historical data yielded similar results: the risk of cardiovascular problems in the group that had COVID was 58 percent higher than what was seen in the pre-pandemic control group.
Interestingly, when the study team looked at individuals with mild COVID specifically, they found that this group had a 39 percent higher risk of developing heart problems, compared with the contemporary control group, or 28 additional cardiovascular problems per 1,000 people in 12 months.
When compared with those who were not infected, patients with mild disease had more than three times the risk of myocarditis, an inflammation of the heart muscle, and twice the risk of pulmonary embolism, a blood clot that ends up in a lung artery and blocks blood flow.
Mild cases comprise the vast majority of COVID infections and within the study's population, 85 percent of those diagnosed with the disease were not hospitalized. That's what makes this likely a serious public health problem!
Another smaller retrospective study by researchers from Oregon Health & Science University, Portland, OR, described in a preprint paper also found that COVID patients, including asymptomatic ones, had an increased risk of cardiovascular problems six months after infection.
https://www.medrxiv.org/content/10.1101/2021.12.27.21268448v1
The study population included 1355 patients (mean age 48.7±20.5 y; 770(57%) female, 977(72%) white non-Hispanic; 1072(79%) insured; 563(42%) with cardiovascular disease (CVD) history). During a median 6 months at risk, the primary composite outcome was observed in 38/319 (12%) COVID-19(+) and 65/1036 (6%) COVID-19(-) patients (p=0.001). In Cox regression adjusted for demographics, health insurance, and reason for COVID-19 testing, SARS-CoV-2 infection was associated with the risk of the primary composite outcome (HR 1.71; 95%CI 1.06-2.78; p=0.029). Inverse-probability-weighted estimation, conditioned for 31 covariates, showed that for every COVID-19(+) patient, the average time to all-cause death was 65.5 days less than when all these patients were COVID-19(-): average treatment effect on the treated -65.5 (95%CI -125.4 to -5.61) days; p=0.032.
The study findings concluded that either mild or moderate or severe symptomatic or asymptomatic SARS-CoV-2 infection is associated with increased risk of late cardiovascular outcomes and has causal effect on all-cause mortality in a late post-COVID-19 period.
A study by researchers from Masonic Medical Research Institute in Utica, New York showed that the SARS-CoV-2 spike protein was responsible for causing damage to the heart muscles. That study findings also had implications not only for those that were exposed to the virus and had either asymptomatic or mild symptomatic infections but also to all those who received the various COVID-19 jabs!
https://newsroom.heart.org/news/coronavirus-spike-protein-activated-natural-immune-response-damaged-heart-muscle-cells
A meta study showed the various types of cardiac issues that ca arise in Post COVID individuals irrespective of disease severity.
https://www.uptodate.com/contents/covid-19-cardiac-manifestations-in-adults
There are many more studies that show the possible cardiac outcomes after a mild symptomatic COVID-19 infection, but the key message is that people should understand that it is best to avoid getting infected by the virus and even when one does get exposed to the virus, then proper monitoring and regular heart health screenings are a must along with taking the necessary precautions to not trigger any potential issues as a result of having a damaged or dysfunctional heart as a result of the virus.
For more on
Mild COVID And Heart Issues
, keep on logging to Thailand
Medical News
.
Read Also:
https://www.thailandmedical.news/news/breaking-university-of-queensland-study-discovers-that-sars-cov-2-actually-attacks-the-dna-of-heart-cells
https://www.thailandmedical.news/news/houston-study-shows-that-sars-cov-2-infections-results-in-decreased-myocardial-blood-flow,-affecting-cardiovascular-health-in-many-with-long-covid
https://www.thailandmedical.news/news/breaking-u-s-cdc-reports-high-incidences-of-kidney-failure,-clots,-diabetes-and-heart-issues-in-post-covid-children-and-teenagers
https://www.thailandmedical.news/news/breaking-university-of-maryland-study-shockingly-finds-that-sars-cov-2-nsp6-proteins-can-induce-morphological-and-functional-defects-in-the-heart
https://www.thailandmedical.news/news/breaking-sars-cov-2-impairs-lipid-metabolic-and-autophagic-pathways,-causing-damage-to-heart,-liver-and-kidneys-the-phytochemical-trigonelline-helps
https://www.thailandmedical.news/news/breaking-new-york-study-finds-that-sars-cov-2-virus-damages-heart-pacemaker-cells-and-causes-arrhythmias
https://www.thailandmedical.news/news/breaking-sars-cov-2-replicase-polyprotein-1a-1ab-kialkggk-could-be-mimicking-human-cardiac-protein-myh6-resulting-in-cardiac-injury
https://www.thailandmedical.news/news/finally-an-american-study-that-confirms-what-we-have-been-saying-all-this-time-covid-19-is-contributing-to-excess-deaths-from-heart-issues
https://www.thailandmedical.news/news/european-society-of-cardiology-warns-that-covid-19-affects-heart-in-many-ways--fatalities-and-excess-deaths-due-to-covid-19-induced-heart-issues-risin
https://www.thailandmedical.news/news/breaking-swedish-study-shows-that-covid-19-is-now-a-key-driver-for-heart-attacks-and-strokes
https://www.thailandmedical.news/news/alarming-study-findings-shows-that-sars-cov-2-disrupts-heart-muscle-contraction,-often-leading-to-heart-failure
https://www.thailandmedical.news/news/warning-two-new-studies-find-that-all-exposed-to-sars-cov-2-are-at-high-risk-of-developing-heart-issues-up-to-a-year-or-longer-after-infection