China Faces A Miserable Lunar New Year And A Possible Failed Winter Olympics As Major Cities Are Battling New COVID-19 Surges
China COVID-19 News
: Though China only reported officially 165 new COVID-19 infections and no deaths in the last 24 hours, local doctors and health authorities from major cities on conditions of anonymity are saying than the realistic figures could be at least 4,000 new COVID-19 cases and more than 75 COVID-19 related deaths in the last 24 hours.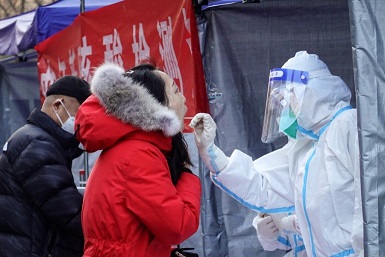 China has a notorious reputation for concealing the real figures and never telling the truth and also is famous for stringent censorships and suppression of information. Especially in the run up to the Winter Olympics which many countries are already boycotting except those whose disgraceful leaders and athletics have no disregard for human values, China is trying hard to project a image that it has the COVID-19 crisis in its country under control.
Although China's total reported cases are far lower than other virus hotspots such as the United States and Europe, there is widespread concern about the impact of Omicron.
The fast-spreading Omicron variant emergence is yet another test of China's zero COVID strategy, with authorities already battling several outbreaks in numerous cities including in Xi'an, where 13 million city residents were in their third week of lockdown.
Worries grew about a cluster of infections in the northern city of Tianjin, which was linked to two Omicron cases reported Monday in the city of Anyang around 400 kilometers (250 miles) away.
The surges in various cities are emerging just weeks before Beijing hosts the Winter Olympics and the coming Chinese New Year festivities, during which millions of people travel across the country.
Xi'an
The ancient city of 13 million people is in its third week of lockdown as it races to stamp out a 2,000-case outbreak, one of the largest within China for months.
Locals may not leave their homes or drive cars around the city under new rules which built on existing business shutdowns and a ban on travel out of a city famed for its Terracotta Warriors.
The city health and government officials have come under fire for their handling of a lockdown that has included supply issues and medical tragedies.
Last week, a top health official made a public apology over the miscarriage of an eight-month pregnant woman, after a viral video of her being refused entry to a hospital without a COVID test prompted outrage on social media.
Government officials also admitted they were struggling to ensure households had enough food although that problem appears to have eased in recent days.
Tianjin
In the northern port city of Tianjin, fears are growing about a cluster of infections, where at least two cases involve the fast-spreading Omicron variant of the SARS-CoV-2 coronavirus.
Health authorities on yesterday ordered people not to leave the city "unless essential" and barred all departures without official permission, a move that has been a precursor to lockdowns in other cities.
Malls, offices, schools and university campuses have been closed, and officials are testing all 14 million residents.
Although small, the Tianjin outbreak is noteworthy because of the city 9;s proximity to Beijing just 150 kilometres (90 miles) away.
Trains from Tianjin to the capital have been cancelled and road checkpoints have been set up to stop any vehicles entering Beijing from the port city.
Director of the Tianjin Municipal Health Commission, Gu Qing, told
China COVID-19 News
that the city has so far detected 41 domestic virus cases in the latest outbreak, adding that close contacts have been quarantined.
Video footage from state broadcaster CCTV showed masked people in Tianjin's Nankai district queueing for virus tests on Sunday from medical workers in white hazmat suits.
Beijing
The country's capital last week sealed off its Winter Olympics "closed loop", which will cocoon thousands of athletes and Games staff for weeks without direct physical access to the outside world.
It was reported that anyone entering the bubble must be fully vaccinated or face a 21-day quarantine when they arrive in the city, and everyone inside will be tested daily and must wear face masks at all times.
It was said that rules outside the loop are far less strict, but the city has barred entry to people travelling from places that have recorded COVID cases in the last two weeks and requires all arrivals to show a negative test from the past 48 hours.
Despite the measures, already a few cases of COVId-19 has emerged among both foreign athletics and local residents.
Henan Province
Numerous cities in the central province of Henan, which lies near Xi'an have stepped up virus controls in response to a spate of over 250 local cases since the end of December.
The provincial capital of Zhengzhou has imposed a partial lockdown and ordered its nearly 13 million residents to get tested.
It was reported that last week, one million people in Yuzhou city were put under stay-at-home orders.
It was reported today (Monday), that the city of Anyang which is testing its five million residents for COVID had found 18 cases, including Omicron variant positives that were linked to the Tianjin cluster.
From tomorrow, officials said, the city will essentially seal itself off from the surrounding area with highway checkpoints and long-distance train and bus sales halted. Classes will also move online.
Shenzhen
It was reported that after logging a handful of cases in recent days, the southern tech hub just across the border from Hong Kong has locked down some housing compounds, launched a mass testing initiative and shuttered some long-distance bus stations.
Heilongjiang
It was reported in the last few hours that Heilongjiang, China's northernmost province which borders Russia has found a few new COVID-19 clusters and officials are under discussions at the moment about locking down the whole province.
For the latest
China COVID-19 News
, keep on logging to Thailand Medical News.