U.S. Study Finds That Suramin Helps Prevent Endotheliopathy. (Relevant In COVID-19 Context)
Besides Preventing Endotheliopathy, Suramin Has Also Shown Inhibitory Effects On The Main Protease Required For SARS-CoV-2 Infection
COVID-19 Drugs
: In a recent study conducted by esteemed institutions including the University of South Florida, University of Vermont, Colorado State University, and University of Wisconsin, researchers have discovered that the drug suramin holds tremendous promise in preventing endotheliopathy - a condition that has significant relevance in the context of COVID-19.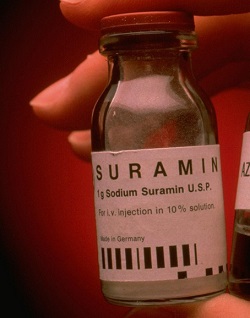 Endotheliopathy, characterized by widespread disruption of critical endothelial functions and thromboinflammation, is a clinical syndrome that arises from extensive tissue injury caused by trauma, sepsis, and even SARS-CoV-2 infections.
The detrimental effects of endotheliopathy, such as compromised vasodilatory function, barrier integrity, and hemostasis, contribute to organ failure and mortality.
One of the major culprits responsible for endotheliopathy is the presence of histones, which are neutrophil-derived proteins. Histones enter the circulation when released by cellular apoptosis or necrosis, or through the formation of neutrophil extracellular traps (NETs) during innate immune responses. Elevated levels of histones have been linked to endothelial damage and organ dysfunction in various conditions, including COVID-19.
The
COVID-19 Drugs
study team set out to investigate the potential of suramin - a widely available polyanionic drug in neutralizing the toxic effects of histones. The study findings were remarkable. Suramin was found to form stable electrostatic interactions with histones, effectively neutralizing their harmful effects.
In cultured endothelial cells, suramin significantly decreased histone-induced thrombin generation, while in isolated murine blood vessels, it abolished aberrant endothelial cell calcium signals and rescued impaired vasodilation caused by histones.
Moreover, the study revealed that suramin also had a protective effect in vivo. It significantly decreased pulmonary endothelial cell ICAM-1 expression and neutrophil recruitment induced by histones. In animal models, suramin prevented lung edema, intra-alveolar hemorrhage, and mortality in mice receiving lethal doses of histones.
The study team highlighted that the ability of suramin to protect vascular endothelial function from histone-induced damage represents a novel mechanism of action for this drug. Suramin has been widely used for over a century as an anti-parasitic and anti-cancer agent, known for its safety and effectiveness. Unlike other polyanions such as heparin, suramin dosing is infrequent, well-tolerated, and does not carry the risk of excessive bleeding associated with heparin usage.
The study's findings shed new light on the pathophysiological outcomes of histone-induced organ injury and present suramin as a potential therapeutic option in conditions exacerbated by circulating histones, including trauma and sepsis. The fact that suramin is a widely available and easily administered drug adds to its appeal as a promising treatment strategy.
r /> Furthermore, considering the elevated levels of histones observed in individuals with COVID-19, the use of suramin in mitigating the detrimental effects of histones holds particular significance in the current global health crisis caused by the SARS-CoV-2 virus.

The study team also noted that suramin might have additional mechanisms of action against viral illnesses. As a polyanionic inhibitor, suramin could potentially block viruses that rely on cell surface sugars such as heparan sulfate for infection. It has also shown inhibitory effects on the main protease required for SARS-CoV-2 infection.

In conclusion, this groundbreaking study uncovers a previously unknown mechanism of action for suramin and highlights its potential as a repurposed treatment for preventing endothelial injury and excessive blood clotting. The study team strongly advocates for further clinical trials to explore suramin's efficacy in combatting endotheliopathy - a major breakthrough that could significantly impact the fight against COVID-19 and other thrombo-inflammatory conditions.

The study findings were published in the peer reviewed Journal of Immunology.
https://journals.aai.org/jimmunol/article-abstract/doi/10.4049/jimmunol.2200703/265739/The-Polyanionic-Drug-Suramin-Neutralizes-Histones

For the latest on COVID-19 Drugs, keep on logging to Thailand Medical News.