BREAKING NEWS! Prenol From Fruits Could Possibility Emerge As An Antiviral And Therapeutic Candidate For COVID-19 And Long COVID-19!
Prenol May Also Emerge As An Excellent Eradicator Of Spike Proteins in Those Dealing With Post Vaccine Issues
Thailand Medical
: In a groundbreaking study conducted at Rush University Medical Center in Chicago-USA, researchers have discovered a potential game-changer in the fight against COVID-19. Prenol, a natural alcohol found in various fruits, including citrus fruits, cranberry, bilberry, currant, raspberry, blackberry, grapes, passion fruit, cloudberry, tomato and more, has shown promising results in inhibiting the entry of SARS-CoV-2, the virus responsible for COVID-19, into host cells.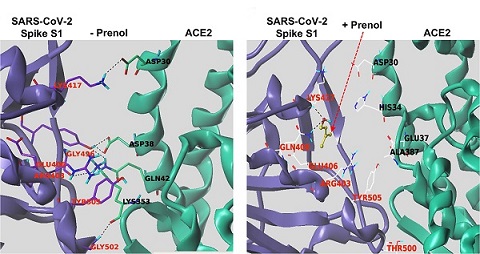 A rigid-body in silico docked pose of SARS-CoV-2 spike S1 (violet) and hACE2 (green) in the absence
of prenol and a rigid-body in silico docked pose of SARS-CoV-2 spike S1 (violet) and hACE2 (green)
in the presence of prenol (dark yellow structure)
Prenol, or 3-methyl-2-buten-1-ol, is a natural alcohol. It is one of the simplest terpenoids. It is a clear colorless oil that is reasonably soluble in water and miscible with most common organic solvents. It has a fruity odor.
While vitamin C has long been hailed as a superstar component of fruits, its role in combating COVID-19 has remained uncertain. However, the latest research suggests that prenol, not vitamin C, may hold the key to effectively combating the virus. The study found that prenol, but not vitamin C or other major fruit components, significantly reduced the interaction between the spike protein (S1) of SARS-CoV-2 and the angiotensin-converting enzyme 2 (ACE2), which is the receptor on host cells that allows the virus to enter and initiate infection.
The study team conducted various assays and experiments to validate the efficacy of prenol in combating COVID-19. They discovered that prenol associated with the spike protein but not with ACE2, effectively inhibiting the entry of pseudotyped SARS-CoV-2 into human ACE2-expressing cells. In contrast, vitamin C showed no significant inhibitory effect on SARS-CoV-2 but did exhibit some effectiveness against vesicular stomatitis virus (VSV) entry.
Furthermore, prenol demonstrated its anti-inflammatory properties by reducing the expression of proinflammatory cytokines in lung cells stimulated by SARS-CoV-2 spike S1. It also showed efficacy against different variants and sub-lineages of SARS-CoV-2, including those with the N501Y and E484K mutations , Omicron, and Delta variants. Oral administration of prenol in mice intoxicated with SARS-CoV-2 spike S1 resulted in reduced fever, decreased lung inflammation, improved heart function, and enhanced locomotor activities.
These exciting findings suggest that prenol and prenol-containing fruits could be more beneficial in fighting COVID-19 compared to vitamin C alone.
While vaccines have been instrumental in controlling the spread of the virus, they do not provide 100% protection, and effective treatments are still needed.
Corresponding author Dr Kalipada Pahan, a professor at the Department of Neurological Sciences, Rush University Medical Center told
ong>Thailand Medical
News, "Prenol's unique ability to inhibit the binding of SARS-CoV-2 spike S1 with ACE2 without interfering with the beneficial functions of ACE2 makes it a promising candidate for a specific and nontoxic therapeutic approach to combat the viral pandemic."
Prenol is also emerging a cheap and easily available candidate for those dealing with various Long COVID issues as well as spike protein issues after vaccination.
Unlike some currently approved drugs like remdesivir and dexamethasone, which have associated side effects, prenol, being naturally present in fruits, shows no indications of causing any health issues. It also demonstrates a more targeted approach by specifically inhibiting viral entry and reducing inflammation without causing immunosuppression.
While more research and clinical trials are needed to fully understand the potential of prenol as a COVID-19 treatment, these findings open up new possibilities and avenues for fighting against the virus. The study's results suggest that a holistic approach to fruit consumption, harnessing the benefits of prenol and other components, may prove more effective in combating COVID-19 than relying solely on vitamin C.
The study findings were published in the peer reviewed Journal of Immunology.
https://journals.aai.org/jimmunol/article/210/12/1938/263667/Prenol-but-Not-Vitamin-C-of-Fruit-Binds-to-SARS?searchresult=1
At present, there are about three randomized clinical trials underway involving using Prenol, one in the United States, one in Brazil and the last a large international multicenter study.
For the latest on COVID-19 Therapeutics, keep on logging to
Thailand Medical
News.