Thailand Medical Authorities Warn That Monkeypox Cases Are Increasing Among The Gay Communities With 48 New Cases Diagnosed In June!
Monkeypox Cases In June Represent A 2.3 Times Increase Over The 21 Cases Detected In May 2023.
Thailand Medical
: Authorities are warning that Monkeypox cases are increasing in Thailand at a worrisome rate among men who have sex with men and are urging the gay community to take more precautions.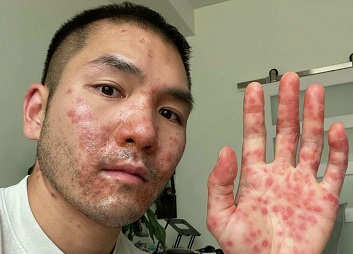 Pic Credit: Kevin Kwong - California
Thailand had reported its first case of monkeypox in July last year but since then 91 cases have been detected with the majority being over the last two months. Many believe that the disease is being brought into the country by visiting gay tourists who are spreading it to male sex workers be the country. Unlike in the past where most male sex prostitutes worked in the gay bars or bar massage shops, many these days offer their services via various online apps and most are in fact students or office workers who work part time selling themselves for extra incomes. These male sex workers once infected are spreading the disease to other male Thai gays or local expats who could also be their patrons.
Thailand Medical
authorities confirmed that all 48 newly infected cases were men who had sex with men but alarmingly it was also found that 45.8 percent of them were also HIV positive individuals! It was also found that almost all of the 48 new cases never used precautions such as condoms during sex!
This discovery is alarming as it could also imply that there is a silent spread of HIV going on within the local gay communities as more local Thai gay men are becoming complacent and are no longer practicing safe sex.
It was reported that of the 48 new cases, 41 were Thais and 7 were foreigners. It was also reported that 38 of the infected individuals live in Bangkok, 3 in Samut Prakran and 2 each in Chonburi and Nonthaburi provinces and one each in Pathum Thani, Phuket and Samut Sakhon.
STD experts however warn that there could be more cases that have yet to be identified as some male sex workers patronize private clinics that do not report cases to the Ministry of Public Health and also some cases could be misdiagnosed as some other infections. Furthermore, many local male sex workers and even local gay men sometimes do not go to the doctors for medical conditions that they have discovered in themselves till the conditions gets real bad.
Health authorities are urging men in the local gay communities to take more precautions such as avoid contact with people they suspect are infected and to practice safe sex.
It should be noted that Bangkok is regarded as on the gay hub of Asia and Thailand is reputed to have the largest population of male sex workers in the whole of Asia!
Mpox (monkeypox) is an infectious disease caused by the monkeypox virus. It can cause a painful rash, enlarged lymph nodes and fever. Most people fully recover, but some get very sick and even die.
Studies have showed that monkeypox can also cause blindness, brain encephalitis, various neurologi c consequences and even heart issues and sepsis.
https://jamanetwork.com/journals/jamaneurology/fullarticle/2796513
https://bmccardiovascdisord.biomedcentral.com/articles/10.1186/s12872-023-03351-3
https://www.nature.com/articles/s41433-022-02195-z
https://www.acc.org/About-ACC/Press-Releases/2022/09/01/15/31/Monkeypox-Has-Potential-to-Cause-Heart-Problems
https://link.springer.com/article/10.1007/s00415-022-11339-w
Monkeypox conditions can be more severe in those who are immunocompromised such as those with HIV or Cancer.
For the latest on Monkeypox In Thailand, keep on logging to
Thailand Medical
News.