BREAKING News! Omicron Sublineages Could Be Using A New Viral Invasion Strategy With Multiple Types Of Matrix Metalloproteinases!
Study Finds That SARS-CoV-2 BA.1 Has Increased efficiency on MT-MMP usage in comparison to that of the ancestral SARS-CoV-2 with implications for other Omicron Sub-lineages or recombinant variants.
COVID-19 News
: In a stunning revelation, researchers at New York University Abu Dhabi have discovered that the Omicron sub-lineages of SARS-CoV-2, the virus responsible for the ongoing COVID-19 pandemic, may be employing an array of proteins from the membrane-type matrix metalloproteinase (MT-MMP) family to infiltrate human cells.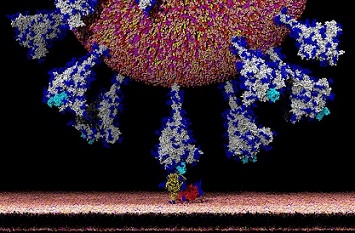 In early March 2023, Thailand Medical News has already covered a
COVID-19 News
report based on studies from Canadian researchers that SARS-CoV-2 variants could be using matrix metalloproteinases for viral entry.
https://www.thailandmedical.news/news/sars-cov-2-can-also-use-metalloproteinases,-specifically-mmp-2-and-mmp-9,-for-viral-entry-according-to-recently-published-research
However, this new groundbreaking finding by researchers from UAE has far-reaching implications for understanding the behavior of Omicron and other related variants, potentially altering the course of future research and treatment strategies.
The key to successful infection by SARS-CoV-2 lies in the proteolytic cleavage of the viral spike protein. While the role of the host transmembrane protease serine 2 (TMPRSS2) in viral entry is well-established, the involvement of other proteases capable of facilitating the entry process has remained largely unexplored.
The team of scientists at New York University Abu Dhabi embarked on a mission to shed light on this enigma and their findings have sent shockwaves through the research community.
Through meticulous laboratory experiments and comprehensive analysis, the study team uncovered that multiple members of the MT-MMP and a disintegrin and metalloproteinase (ADAM) families possess the ability to mediate the entry of SARS-CoV-2 into host cells. Furthermore, they demonstrated that inhibiting MT-MMPs led to a significant reduction in SARS-CoV-2 replication both in vitro and in vivo, hinting at their vital role in the infection process. The MT-MMPs were found to cleave not only the viral spike protein but also angiotensin-converting enzyme 2 (ACE2), a cell surface receptor crucial for viral attachment. This cleavage activity facilitated spike-mediated fusion, enabling the virus to enter and infect human cells more efficiently.
The study also uncovered a captivating twist in the tale of the Omicron variant BA.1, which emerged in late 2021 and rapidly superseded the Delta variant as the dominant strain, displayed an elevated affinity for MT-MMP usage compared to the ancestral SARS-CoV-2. Strikingly, it exhibited altered efficiency in using transmembrane serine proteases like TMPRSS2 for entry, which sets it apart from previous variants.
Omicron BA.1 used TMPRSS1 and TMPRSS14 at an in creased efficiency when compared to Wild Type (WT) Strains. However, Omicron BA.1 demonstrated a higher efficiency in using all three MT-MMPs that could facilitate SARS-CoV-2 WT entry (MMP14, MMP16, and MMP17)
Furthermore, it was found that SARS-CoV-2 WT and Omicron BA.1 used ADAMs at comparable efficiencies with the exception of ADAM17.
The study findings indicate that Omicron BA.1 is less efficient in using serine proteases that could facilitate SARS-CoV-2 WT entry, including TMPRSS2, TMPRSS13, TMPRSS11D, TMPRSS11E, and TMPRSS11F.
In contrast, the study findings showed that Omicron BA.1 is more potent in using MT-MMPs when compared to SARS-CoV-2 WT.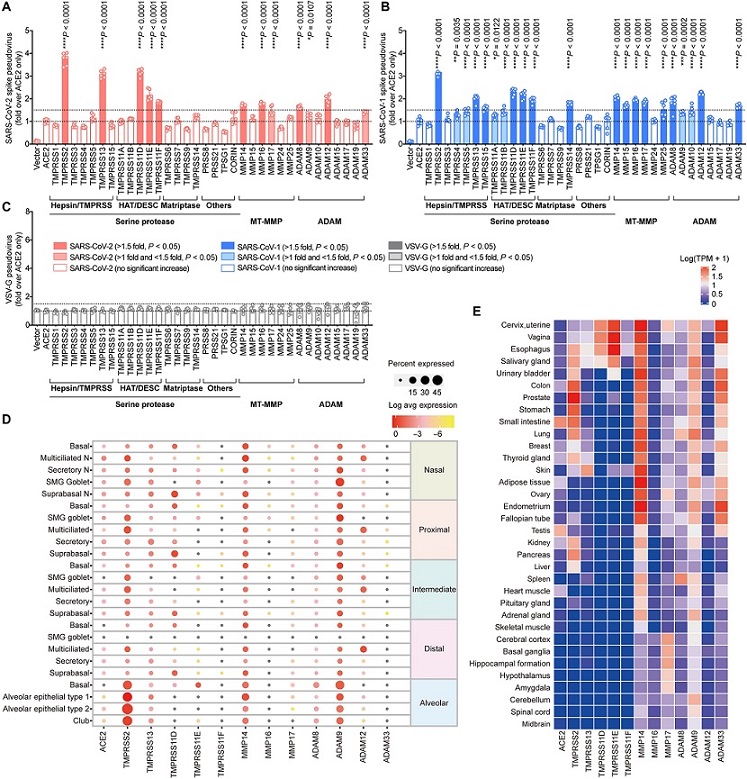 MT-MMPs and ADAMs facilitate SARS-CoV-2 entry.
(A to C) Pseudovirus entry screening. 293T cells were cotransfected with ACE2 and the indicated transmembrane serine protease, MT-MMPs, or ADAMs and then challenged by (A) SARS-CoV-2-S (Wuhan-Hu-1 strain), (B) SARS-CoV-1-S, or (C) VSV-G pseudoviruses at 24 hours after transfection. Pseudoviruses entry was quantified by measuring the luciferase signal of the cell lysates at 24 hours after transduction (n = 6). The fold change was normalized with the ACE2 transfection group. (D) Single-cell RNA sequencing (scRNA-seq) analysis for the expression of identified transmembrane serine protease, MT-MMPs, or ADAMs in the various cell types of human upper and lower respiratory tract, including the nasal, proximal, intermediate, distal, and alveolar epithelium. (E) Bulk RNA sequencing analysis for the expression of the identified transmembrane serine protease, MT-MMPs, or ADAMs in different human organs, reported as log-transformed transcript per million mapped reads [log10(TPM + 1)]. The experiments in (A) to (C) were repeated three times independently with similar results. Data represented means and SDs from the indicated number of biological repeats. Statistical significance between groups was determined with one-way analysis of variance (ANOVA). *P < 0.05, **P < 0.01, ***P < 0.001, and ****P < 0.0001.
While previous research has explored the role of transmembrane serine proteases in SARS-CoV-2 entry, the involvement of host proteases beyond this group has remained largely unexplored. This study not only identifies MT-MMPs as key players in viral entry but also implicates ADAM10 and ADAM17 in facilitating SARS-CoV-2 infection. The comprehensive investigation suggests that a network of host proteases collaborates in orchestrating SARS-CoV-2 Omicron entry in a tissue-dependent manner.
These newfound protease determinants provide a deeper understanding of the biology of coronavirus entry and may hold the key to unravelling the mysteries of Omicron's unique behavior.
The revelations of this research extend beyond SARS-CoV-2 and delve into the realm of other coronaviruses as well. Previous investigations had already hinted at the significance of metalloproteases, such as MMPs and ADAMs, in facilitating the entry of murine coronavirus mouse hepatitis virus. The present study now demonstrates that these same proteases play a critical role in the entry of SARS-CoV-2 and other coronaviruses, unveiling a shared pathway that opens up new avenues for future investigations.
The implications of this discovery are profound. Understanding the intricate interplay between SARS-CoV-2 and host proteases offers tantalizing prospects for the development of novel therapeutics. Current clinical trials are evaluating the efficacy of serine protease inhibitors, like camostat, as potential treatments for COVID-19. However, given the multiple proteases employed by SARS-CoV-2 for entry and the altered protease usage profile exhibited by Omicron BA.1, the researchers suggest that a combination of serine protease and MMP inhibition could yield optimal results in combating Omicron and its sub-lineages. Such a strategy could potentially deliver a double blow to the virus, hindering its entry and replication while also curbing the inflammatory response.
The study findings were published in the peer reviewed journal: Science Advances.
https://www.science.org/doi/10.1126/sciadv.add3867
For the latest
COVID-19 News
, keep on logging to Thailand Medical News.