BREAKING COVID-19 NEWS! Forget SARS-CoV-2 BA.2.86, 11 Sequences Of New Variant Discovered In India With Triple Mutations That Enhances Fusogenicity!
COVID-19 News
: From the land that brough us the Delta variant, scientist have reported the emergence of a new worrisome sub-lineage in India that could once again trigger a wave of disease severity if it becomes predominant in circulation, which in this case looks most likely!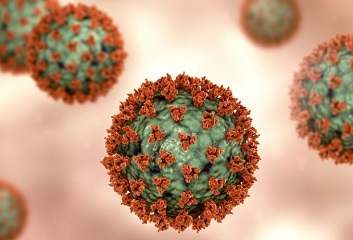 Pic Credit: Shutterstock
Scientists and variant hunters have spotted 11 sequences of an XBB.1.16 sub-lineage that has three spike mutations i.e. S:K182E, S:V551I and S:E554K on it.
https://github.com/cov-lineages/pango-designation/issues/2223
The XBB.1.16 is already a known sub-lineage that is extremely transmissible and is also immune evasive.
According to experts, these three mutations: SK182E, SV551I and SE554K found on the S2 domain can lead to enhanced fusion capabilities which typically leads to disease severity and increased mortality risk.
https://twitter.com/mrmickme/status/1695950438816952779
Some experts are already speculating that in terms of damage that this new sub-lineage can cause, it is almost the same as Delta if not more except that it is more transmissible and immune evasive!
While people are still engrossed in the newly discovered BA.2.86 variant and many media outlets have been writing speculative
COVID-19 News
coverages about it, the BA.2.86 variant does not seem to have the right viral fitness despite having over 30 mutations on it. They should heed the fact that it is not the number of mutations that matter but rather what the mutations are capable of doing in term of pathogenesis and effects on the human host and also the combination of the mutations and whether these sub-lineages have enhanced transmissibility as well.
Already it is being speculated that the BA.2.86 is probably arising only in certain HIV patients that are taking certain HIV antivirals and are being infected with specific sub-lineages that are causing intra-host evolution and emergence of these strains that do not seem to display any threat at the moment unless if newer spawns or recombinant events take place with the right mutations falling into place so as to enhance its viral fitness and transmissibility beside its existing pathogenic and immune evasive properties.
https://www.thailandmedical.news/news/ba-2-86-news-ba-2-86-supposedly-found-in-waste-water-of-many-countries-including-spain,-germany-new-claims-that-only-linked-to-hiv-infected
Meanwhile coming back to this new variant that has emerged in India, 9 sequences of this XBB 1,16 variant with the S:K182E, S:V551I and S:E554K mutations on it have been found in hospitalized patients in the state of Maharashtra and 2 has been found also in hospitalized patients in Gujerat. Note that both states at the moment only conduct genomic sequencings on only hospitalized patients who have tested positive for COVID-19. Asymptomatic or mild cases are seldom even tested for COVID-19 let alone genomic sequencings done.
While India has a total of 11 cases detected so far, one sequence of the same variant has been detected in the United States in the state of Pennsylvania. We do not have any data about the individual the sample was taken from.
According to the researcher who discovered this new sub-lineage, his analysis of the situation as written in the Github page shows that this new sub-lineage could be far more prevalent than thought!
At the moment the variant has only been discovered in mainly India but with many Indians travelling to various countries and with health screenings at various international airports around the world lax, we can expect the variant to spread quickly in coming weeks across the world similarly as to what had happened with the Delta variant as we have many Indian travelers now acting as vectors for this new sub-lineage.
Readers should take note that we are currently in a very scary situation as we are facing multiple threats from so many other emerging SARS-CoV-2 sub-lineages that are appearing daily as a result of rapid evolution driven by the kinetics of the current hyperendemic state the disease is in, the lack of preventive measures, varying degrees of vaccination status, the usage of various antivirals including monoclonal drugs, repurposed drugs and even herbs and supplements. The extremely low levels of genomic surveillance in many countries is also making things very difficult for researchers, virologists and variant hunters to monitor the actual situation of evolving variants and sub-lineages. The lack of funding is also making it very difficult for scientists to study in detail the pathogenesis of many of these new sub-lineages or their unique mutations or even the effects of the combination of mutations.
However, we can be rest assured that the coming Autumn and Winter of 2023 is definitely going to be more worse than previous years despite whatever strategies governments and health authorities take to conceal the real situation. We are likely to see not one but many more concerning SARS-CoV-2 sub-lineages emerge and become predominant in circulation and wreak havoc across various geolocations across the globe in the coming months.
For the latest
COVID-19 News
, keep on logging to Thailand Medical News.
PS: At the moment this new variant has not emerged in China nor does anyone know what are the symptoms as a result of infection with it but rest assured some trash Indian media will come up with these stories soon as in the case of BA.2.86.
https://www.thailandmedical.news/news/covid-19-news-ba-2-86-has-not-been-detected-in-china-as-claimed-by-fake-news-disseminated-by-indian-health-site--but-yes,-covid-19-gradually-rising
https://twitter.com/ThailandMedicaX/status/1695394017465503935
Some British tabloids will also write about this new sub-lineage with other Western media following suit as it is the typical Western mentality and behavior to steal things, ideas and concepts etc and take credit for it!
https://twitter.com/ThailandMedicaX/status/1693453591019954349