Many deaths in old individuals especially those with Alzheimer, Dementia etc could have been attributed due to this.
COVID-19 News
: In a recent development, French neurologists have warned that COVID-19 could potentially worsen cerebral amyloid angiopathy (CAA), a cerebrovascular disorder characterized by the buildup of amyloid in the brain's blood vessels. This condition, often found in individuals with Alzheimer's and dementia, may lead to brain bleeds and could be a significant contributing factor in the deaths of older individuals.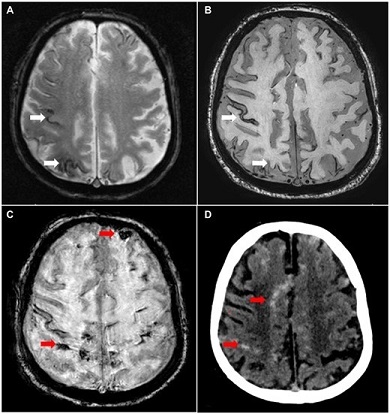 Radiological examination. (A) T2 sequence MRI performed after 1 year of follow-up. Cortical siderosis of the right convexity and occipital area (white arrows). (B) Overall stability of cortical siderosis (white arrows). (C) SWI sequence MRI performed 7 days before death. Frontal and parietal hyposignal corresponding to subarachnoid hemorrhage (red arrows). Artifacts are linked to the patient's movements. (D) CT scan with meningeal hyperdensity (red arrow) corresponding to subarachnoid hemorrhage.
The research, conducted by neurologists from the University of Lille, Inserm, and CHU Lille in France, sheds light on the neurological impact of COVID-19. Studies have shown that between 26% and 56% of COVID-19 cases exhibit neurological symptoms, with some patients experiencing long-term cognitive deficits.
Additionally, magnetic resonance imaging (MRI) data indicates that COVID-19 patients may experience a reduction in brain volume and gray matter thickness compared to control groups, which correlates with a greater cognitive decline.
While the main brain lesions observed in deceased COVID-19 patients are of vascular and inflammatory types, the connection between COVID-19 and pre-existing neurodegenerative conditions such as Alzheimer's disease (AD) remains unclear. CAA, a condition prevalent in AD patients, affects up to 80% of individuals with the disease. The study suggests that SARS-CoV-2, the virus responsible for COVID-19, may have a synergistic effect on a specific manifestation of CAA called Aβ-related angiitis (ABRA), characterized by inflammation of the brain's superficial vessels.
To support their findings, the neurologists presented the case of an 82-year-old man with a seven-year history of CAA who succumbed to ABRA following a SARS-CoV-2 infection. The patient had been previously diagnosed with sporadic CAA after experiencing a transient ischemic attack. Regular neurological follow-ups showed stability in cortical siderosis and cortical atrophy. However, microbleeds appeared two and seven years after the initial diagnosis.
The patient exhibited mild cognitive impairment affecting verbal episodic memory and executive functions a year before his death. Four months prior to his passing, he tested positive for COVID-19, experiencing fatigue and fever. Subsequently, his neurological condition rapidly deteriorated, leading to gait and speech disorders. CT and MRI scans conducted seven days before his death revealed multiple subarachnoid hemorrhages and punctiform ischemic lesions. The autopsy performed after his death confirmed the presence of ABRA, marked by granulomatous inflammation of the arachnoid vessels and superficial cortical ves sels.
The researchers stress that this is the first reported case of ABRA following a SARS-CoV-2 infection, providing valuable histological data. Previous MRI reports had highlighted brain and subarachnoid hemorrhages in CAA patients with COVID-19, but no pathological confirmation was available at the time. These findings suggest that SARS-CoV-2 can infect the central nervous system, primarily targeting cells expressing the angiotensin-converting enzyme 2 (ACE2) receptor. The infection of these cells may lead to endothelial dysfunction and explain the vascular brain lesions observed in COVID-19 patients.
Furthermore, COVID-19 is known to trigger immune system dysregulation, including abnormal production of pro-inflammatory cytokines and activation of the innate and adaptive immune responses as covered in previous studies and
COVID-19 News
reports. Autoimmune reactions, caused by the immune system's response to damaged tissues, may also occur. ABRA has been linked to autoimmunity against amyloid beta (Aβ) deposits, indicating that the immune response to Aβ deposits could be responsible for ABRA development.
In light of these findings, the case report emphasizes the potential long-term effects of SARS-CoV-2 on the brains of infected individuals, particularly those with underlying vasculodegenerative conditions.
Further research is necessary to fully understand the complex interactions between COVID-19 and neurodegenerative diseases, providing critical insights into effective treatment strategies and the prevention of severe neurological complications in COVID-19 patients.
The warnings were published as a correspondence in the peer reviewed Journal of Neuropathology and Experimental Neurology.
https://academic.oup.com/jnen/advance-article/doi/10.1093/jnen/nlad049/7222349
For the latest
COVID-19 News
, keep on logging to Thailand Medical News.