Physicians Report Uncommon Imaging Presentations Resembling Bacterial Pneumonia In Infections Involving New SARS-CoV-2 XBL Variant!
New Recombinant SARS-CoV-2 Variant XBL ie XBB.1 Plus BA.2.75, Could Be Worrisome.
COVID-19 News
: Chinese researchers have recently conducted a fascinating case study shedding light on the unique manifestations of the SARS-CoV-2 XBL variant. Their findings suggest that infections caused by this new recombinant variant can exhibit solid and pleural fluid features similar to those observed in bacterial pneumonia.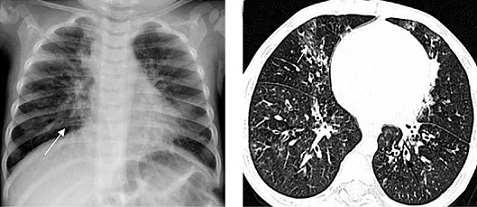 The study, conducted at the Department of Respiratory and Critical Care Medicine at the First Affiliated Hospital of Sun Yat-sen University in Guangzhou, China, provides valuable insights into the pathogenicity and clinical implications of this relatively unknown variant.
Case Study
A previously healthy 45-year-old male sought medical attention at a local hospital after experiencing fever, chest tightness, and dyspnea, with a high temperature reaching 39°C prior to admission. Laboratory tests indicated signs of infection, while a Computed Tomography Pulmonary Angiography (CTPA) revealed bilateral lung infection with minimal pleural effusion. Although his fever subsided after receiving paracetamol, his breathing difficulties persisted. Consequently, the patient was transferred to the researchers' hospital for further evaluation.
Upon admission, blood gas analysis revealed an oxygen partial pressure (PO2) reading of 107mmHg, a carbon dioxide partial pressure (PCO2) measurement of 40mmHg, a fraction of inspired oxygen (FiO2) of 49%, and an oxygenation index of 218mmHg. CTPA images uncovered bilateral pneumonia characterized by partial consolidation of lung tissue and slight bilateral pleural effusion. Subsequent analysis of the patient's alveolar lavage fluid using Next Generation Sequencing revealed the presence of the novel coronavirus mutant XBL. Notably, tests for other pathogens such as aspergillus and mycobacterium tuberculosis returned negative results.
Treatment and Recovery
The patient received a treatment regimen consisting of Nematavir/Ritonavir and methylprednisolone, leading to a significant improvement in chest tightness and breathing difficulties. Follow-up examinations demonstrated a decrease in blood routine infection indicators, and CT imaging revealed a remarkable absorption of the double pneumonia. A throat swab tested negative for COVID-19, and consequently, the patient was discharged on the 10th day of hospitalization.
Vaccine and Prior COVID-19 Infection
In December 2022, the same patient had tested positive for COVID-19 during the Omicron pandemic in China. However, during his first contraction of the virus, he only experienced transient fever and upper respiratory symptoms, which quickly improved within a day. Interestingly, this was in stark contrast to the current admission, where he exhibited chest tightness and hoarseness, without typical "long COVID" symptoms such as muscle pain and sleep disturbance.
The patient had received three doses of the Sinovac-CoronaVac vaccine in May, June, and December 2021, which falls under the WHO Emergency Use Listing Qualified Vaccines. The researchers claim that it appeared that the vaccine provided some level of protection, as the patient's symptoms improved rapidly during his initial COVID-19 infection. However, antibodies produced from his first infection did not prevent the subsequent infection nor reduce its severity.
Distinct Imaging Patterns
Comparing the imaging findings of the XBL variant with other variants such as XBB and Delta, the researchers observed a significant difference. While the common CT manifestation of COVID-19 typically involves multiple segmental ground glass opacities, predominantly distributed in extrapulmonary zones and along bronchovascular bundles, the initial CTPA of the XBL variant showed solid parenchyma and nodular densification, with minimal pleural effusion in both lungs. After five days of antiviral treatment, a subsequent CTPA indicated a significant reduction in lung consolidation and pleural effusion.
XBL Variant
The emergence of the XBL variant was covered by our
COVID-19 News
report in January 2023.
https://www.thailandmedical.news/news/breaking-covid-19-news-new-recombinant-variant-xbl-with-spike-mutation-f486p-identified-in-malaysia-locals-nicknaming-it-the-hantu-besar-variant
It is a recombinant variant involving the sub-lineages XBB.1 and BA.2.75 with the spike mutation F486P and was initially discovered in Malaysia.
https://cov-spectrum.org/explore/World/AllSamples/Past6M/variants?aaMutations=ORF1a%3AS1221L%2CS%3AF486P&nucMutations=G3446A%2CA20379G%2CC28312T%2CC3796T%2CC4586T%2CC5183T
The mainstream media did not cover about it and also about other new worrisome sub-lineages and many 'variant hunters' are also silent about it (it is being speculated that some of these 'variant hunters' have now been bought over by those controlling the COVID-19 narratives…especially those based in Europe…so do not expect much details or the real truth from many of them these days and they will only report on just the mundane developments etc as they have to do so) and some claiming that the sub-lineage had 'died down'. However occasional random sequences of the XBL and some of its newer spawns have been popping up in various geolocations especially in Australia, Singapore, Malaysia, South Korea, China, Japan and recently Brazil.
Conclusion
This case report unveils uncommon imaging presentations associated with the SARS-CoV-2 XBL variant, resembling those seen in bacterial pneumonia. While further research and additional cases are needed to confirm this association, the study contributes to a better understanding of the pathogenicity and clinical implications of this variant.
The study findings were published in the peer reviewed journal: Archivos de Bronconeumología (Science Direct)
https://www.sciencedirect.com/science/article/pii/S0300289623001801
For the latest
COVID-19 News
, keep on logging to Thailand Medical News.