Thailand Medical Researchers Uncover Alarming Rates Of Long-Term Metabolic Abnormalities In Non-Severe COVID-19 Patients
Thailand Medical
: The COVID-19 pandemic, caused by the novel coronavirus SARS-CoV-2, has left a profound impact on global health. While much attention has been focused on severe cases, a recent study conducted by the Faculty of Medicine at Siriraj Hospital, Mahidol University in Thailand has unveiled startling findings about the long-term metabolic consequences of non-severe COVID-19.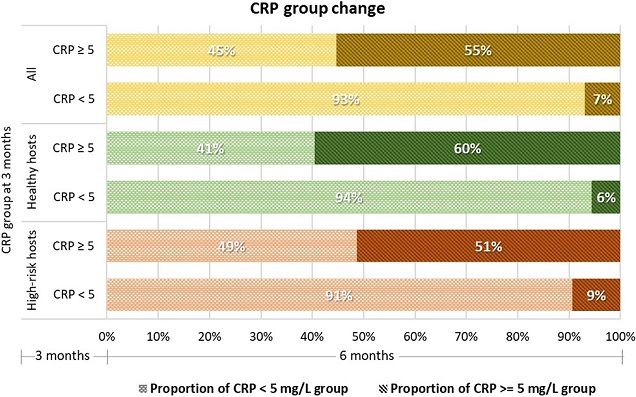 Changes in CRP statuses of the overall cohort, healthy hosts, and high-risk hosts from 3 to 6 months after COVID-19 infection

The study analyzed metabolic outcomes and associated factors in individuals who had experienced non-severe COVID-19 infections. The study sheds light on the prevalence of long-term metabolic abnormalities and the factors influencing these abnormalities three and six months after recovering from COVID-19. The results highlight the importance of monitoring metabolic profiles and promoting healthy behaviors among both high-risk and healthy individuals who have had non-severe COVID-19.
The Impact of COVID-19 on Metabolism
Previous research has extensively documented the immediate and long-term health consequences of COVID-19, particularly in severe cases. During the acute phase of infection, patients can experience respiratory distress and multi-organ dysfunction, often triggered by a cytokine storm. However, little information has been available regarding the metabolic implications in non-severe COVID-19 cases.
Metabolic processes play a pivotal role in the body's response to SARS-CoV-2 infection, affecting not only the pathogenesis and pathophysiology of the disease but also vaccine efficacy. The virus has been found to impact organs involved in metabolic regulation, including the pancreas and adipose tissue, possibly leading to metabolic disturbances. Inflammatory markers and liver function tests are often elevated during acute infection, and these abnormalities may persist or return to normal after recovery.
Research on long-term metabolic consequences has largely focused on severe cases, leaving non-severe cases relatively unexplored. This
Thailand Medical
study sought to fill this gap by investigating the prevalence of long-term metabolic abnormalities in individuals who had experienced non-severe COVID-19.
Study Methodology and Participant Characteristics
The study cohort consisted of 600 individuals aged 18 to 85 years who had been confirmed as having non-severe COVID-19 using PCR testing. These participants attended follow-up visits at 1-, 3-, and 6-months post-onset of symptoms. Of the participants, 61.7% were female, and 38% were considered high-risk individuals. Most participants received treatment with the antiviral medication favipiravir during isolation, and only a small percentage had received full COVID-19 vaccination before disease onset.
Key Findings
The study revealed several critical findings regarding long-term metabolic abnormalities in individuals with non-severe COVID-19:
Weight and BMI Changes
: Participants experienced significant weight gain, with mean body weight and BMI increasing over time. Notably, 11% of participants saw their BMI increase by at least one level, with slightly higher proportions observed in healthy hosts.
Glycemic Changes
: While most participants did not have diabetes at baseline, the study found an increased prevalence of prediabetes (HbA1c 5.7–6.4%) and newly diagnosed diabetes (7.3%) at the 6-month follow-up.
Lipid Levels
: Abnormal lipid profiles were prevalent among participants at 6 months, with 40.5% exhibiting such abnormalities. The study noted that healthy hosts had a significantly higher prevalence of lipid abnormalities compared to high-risk hosts.
Liver Function
: Approximately one-fifth of the participants had abnormal liver enzyme levels at the 6-month follow-up. High-risk hosts were more likely to experience abnormal liver function compared to healthy hosts.
CRP Levels
: C-reactive protein (CRP) levels, an inflammatory marker, remained persistently high (≥ 5 mg/L) in 14.8% of participants at the 6-month mark. Notably, CRP levels were higher in high-risk hosts, although both groups exhibited elevated levels.
Factors Influencing Long-Term Metabolic Abnormalities
The study identified several factors associated with a lower risk of developing long-term metabolic abnormalities in individuals with non-severe COVID-19:
Gender
: Being female was associated with a reduced risk of developing multiple metabolic abnormalities.
Dyslipidemia
: Individuals with a history of dyslipidemia were less likely to experience these abnormalities.
High-Risk Status
: High-risk hosts had a greater risk of developing multiple metabolic abnormalities compared to healthy hosts.
Conclusion
The study's findings highlight the significant long-term metabolic consequences of non-severe COVID-19, affecting weight, glycemic control, lipid profiles, liver function, and inflammatory markers. Importantly, these metabolic abnormalities were observed not only in high-risk individuals but also in those considered healthy.
These results underscore the importance of monitoring and addressing metabolic profiles in individuals recovering from non-severe COVID-19. Furthermore, the study emphasizes the need for promoting healthy behaviors to mitigate the risk of these long-term metabolic abnormalities. Understanding the complex interplay between COVID-19 and metabolism will be crucial in providing comprehensive care and guidance to individuals affected by the virus. Further research is needed to explore the underlying mechanisms and potential interventions to mitigate these metabolic consequences.
The study findings were published in the peer reviewed journal: Scientific Reports.
https://www.nature.com/articles/s41598-023-41523-5
For the latest COVID-19 News, keep on logging to
Thailand Medical
News.