COVID-19 Cases Surge in Japan With A Variety Of XBB Sub-Lineages Leading The New Onslaught And XBB.1.16 Just Only Making A Debut There.
COVID-19 News
: For the first time in two and a half months, Japan is witnessing a concerning rise in COVID-19 cases. According to the health ministry, during the week ending April 4, the number of new infections increased by 1.03 times from the previous week. This surge was observed in 18 out of Japan's 47 prefectures, with the most significant increases in Fukui, Hokkaido, Akita, Tokyo, and Iwate.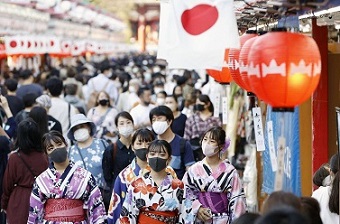 In Tokyo alone, the city reported 956 new cases on Sunday, a 167-case increase from the previous week. The seven-day average for new cases in Tokyo reached 1,026.9, a significant jump from 849.7 the week before. Severe cases under Tokyo's criteria rose to three, and no virus-related deaths were reported on Sunday.
Meanwhile, on Saturday, Japan recorded a total of 8,484 new cases, marking an increase of 1,057 from the week prior. Sixteen new deaths were reported nationwide, and the number of severely ill patients fell by five to 50.
Looking ahead, a team of experts led by Professor Akimasa Hirata from the Nagoya Institute of Technology has projected that new cases in Tokyo will peak in early to mid-May. They estimate that daily new cases in Tokyo could reach 8,000 if mask usage falls to a low of 20%. However, if the mask-use rate remains consistent with previous levels, the daily cases would only increase to around 2,500. The experts also predict another peak in late August.
As Japan downgrades the legal status of COVID-19 to the same level as influenza, the way infection and death statistics are reported will change. Although daily numbers will no longer be announced, weekly tallies based on reports from specific medical institutions will continue to be published in various
COVID-19 News
coverages. This monitoring method, known as "sentinel surveillance," is also used for influenza. The government will no longer require reports on coronavirus-related deaths, but they will monitor fatalities through their Vital Statistics system. Death certificates submitted by families of the deceased will provide data on COVID-19 deaths, which will be published at regular intervals.
These changes in reporting aim to reduce the workload for local governments and public health centers. However, some experts express concern that a lack of clarity on the actual situation may hinder appropriate infection control measures.
Various XBB Sub-lineages At Play
A number of XBB sub-lineages are behind the new onslaught in Japan. Among them, the XBB.1 and XBB.1.5 are still the predominant circulating sub-lineages but the XBB.1.9.1, XBB.1.92 and also the XBB.1.16 sub-lineages have also made their debut in Japan thanks to international travel and lack of effective airport health screenings.
https://cov-spectrum.org/explore/Japan/AllSamples/Past6M/variants?nextcladePangoLineage=xbb*&
https://cov-spectrum.org/explore/Japan/AllSamples/Past6M
It is expected that in coming weeks, the XBB.1.9.1 and XBB.1.16 sub-lineages will superse de all other circulating sub-lineages to become the predominant sub-lineages and also, we can expect lots of other newer spawns from these two sub-lineages as they are known to mutate rapidly to find ways to evade all forms of immunity and viral resistance be it drugs or host factors.
What is worrisome however is that genomic sequencing is very low in Japan as with many other countries.
https://cov-spectrum.org/explore/Japan/AllSamples/Past6M/sequencing-coverage
This might hinder an accurate analysis of what is really happening in terms of the virus evolution and emerging mutations and also to have a heads up about any newer sub-lineages that might propel disease severity or increase mortality.
As Japan grapples with this new wave of COVID-19 infections, it is crucial for the government and citizens alike to remain vigilant and adapt to the evolving situation.
For the latest
COVID-19 News
, keep on logging to Thailand Medical News.