Italian Study Finds Cinnamaldehyde Is An Effective Adjuvant Therapeutic Compound For Reducing Inflammation In COVID-19!
Cinnamaldehyde From Cinnamon Helps To Reduce SARS-CoV-2-Related Inflammation By Inhibiting IL-1β Release
COVID-19 News
: In the midst of the ongoing COVID-19 pandemic, scientists from the University of Ferrara in Italy, in collaboration with CinnaPharm and Azienda Ospedaliero-Universitaria di Ferrara, have made a groundbreaking discovery regarding the use of cinnamaldehyde, a compound found in cinnamon. Their research reveals the compound's ability to serve as an adjuvant therapeutic in reducing the inflammatory response associated with COVID-19. By inhibiting the release of IL-1β, an inflammatory cytokine, cinnamaldehyde demonstrates its potential to mitigate the severe consequences of viral infections, particularly in the lungs.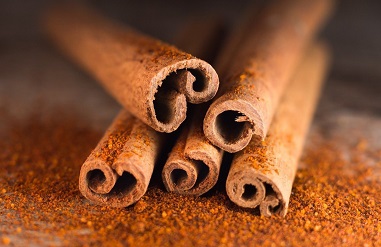 Previous
COVID-19 News
coverages have also showed that phytochemicals from Cinnamon could also help with COVID-19 infections and also flu infections.
https://www.thailandmedical.news/news/breaking-news-plant-based-compound-dicoumarol-emerges-as-promising-post-exposure-prophylactic-for-omicron-variant-of-sars-cov-2
https://www.thailandmedical.news/news/covid-19-herbs-german-american-study-shows-that-cinnamaldehyde-from-cinnamon-is-a-good-supplement-with-dexamethasone-for-treating-covid-19
https://www.thailandmedical.news/news/cinnamon-the-natural-remedy-for-flu-infections-and-beyond
The Inflammatory Challenge of COVID-19
COVID-19 has illuminated the critical role of inflammation in viral infections, particularly the cytokine storm, a pervasive pro-inflammatory state that primarily affects the lungs. Despite the advances in vaccination efforts, the virus's high mutability necessitates effective pharmaceutical approaches to curb the inflammatory cascade.
The Study's Findings
The research team evaluated the impact of SARS-CoV-2 infection on IL-1β and IL-6 levels by analyzing patients' serum and stimulated peripheral blood mononuclear cells (PBMCs) through ELISA. They further examined the therapeutic potential of cinnamaldehyde through in vitro assessments on THP-1 macrophages' inflammatory state and viral replication in Calu-3 and Vero6 cells.
Additionally, the team explored the compound's effects in vivo by creating a lung-inflammatory model using intranasal administration of lipopolysaccharide (LPS).
The study's results revealed significantly higher levels of IL-1β and IL-6 in COVID-19 patients compared to non-COVID-19 pneumonia patients. Moreover, PBMCs isolated from SARS-CoV-2 infected patients displayed heightened pro-inflammatory cytokine release upon stimulation. Excitingly, cinnamaldehyde demonstrated its efficacy in reducing SARS-CoV-2-related inflammation by inhibiting IL-1β release in macrophages and suppressing viral replication in epithelial cells. Furthermore, the inhalation of cinnamaldehyde significantly reduced IL-1β release in the lung-inflammatory model.
Promising Implications for COVID-19 Treatment
These findings suggest that cinnamaldehyde could serve as a co-adjuvant preventive treatment for COVID-19 in conjunction with vaccination efforts. Additionally, the compound holds promise as a dietary supplement to alleviate viral-induced inflammation more broadly, extending its potential impact beyond the current pandemic.
Unveiling the Molecular Mechanisms
The study sheds light on the NLRP3 inflammasome, a key player in the regulation of various diseases, including viral infections. Activation of the NLRP3 inflammasome during viral infections leads to a cascade of inflammatory responses. While NLRP3 inhibitors have been explored, cinnamaldehyde emerges as a compelling candidate due to its favorable safety profile in prolonged treatments. Previous studies have demonstrated its impact on IL-1β release through NLRP3 modulation in inflammatory autoimmune diseases. Furthermore, the compound's potential regulation of oxidative stress adds to its therapeutic allure.
Expanding the Anti-Inflammatory Arsenal
Chronic inflammation remains a significant challenge in pulmonary diseases caused by various pathogens. While advancements have been made in treating respiratory infections, an effective treatment to mitigate pro-inflammatory cytokine storms with minimal side effects remains elusive. Cinnamaldehyde, with its anti-inflammatory properties and low production costs, exemplifies the promise of natural compounds extracted from plants. Patient compliance is enhanced due to their low side effects, making them a desirable complementary approach to traditional synthetic drugs.
A Multifaceted Approach
In vitro experiments confirmed cinnamaldehyde's ability to reduce IL-1β and IL-6 release in human PBMCs and THP-1 macrophages. However, the compound exhibited a more pronounced impact on IL-1β release compared to IL-6 in THP-1 macrophages infected with SARS-CoV-2. Notably, IL-1β triggers the synthesis of other pro-inflammatory cytokines and chemokines, amplifying the inflammatory response. While the impact on IL-6 secretion was moderate, the data indicate that IL-6 release may occur independently of IL-1β activation during SARS-CoV-2 infection.
Towards Accessible Treatments
Anakinra, a dual blocker of IL-1α and IL-1β, has shown promise in reducing mortality risk in severe COVID-19 cases. However, easily accessible and cheaper treatments for non-hospitalized individuals remain essential. In this regard, cinnamaldehyde presents an attractive preventive approach, as an easily consumable nutraceutical. The study's lung-inflammatory model demonstrated a significant reduction in IL-1β release following cinnamaldehyde pre-treatment. Furthermore, the compound exhibited the ability to reduce viral replication in lung cells, suggesting its potential to mitigate IL-1β synthesis by impeding viral spread.
A Broad Impact on Pulmonary Infections
Inflammation is not unique to COVID-19 but is a common feature in various pneumonia types caused by different pathogens including flu viruses such as H1N1 and H5N1. Consequently, the application of cinnamaldehyde may extend to the treatment of diverse pulmonary infections induced by pathogens. As such, cinnamaldehyde emerges as a promising dietary supplement to counter the pro-inflammatory effects of pathogen-induced pulmonary infections.
Conclusion
The Italian study offers a compelling breakthrough in the fight against COVID-19. By identifying cinnamaldehyde as an effective adjuvant therapeutic, capable of reducing SARS-CoV-2-induced inflammation by inhibiting IL-1β release, this research presents an exciting avenue for further exploration. Cinnamaldehyde's potential as a preventive treatment and dietary supplement holds promise in combating viral-induced inflammation not only in the current pandemic but also in future outbreaks.
The study findings were published on a preprint server and are currently being peer reviewed.
https://www.researchsquare.com/article/rs-3072092/v1
For the latest
COVID-19 News
, keep on logging to Thailand Medical News.
Check Out:
https://www.thailandmedical.news/articles/covid-19-herbs
https://www.thailandmedical.news/articles/herbs-phytochemicals