Japanese Researchers Warn That COVID-19 Infections Can Give Rise To Systemic Capillary Leak Syndrome (SCLS), Also Known As Clarkson's Disease
COVID-19 News
: Systemic capillary leak syndrome (SCLS), also known as Clarkson's disease, is a rare and potentially lethal condition characterized by hypotension, hemoconcentration, and hypoalbuminemia. Despite its rarity, SCLS is an enigmatic medical challenge due to its non-specific symptoms, leading to misdiagnoses and underdiagnoses.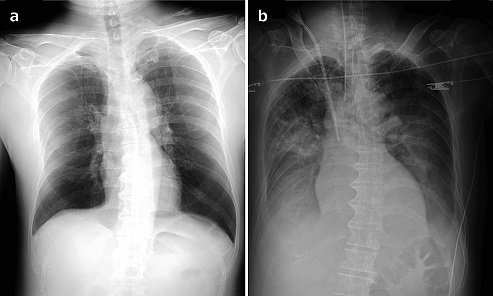 Chest radiographs obtained during hospitalization.(a) Initial chest radiograph
obtained on admission was unremarkable. (b) Chest radiograph obtained on
the sixth day of hospitalization showed pulmonary edema and pleural effusion
Japanese researchers from Fukushima Medical University and Teikyo University Chiba Medical Center have recently reported a case of SCLS associated with COVID-19. Their study delves into the complexities of this case and sheds light on the need for further research on this rare syndrome.
Understanding Systemic Capillary Leak Syndrome
Systemic capillary leak syndrome (SCLS) is a medical rarity, often dubbed Clarkson's disease after its discoverer, Dr Bayard D. Clarkson. The hallmark triad of SCLS comprises hypotension, hemoconcentration, and hypoalbuminemia. This syndrome exhibits a three-phase progression, beginning with the prodromal phase, followed by the leakage phase, and culminating in the recovery phase.
During the prodromal phase, patients may present with flu-like symptoms, making early diagnosis challenging. The leakage phase is characterized by refractory hypovolemic shock and fluid extravasation, potentially leading to multi-organ failure. Eventually, fluids are reabsorbed during the recovery phase, which can result in pulmonary edema. Accurate diagnosis and understanding of SCLS's pathophysiology are crucial for effective management.
The Case Presentation
A 62-year-old male with a history of systemic hypertension and vasospastic angina pectoris presented at the emergency department with flu-like symptoms, dizziness, malaise, and anorexia. The patient's condition deteriorated rapidly, with severe hypotension, hemoconcentration, and acute kidney failure. A positive PCR test for SARS-CoV-2 confirmed COVID-19 infection.
Despite aggressive fluid resuscitation, the patient's shock persisted, and an initial suspicion of septic shock was ruled out. Instead, the patient was diagnosed with COVID-19-associated SCLS. Treatment with remdesivir and intravenous immunoglobulin (IVIG), coupled with intravascular volume restoration, led to a gradual improvement in the patient's condition.
Managing COVID-19-Associated SCLS
Managing COVID-19-associated SCLS requires a comprehensive approach. The primary treatment revolves around restoring intravascular volume and supporting circulation. Supportive measures, such as administering IVIG to neutralize autoantibodies and inflammatory cytokines, have shown some efficacy. Additionally, continuous hemodiafiltration can help manage pulmonary edema caused by fluid imbalances.
Epidemiology and Clinical Manifestations
Japanese researchers conducted an extensive literature review on COVID-19-associated SCLS cases from 2020 to 2022 from published studies, case reports and
COVID-19 News
coverages with supporting medical data. The analysis included 18 cases, with ten linked to COVID-19 and eight following vaccination. The average age of patients was 49.5 years, with no notable differences between sexes.
Flu-like symptoms were prevalent in 78% of cases, and gastrointestinal symptoms were reported in 50%. Dizziness or syncope was observed in 27.8% of cases.
These findings were consistent with previous literature on idiopathic SCLS.
Laboratory Data and Treatment
Laboratory findings revealed hemoconcentration, hypoalbuminemia, elevated creatinine, and increased lactate levels, mirroring the classic symptoms of SCLS. Paraproteins were detected in 50% of patients, with IgG-kappa being the most common type. Supportive care, including circulation management, formed the cornerstone of acute-phase treatment, with IVIG being the most frequently used medication.
Prognosis and Implications
The prognosis of COVID-19-associated SCLS is concerning, with an overall mortality rate of 39% in the reported cases. Interestingly, the mortality rate was slightly higher in the COVID-19-infected group compared to the vaccinated group. The increased viral burden and antigen exposure could potentially contribute to worse outcomes.
Conclusion
The reported case of COVID-19-associated SCLS by Japanese researchers highlights the need for heightened awareness of this rare yet potentially lethal complication of COVID-19. With the global prevalence of COVID-19, clinicians must be vigilant in recognizing SCLS as an early complication and devising appropriate management strategies.
Further research is imperative to understand the underlying pathogenesis and trigger mechanisms of SCLS and its association with COVID-19. As the world continues to grapple with recurrent outbreaks and new variants, unraveling the mysteries of SCLS could hold the key to saving lives and improving patient outcomes.
The study findings were published in the medica journal: Cureus.
https://www.cureus.com/articles/173110-systemic-capillary-leak-syndrome-as-a-rare-potentially-fatal-complication-of-covid-19-a-case-report-and-literature-review#!/
For the latest
COVID-19 News
, keep on logging to Thailand Medical News.