Health News
: Starbucks has recently stirred up a whirlwind of controversy with its innovative Oleato line of olive oil-infused coffee drinks. Initially launched in Milan in February, the Oleato line made its US debut in March 2023, showcasing a variety of beverages, from lattes and shaken espressos to golden foam cold brews, cortados, and even a martini. The concoctions incorporate Partanna cold-pressed extra-virgin olive oil, aiming to entice customers with a unique flavor profile and the health benefits associated with extra-virgin olive oil. However, not all customers are thrilled with the results.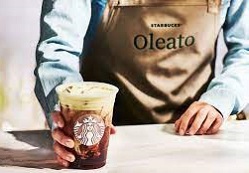 In a Reddit post titled "Olive oil drinks...," a Starbucks barista shares their coworkers' experiences with the new Oleato beverages, stating that half the team tried the drinks and several ended up "needing to use the restroom." The post has since sparked a surge of comments, with some customers also sharing their unpleasant experiences.
Some of the Oleato line's drinks, like the caffe latte and iced shaken espresso, seem to cause stomach issues for certain customers, who have reported feeling sick, losing their appetite, and experiencing stomach cramps. Others have even described the drinks as having a "laxative" effect. The beverages have also come under fire for their appearance and smell, with the olive oil appearing dark green when mixed with the coffee and some customers claiming they wanted to "throw up after."
Despite the negative experiences, the Oleato line has found fans who appreciate the unique flavor combination and have not experienced any adverse side effects. One Redditor claimed that the olive oil enhances the sweetness of the coffee, while another praised Starbucks for the innovative combination.
But what could be causing the stomach issues reported by some customers?
According to some nutritionists and
Health News
reporters, the combination of caffeine, a stimulant, and olive oil, a relaxant, could be the culprit.
A 16-ounce Oleato drink may contain up to 34 grams of fat, which is more than some people consume in an entire meal. Mineral oils like olive oil are often used to treat constipation, as they soften the stool and make bowel movements easier.
One nutritionist warned that said combining high-fat content with coffee, which already stimulates the bowels, could lead to cramping and increased colon mobility, resulting in a laxative effect. The discomfort could be exacerbated when the drink is consumed on an empty stomach or without carbohydrates and fiber to counteract the impact.
It was also pointed out that oil has long been used as a constipation remedy, and olive oil can have similar effects, especially when consumed in larger quantities like a venti or grande drink. Combining oil with coffee, which is a digestive system stimulant, could create a powerful effect that sends people rushing to the restroom.
Though the Oleato line has stirred up controversy, it is still one of Starbucks' biggest launches in decades, and former CEO Howard Schultz believes it will "transform the coff ee industry" and be a profitable addition to the company. Whether this inventive combination of coffee and olive oil will ultimately prove successful remains to be seen, but it has certainly sparked a lively conversation and divided opinions among Starbucks customers.
Thailand Medical News also like to warn that consummation of olive oil and also overconsumption of olive oil can lead to a variety of adverse effects in people.
Olive oil is known to keep our heart healthy. But, studies have found that over-consumption of olive oil can cause a massive fall in the blood pressure. It is detrimental to our overall health as we become vulnerable to many problems like dizziness, lightheadedness, stroke, and kidney failure.
https://pubmed.ncbi.nlm.nih.gov/15380903/
Loaded with fat, olive oil increases the chances of developing inflammation in our body. Olive oil contains a high amount of oleic acid (about 78%) which plays a vital role in releasing the lipopolysaccharides (LPS), appended to the large fat-rich lipoprotein particles called chylomicrons, from the gut into the bloodstream. The more the LPS present in the blood, greater the extent of inflammation caused by the immune cells. Additionally, olive oil also promotes higher levels of markers, like inflammatory cytokines, that are linked to chronic inflammation.
https://www.ncbi.nlm.nih.gov/pmc/articles/PMC4586551/
For the latest
Health News
, keep on logging to Thailand Medical News.