U.S. CDC Forecast That Another 75,000 Americans Will Die From COVID-19 By End Of February 2022 Despite Falling Omicron Rates!
U.S. Medical News
: The U.S Centers for Disease Control and Prevention (CDC) has forecasted that another 75,000 Americans will die from due to SARS-CoV-2 infections by the end of February 2022 despite falling Omicron infection rates.
https://www.cdc.gov/coronavirus/2019-ncov/science/forecasting/forecasting-us.html#anchor_1587397564229
Many experts however doubt that the figure is realistic as with many currently in critical care or in ICUs coupled with clusters of the new BA.2 variant starting to emerge all over the United States, an anticipated figure is more likely to be in the range of 90,000 to 110,000.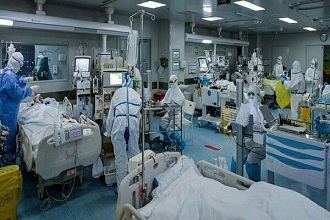 The CDC warned that although COVID-19 cases are dropping across the US, the number of COVID-19 deaths will continue to increase this month.
It was reported that the United States could reach a total of 933,000 to 965,000 COVID-19 deaths by Feb. 26. Increases in deaths tend to lag surges in cases by about 3 weeks, and the recent Omicron peak happened in late January.
The CDC predicted that between 7,600 and 23,700 new deaths could be reported for the week ending Feb. 26.
Officials from the CDC told
U.S. Medical News
media, "This week's national ensemble predicts that the number of newly reported COVID-19 deaths will remain stable or have an uncertain trend over the next 4 weeks."
The specific state- and territory-level forecasts predict that the number of newly reported deaths per week will likely increase in four jurisdictions and decrease in 12 jurisdictions.
However, in other states and territories, deaths are predicted to remain the same or have an uncertain trajectory.
At present the 7-day average of deaths is about 2,600 per day, according to the data tracker sites
.
That's an increase of about 35% over the past 2 weeks and the highest average since last winter.
Meanwhile COVID-19 infection rates are dropping dramatically. The 7-day average of cases fell below 500,000 for the first time in weeks. On Wednesday, the average was about 385,000 daily cases, marking a 49% decrease from 750,000 daily cases 2 weeks ago.
It was reported that average daily cases have fallen over the past 2 weeks in all but five states.
The states of Maryland and Washington, DC, have the lowest rates of COVID-19 spread in the country, with fewer than 45 cases per 100,000 people. New York and New Jersey aren't far behind.
Alarmingly, the highest rates of cases are being reported in Alaska, Kentucky, and Oklahoma. In Montana and North Dakota, which were among the last states to report a peak in Omicron cases, new infections have started to fall.
However, it should be noted that all COVID-19 data that is being controlled by the Biden administration is hence might not be reliable or trustworthy.
Furthermore, the data might not be reliable as there also seems to be inadequate testing coupled with the fact that many tes ting centers have closed and there is a shortage of test kits.
It was also reported that hospitalizations are also beginning to decline. The 7-day average of hospital admissions is about 17,000 per day, which is a 14% decrease from the previous week. About 122,000 COVID-19 patients are hospitalized across the country, according to the
latest data
from the US Department of Health & Human Services, which has fallen from a high of 160,000 in January.
https://protect-public.hhs.gov/pages/hospital-utilization
The US CDC however refused to divulge data about excess deaths and specifics about these excess deaths during the Omicron surge and even before that.
It is believed that an exponentially huge amount of people have died from heart failures, strokes and organ failures, all indirectly caused by the SARS-CoV-2 virus but these are never being classified as COVID-19 deaths. These excess death rates have been on a high increase since the start of the COVID-19 crisis in the United States but much of the data is being deliberately concealed.
As of the 2nd of January 2022, more than 77.95 million Americans have been infected with the SARS-CoV-2 coronavirus and 896,557 Americans had died from the COVID-19 disease so far according to figures released by the Biden Administration. The real figures could be far higher, possibly 4-fold!
For the latest
U.S. Medical News
, keep on logging to Thailand Medical News.