BREAKING COVID-19 News! SARS-CoV-2 Infections Skyrocketing In Hong Kong And Even Parts Of China But Authorities Downplaying Or Concealing Data!
COVID-19 News
: Health authorities from Hong Kong have admitted that the daily new COVID-19 infections are hitting more than 10,000 per day but claim that the situation is manageable and there is no additional stress on the public health infrastructure and on hospitals. They also claimed that the current vaccines are providing protection and that there is no signs of disease severity.
https://www.scmp.com/news/hong-kong/health-environment/article/3221231/coronavirus-hong-kong-daily-caseloads-hit-10000-health-chief-says-outbreak-manageable-amid-high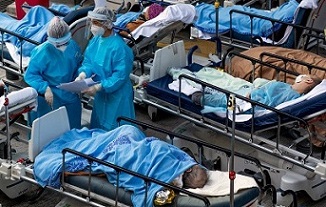 However local physicians and healthcare professionals speaking on conditions of anonymity for fear of being penalized by the Chinese authorities are saying that hospitalization rates for COVID-19 are increasing at exponential rates and many who are displaying disease severity are those from the vulnerable groups ie the aged, the obese, the immunocompromised and those with existing comorbidities such as diabetes, hypertension, heart and kidney issues despite being fully vaccinated. They are also witnessing a high incidence rate of post-COVID strokes, heart failures and also other organ failures especially those of the kidneys and liver.
According to these healthcare professionals, the actual daily infection rates could be as high as two to three-fold! They are also warning that while many are only developing mild symptoms initially upon infection, they tend to have a variety of health conditions materializing days and weeks later and are often in a poor state of health.
Interestingly, while the Hong Kong health officials have stated that the hospitals are not overburdened, they have just recently opened another 140 bed COVID-19 facility to treat COVID-19 patients on the island of Lantau and with plans to open more temporary COVID-19 hospitals.
https://www.scmp.com/news/hong-kong/health-environment/article/3220100/coronavirus-hong-kongs-hospital-authority-steps-efforts-ease-burden-its-facilities-says-flu-cases
In fact, a
COVID-19 News
report report published on the 11
th
of May 2023 showed that most hospitals in Hong Kong were already stressed out due to increasing COVID-19 cases.
https://www.chinadailyhk.com/article/330413#2100-hospitalized-in-HK-for-COVID-19-as-infections-rise
Meanwhile reports are emerging from China that COVID-19 infections are also rising in Beijing, Zhejiang, Shanghai and Xinjiang and also in many cities across the country. It is estimated that daily COVID-19 infections are reaching almost 14,000 per day in China and hospitalizations are also rising but Chinese authorities are concealing the data and media outlets have been warned against reporting about COVID-19 issues. In many cases, local health authorities are attri buting increase in outpatient visits and hospitalizations to simply influenza!
There is not much data about what particular SARS-CoV-2 variants and sub-lineages are behind the new onslaughts in Hong Kong and China but it is assumed that sub-lineages from both the BA.5 and also XBB variants are behind the rise in caseloads.
It will be very interesting to get the excess death rates for both Hong Kong and China covering the last two months and the next three months.
Meanwhile, Hong Kong authorities have reported that there have only been 12 COVID-19 deaths in the last 24 hours!
https://twitter.com/kjoules/status/1659897335349116928
For the latest
COVID-19 News
, keep on logging to Thailand Medical News.