COVID-19 News: Can SARS-CoV-2 Cause Reactivation Of The Latent Sexually Transmitted HTLV-1 Virus That Causes T-Cell Leukemia/Lymphoma (ATL)?
COVID-19 News
: Many are unaware of a sexually transmitted virus called HTLV-1, or as human T-cell leukemia virus type 1 that can cause a type of cancer called adult T-cell leukemia/lymphoma (ATL).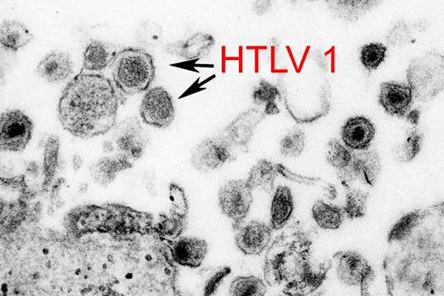 It also causes a progressive nervous system condition known as HTLV-1-associated myelopathy or tropical spastic paraparesis (HAM/TSP).
Other diseases connected to HTLV-1 infection include HTLV-1-associated uveitis (HAU), infective dermatitis, bronchiectasis, bronchitis and bronchiolitis, seborrheic dermatitis, Sjögren's syndrome, rheumatoid arthritis, fibromyalgia and ulcerative colitis. There is little evidence that HTLV-1 infections cause other forms of cancer.
https://www.who.int/news-room/fact-sheets/detail/human-t-lymphotropic-virus-type-1
It is now estimated that about 20 to 50 million people around the world could be carrying this virus but due to lack of proper diagnosis till late stages, the figures could be even higher!
HTLV-1 is transmitted primarily through infected bodily fluids including blood, breast milk and semen.
Risk factors include unprotected sex, injecting drug use and transplantation of tissue, blood and blood products.
HTLV-1 is most endemic in southwestern Japan, the Caribbean, South America, West Africa. In the Americas, the highest prevalence of HTLV-1 is found in Haiti, Jamaica, Dominican Republic, northeastern Brazil, and Peru while in the United States, Florida has the highest prevalence but that is changing and the spread is believed to be country wide since the last studies done in 2018!
https://www.ncbi.nlm.nih.gov/pmc/articles/PMC5873228/
Typically, only 0.25-2% of the infected individuals will develop a progressive neurologic disease named HTLV-I associated myelopathy/tropical spastic paraparesis (HAM/TSP). Approximately 2-5% of HTLV-I carriers will develop ATL. (Although this may be conservative due to unreported cases!)
https://rarediseases.org/rare-diseases/htlv-type-i-and-type-ii/?filter=ovr-ds-resources
The virus typically remains latent for long periods in individuals but triggers that promote T Cell proliferation, certain cytokines and also activation of certain inflammatory pathways are believed to be able to also activate the virus and enhance its pathogenesis.
https://www.ncbi.nlm.nih.gov/pmc/articles/PMC7399876/
https://retrovirology.biomedcentral.com/articles/10.1186/s12977-020-0511-0
https://www.sciencedirect.com/science/article/pii/S0042682205002989
Many of the immune responses seen in SARS-CoV-2 and also in HTLV-1 are quite similarly but studies have shown that coinfections involving both typically results in di sease severity.
https://pubmed.ncbi.nlm.nih.gov/35569772/
https://www.ncbi.nlm.nih.gov/pmc/articles/PMC8847415/
https://www.mdpi.com/2227-7390/10/24/4756
However, with the debut of the COVID-19 pandemic in late December 2019, there are lots of reports emerging that the incidence of adult T-cell leukemia/lymphoma (ATL) is rising!
One published study in 2021 also documented this rise.
https://pubmed.ncbi.nlm.nih.gov/33089366/
Urgent studies are needed to ascertain as to whether SARS-CoV-2 infections are helping to activate these latent HTLV-1 viruses in individuals or as to whether SARS-CoV-2 induced immune dysfunctions are also helping or enhancing the pathogenesis of the HTLV-1 virus in individuals carrying them.
Already studies covered in our past
COVID-19 News
coverages are showing that SARS-CoV-2 virus is activating various endogenous viruses in the human host!
https://www.thailandmedical.news/news/breaking-sars-cov-2-infection-induces-human-endogenous-retrovirus-type-w-envelope-protein-expression-in-blood-lymphocytes-and-tissues
Hence with little doubt, there is a very high possibility that studies will show that SARS-CoV-2 is indeed reactivating the HTLV-1 virus in many!
For the latest
COVID-19 News
, keep on logging to Thailand Medical News.