U.S. Medical News! Modeling Platform Shows 720,000 New Daily COVID-19 Infections In America In Last 24 Hours With 1 In 46 Americans Currently Infected!
U.S. Medical News
: A reliable modeling platform that is based on various contributing factors including waste water monitoring, and inputs from various sources has shown that the United States has hit about 720,000 new daily COVID-19 infections in the last 24 hours with 1 in 46 Americans currently infected with the SARS-CoV-2 virus.
https://twitter.com/JPWeiland/status/1700277959532196168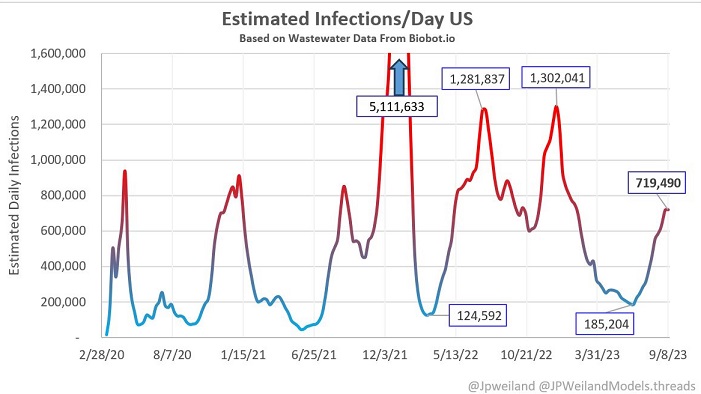 Official government sources on COVID-19 statistics in America are no longer reliable as the current administration has deployed various strategies including changes to the manner of reporting and classifying of COVID-19 infections, hospitalizations and deaths such that no one will be able to actually access the true real figures. They have even started manipulating excess death rates reporting and the United States in no longer different from China in terms of masquerading and concealing all real COVID-19 statistics.
While most COVID-19 infections currently are mainly mild symptomatic cases among the generally healthy individuals, those in the vulnerable groups ie the aged, the obese, the immunocompromised, those with existing comorbidities such as diabetes hypertension and heart issues are all facing the brunt of the new surge, with many of them once again being hospitalized.
What is worrying however is that the burden of long COVID, excess death rates and cancers are going to rise exponentially in the United States and the public healthcare infrastructure will be under a lot of pressure in coming years.
In the week ending 2
nd
of September, the U.S. CDC said that COVID-19 death rates have increased by 10.5 percent over the previous week!
https://covid.cdc.gov/covid-data-tracker/#maps_percent-covid-deaths
For the same period, COVID-19 hospitalizations have increased by 15.7 %.
https://covid.cdc.gov/covid-data-tracker/#maps_new-admissions-rate-county
The current COVID-19 test positivity rate is about 13.5%.
https://covid.cdc.gov/covid-data-tracker/#maps_positivity-week
The five American states experiencing the highest test positivity rates, at about 20.8 percent, include Texas, Oklahoma, New Mexico, Louisiana, and Arkansas.
Interestingly, the state of Texas recently implemented a ban on mask mandates!
https://www.newsweek.com/texas-bans-mask-mandates-covid-restrictions-1824040
The states of Nevada, Hawaii, California, and Arizona are following closely behind, with each state were reporting 16.1 percent of tests returning positive during the same week.
New York, New Jersey, the Virgin Islands, and Puerto Rico maintained lower positivity rates, averaging around 9.6 percent.
According to local
ww.thailandmedical.news/articles/u-s--medical-news">U.S. Medical News
coverages and data from experts, these figures emerge amidst a rise in COVID-19 hospitalizations, driven partly by the emergence of new variants, EG.5 and its various spawns.
https://twitter.com/RajlabN/status/1699992365245579746
The BA.2.86 has yet to become a prevailing dominant variant but the new BA.2.86 variant and its various spawns should become one of the many SARS-CoV-2 strains that are predominant in circulation by early winter.
The COVID-19 data highlights the ongoing challenges posed by the SARS-CoV-2 virus, even as the national emergency status and federal mask mandates have ended.
Some regions in the United States have however reintroduced mask mandates temporarily in response to surging cases.
U.S. CDC Now Claims That New Monovalent Vaccine Booster Effective Agaist BA.2.86!
In a related development, the U.S. Centers for Disease Control and Prevention (CDC) announced in the last 24 hours that early research findings indicate that antibodies generated from prior COVID-19 infections or existing vaccines can effectively guard against the newly emerging BA.2.86 variant. Moreover, it is anticipated that the Food and Drug Administration will soon approve updated vaccines that contain the XBB.1.5 spike protein.
https://news.yahoo.com/us-cdc-says-existing-antibodies-183904917.html
Contrary to previous concerns raised by the CDC in August, which suggested that the new variant might possess greater infectivity among individuals with prior COVID-19 exposure or vaccination, the agency now clarifies that the recent surge in COVID cases and hospitalizations in the United States is not primarily attributed to the BA.2.86 lineage. Instead, other predominant viruses are seen as the main drivers.
Interestingly, as of Friday, the BA.2.86 variant has been identified in nine U.S. states since the CDC's initial risk assessment last month. Furthermore, this BA.2.86 strain has been detected in both human and wastewater samples in more than 17 countries, including Japan, the UK, and Canada.
For the latest
U.S. Medical News
, keep on logging to Thailand Medical News.