Indonesia Remains Unfazed Despite Rising COVID-19 Infections. Experts Warn That Post-Muslim Holidays Of Eid al-Fitr (Idulfitri) Will See Exponential Rise.
COVID-19 News
: As Indonesia prepares for the Idul Fitri holidays which starts tomorrow, the Indonesian government has downplayed the threat of the XBB.1.16 sub-lineages that have emerged in the country and the recent uptick in daily COVID-19 cases. The Indonesian Health Ministry assured the public that the situation is still under control, and that the country will not see a dramatic increase in cases, as experienced in previous years.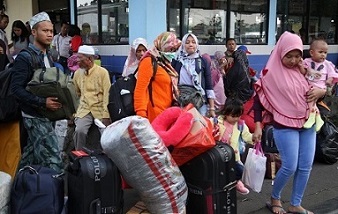 Indonesians On Their 'Mudik' Travel For The Idul Fitri Holidays


Pic Credit: Jakarta Post
Health Ministry spokesman Mohammad Syahril reported that five new cases linked to the XBB.1.16 have been found, bringing the nationwide tally to seven. He stated that the cases showed only mild symptoms, and the increase in daily cases, which surpassed 1,000 for the first time since December 22, does not yet warrant concern. He stated that despite the rise, the figures for daily COVID-19 deaths and bed occupancy rates in hospitals remain far below the World Health Organization's (WHO) standards for concern.
Indonesian health Minister Budi Gunadi Sadikin echoed these sentiments, emphasizing that the number of COVID-19 cases ahead of the 2023 Eid al-Fitr holiday is still under control, with the country well below the WHO's safe limit of 8,000 new cases per day.
According to the Health Ministry's serology survey, 99 percent of the Indonesian population has antibody levels of 3,000 International Units per Milliliter (IU/mL), which far exceeds the standard of antibody protection provided by convalescent plasma at 250 IU/mL.
It is expected that approximately 124 million Indonesians will travel back to their hometowns for the Idul Fitri holidays, in a mass exodus known as "mudik" between the period 19th to 25th of April. Over 1.6 million mudik travelers have already departed Greater Jakarta in the last few days.
Experts are warning that the mass holiday travel along with the Muslim holiday celebrations the next few days will lead to a potential exponential rise in COVID-19 infections after the Muslim holidays.
Similar scenes are also expected to play out in various Muslim countries including Malaysia, UAE, Iran, Bahrain, Kuwait, Qatar, Egypt and Turkey where COVID-19 cases are also rising according to local
COVID-19 News
coverages. The Southern provinces of Thailand that are predominantly Muslim are also expected to see a rise in COVID-19 infections due to the festive Muslim unofficial holidays there.
To ensure public health safety during the holiday, the Indonesian Health Ministry has received over 24,000 doses of new COVID-19 medications and plans to set up vaccination points at busy transportation hubs, such as airports and bus terminals.
Indonesian health authorities have also urged mudik travelers and their family members to complete their primary vaccinations and get booster doses before embarking on their journeys. They were advised to wear masks during their trips and get tested for the virus if they display symptoms.&lt ;br />
Meanwhile in Jakarta, the Health Office's section chief of surveillance, epidemiology, and immunization, Ngabila Salama, confirmed that five cases of the XBB.1.16 sub-lineage have been detected in the city. One of the patients had recently returned from a trip to India, while the other four cases were local transmissions. Four of these patients have recovered, and one remains in self-quarantine. Despite the increase in cases and positivity rates, Salama stated that the COVID-19 situation in Jakarta remains under control.
As Indonesia faces the XBB.1.16 sub-lineage and also other new emerging XBB sub-lineages and a rise in COVID-19 cases and with the Idul Fitri holidays around, it is expected that the country will witness an exponential COVID-19 caseload in the post-holiday period.
For the latest
COVID-19 News
, keep on logging to Thailand Medical News.