BREAKING! What Really Happening In Ukraine About The H5N1 Outbreak? ProMED Says It Is Fake News But More Reports Emerging! Coverups???
H5N1 News
: Its now getting more confusing with more indications that something is not right and there is something really going on in Kherson region in Ukraine.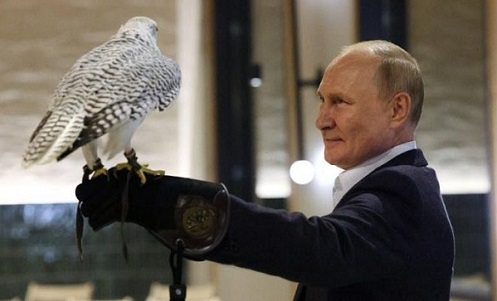 The Russian news agency.. Tass had earlier reported about 65 hours ago that there was an outbreak of H5N1 Avian Flu infections among residents from a village of Velikaya Aleksandrovka in the Ukraine controlled part of the Kherson region.
https://www.thailandmedical.news/news/breaking-russian-new-agency-claims-18-people-hospitalized-and-2-dead-from-h5n1-avian-flu-in-kherson,-ukraine-true,-propaganda-or-bioweapons
Two local physicians working for the Russians had also said that there was indeed an outbreak with fears that human-human transmissions were occurring and that 18 people had been hospitalized and 2 had died with another 27 being quarantined.
However, as we at Thailand Medical News was just as skeptical as anyone else as we were worried if it was just some Russian propaganda or worse it was not
H5N1
infections but some kind of new bioweapons etc.
ProMED, an online reporting platform by the International Society For Infectious Diseases reported about 28 hours ago that the reports of the H5N1 Avian Flu outbreak as not true based on their checks with Ukrainian government officials.
https://promedmail.org/promed-post/?id=8709054
(Note we cannot ascertain the credibility of this platform nor do we now their political affiliations and who are behind the financing and control of the platform!)
However more Russian media have come up with reports of the situation in Kherson, Ukraine with more being infected and hospitalized and the outbreak spreading to other nearby districts.
https://u-f.ru/news/science/u19761/2023/03/21/356224
https://ria.ru/20230321/gripp-1859484086.html
https://kherson-news.ru/society/2023/03/21/110168.html
https://radiosputnik.ria.ru/20230321/1859531683.html
According to various sources, H5N1 Avian Flu outbreak has now spread to the Gornostaevsky district of the Kherson region with reports of eight people being hospitalized with H5N1 Avian Flu infections and the situation is getting out of hand as more people are getting seriously sick with a respiratory disease and doctors at Skadovsk Central Clinical Hospital are confirming the situation.
The reports about the H5N1 outbreak are now also appearing in Ukraine media as well!
https: //novosti.dn.ua/news/345796-na-livoberezhzhi-hersonshhyny-cherez-ptashynyj-gryp-gospitalizovano-8-osib
An online India news media also reported about the new outbreak in the Gornostaevsky district of the Kherson region in Ukraine.
https://www.easternherald.com/2023/03/21/in-the-kherson-region-eight-people-were-hospitalized-with-suspected-bird-flu/
There is an urgent need for credible health agencies like the WHO (Well..though not that reliable or credible…that is the closest the world has today!) to assess the situation in Kherson and to report to the media without any political bias as to what is really happening down there and to also send in teams to help control the situation if there is indeed a H5N1 outbreak.
An outbreak of H5N1 Avian Flu in the locals there with possibility of new strains of the virus with new mutations that enable it to really cause human-to-human transmissions effectively could have a disastrous effect as even how remote the Kherson region might be to the rest of the world, such strains can start spreading globally in a matter of days or weeks.
We sadly live in a world today where it is so hard to ascertain what is real and what is fake as there are clandestine groups involving crooked Western politicians, greedy billionaires, corrupted mainstream media and tech groups, despicable pharma giants and medical experts trying to control the narratives to suit their evil agendas.
We urge all readers to always do their own due diligence and also to always be prepared for the worse scenarios.
For the latest
H5N1 News
, keep on logging to Thailand Medical News.
(PS. Special Thanks To
https://twitter.com/birdflu_updates
for providing all news links.)