COVID-19 News: Charlatans Promoting 'Immunity Debt' For Rise In Pediatric Viral Infections! SARS-CoV-2 Destroying Children's Robust Innate System Is The Cause!
COVID-19 News
: Off late, there is much talk online about so called "Immunity Debt" leading to primarily children and also some adults contracting other pathogenic infections especially respiratory viral illnesses like influenza, RSV, Adenovirus and even other disease like measles, chicken pox etc.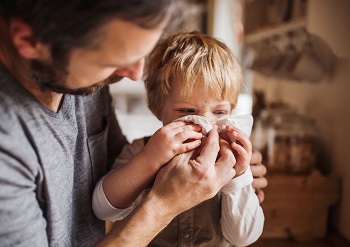 The charlatans behind the concept of "Immunity Debt" claim lockdowns as a result of COVID-19 crisis in the first two years of the pandemic, created a harmful "immunity debt" as children and certain adults were made susceptible and vulnerable to these various pathogens due to a lack of exposure to what they say are a usual thrust of pediatric viral infections that will create immunity against these pathogens in the future.
The charlatans say that children were exposed to fewer pathogens over the past years because of pandemic precautions like masking and social-distancing, and as a result their immune systems 'atrophied.' Due to many of countries and communities now being reopened and COVID-19 preventive measures being removed, they claim that children are confronting the usual array of 'common' viruses with weakened defenses, causing an onslaught of illness and even increased levels of, and more severe, illness than would have occurred otherwise.
In reality, the concept of "Immunity Debt: is a complete fallacy. Professor Peter Openshaw, a respiratory doctor and immunologist who studies RSV and flu at Imperial College London- United Kingdom, commented to various
COVID-19 News
outlets, "That immunity is something we need to invest in, and that by protecting ourselves from infection we are building up a deficit that has ultimately to be repaid is a complete nonsense..such an concept could promote the idea of having open sewers and drinking from water contaminated with cholera."
Dr Deborah Dunn-Walters, professor of immunology at the University of Surrey-United Kingdom added, "The immune system is not viewed as a muscle that has to be used all the time to be kept in shape and, if anything, the opposite is the case. For example, the constant onslaught of common pathogens such as cytomegalovirus causes the immune system to malfunction and slacken with age. The idea that infection is somehow good for health is preposterous. Vaccination is a far safer way of building population immunity."
In fact, emerging data is indication that the take up rate of pediatric vaccination against flu, RSV and adenoviruses and other universal and critical vaccines were drastically down in the last three years.
However, one of the key points that most people are missing out is the fact that exposure to the SARS-CoV-2 virus, causes immune dysfunctions and in many cases even causes COVID-19 induced immunodeficiency. This is something that Thailand Medical News has been talking since the early part of the pandemic and was later picked up by some white immunologist who took credit for it. (As usual Westerners from the United Kingdom, America, Germany and Canada are good at such things..it is little wonder that their countries are the ones greatly impacted by the current COVID-19 pandemic and also by the outbreak of other disease and it has made us more cautious about sharing new therapeutic discoveries etc )
https://www.thailandmedical.news/news/why-is-no-one-warning-the-masses-that-the-sars-cov-2-spike-proteins-are-causing-major-immunodeficiency-issues-in-all-infected-individuals
https://www.thailandmedical.news/news/breaking-italian-study-validates-previous-claims-that-sars-cov-2-infections-causes-immunodeficiency-conditions-worse-than-hiv-infections
https://www.thailandmedical.news/news/breaking-news-covid-19-study-reveals-that-sars-cov-2-uses-cd4-cells-to-infect-t-helper-lymphocytes--covid-19-a-potent-version-of-airborne-hiv
https://www.thailandmedical.news/news/covid-19-alert-new-study-shows-sars-cov-2-coronavirus-targets-and-destroys-t-cells,-similarly-as-what-hiv-does
https://www.thailandmedical.news/news/covid-19-research-study-shows-how-cytokine-storms-actually-depletes-t-cells-in-covid-19-patients
https://www.thailandmedical.news/news/breaking-news-study-of-covid-19-recovered-patients-in-china-reveals-that-lymphocytes-are-drastically-altered-to-become-dysfunctional-with-immunity-imp
https://www.thailandmedical.news/news/covid-19-research-by-german-scientists-shows-that-sars-cov-2-paralyzes-cytotoxic-and-metabolic-functions-of-immune-cells
https://www.thailandmedical.news/news/breaking-sars-cov-2-causes-thymic-dysregulation-and-thymic-atrophy-that-results-in-lymphopenia-and-peripheral-t-cell-receptor-repertoire-changes
https://www.thailandmedical.news/news/long-covid-could-also-be-due-to-sars-cov-2-dysregulating-the-human-host-immune-system-for-months-including-downregulating-naive-t-and-b-cells
https://www.thailandmedical.news/news/covid-19-alert-new-study-shows-sars-cov-2-coronavirus-targets-and-destroys-t-cells,-similarly-as-what-hiv-does
https://link.springer.com/article/10.1007/s12668-022-01020-x
More importantly, one of the reasons that there is an exponential increase in cases of children contracting RSV, Adenovirus and Influenza viruses and in many cases developing disease severity is because exposure to the SARS-CoV-2 virus has incapacitated their robust innate immune systems.
https://www.thailandmedical.news/news/warning-newer-sars-cov-2-variants-have-evolved-to-overcome-the-robust-innate-immune-system-of-children-infants-and-children-are-more-vulnerable-now
In the last few years, many children were exposed to the novel coronavirus and many were fortunately asymptomatic or were mildly symptomatic and, in many cases, their parents never knew that their children or infants had been exposed to the airborne SARS-CoV-2 variants or their sub-lineages! Such exposures have caused the innate system of these children to become dysfunctional.
In addition to this, Thailand Medical News has been warning that with almost more than two thirds of the global population already exposed to the SARS-CoV-2 coronavirus either knowingly or unknowingly, the human host immunity landscape has changed and this can lead to existing dormant pathogens and also other common pathogens that are circulating around to evolve and also mutate, giving rise to new strains of these pathogens, in some cases with enhanced transmissibility, enhanced pathogenesis and virulence.
When Thailand Medical News first proposed that the RSV viruses in circulation that are contributing to the current surges could be new strains......we were as usual met by skepticism and even criticisms by Western researchers in Germany, United Kingdom, France, Switzerland and Canada.
https://www.thailandmedical.news/news/warning-adults-can-also-contract-rsv-infections-and-its-usually-severe-in-the-aged-is-the-current-rvs-wave-due-to-newly-emerged-strains
However, a team of American and Swiss researchers found that there were indeed new RSV strains at play!
https://www.thailandmedical.news/news/breaking-scientists-discover-new-circulating-rsv-virus-variants-that-is-causing-prolong-infection-especially-among-infants-and-young-children
We have also warned the same about the adenovirus virus that is causing liver issues in children and even some adults in that there are new evolved strains that are in circulation.
https://www.thailandmedical.news/news/what-they-are-not-telling-you-about-the-covid-19-pandemic,-about-the-sars-cov-2-virus,-its-emerging-variants-and-long-covid
We at Thailand Medical News strongly believe that we will see more new and pathogenic strains of herpes viruses, TB strains, various pathogens associated with STIs ie sexually transmitted diseases such as syphilis, gonorrhea and even HIV along with chicken pox emerging very soon especially in the Western countries.
The concept of 'Immunity Debt' is but a mere fallacy and the world will have to come to terms that previous exposure to the SARS-CoV-2 virus and now, constant onslaughts by the various emerging variants and sub-lineages that are causing breakthrough infections and reinfections, is literally destroying the human host immunity system along with constant COVID-19 shots and boosters.
The world, in particularly the West, will pay a very heavy price in coming years and despite constant claims that deaths due to the new variants and sub-lineages are dropping, the excess deaths rates due to long term health complications induced by COVID-19 will keep on rising drastically and many will keep on dropping like 'dead flies' despite cover ups by these governments and health authorities. (Perhaps by divine retribution, most of these so-called Western experts on twitter and mastodon will also be among the carcasses!)
For the latest
COVID-19 News
, keep on logging to Thailand Medical News.