U.S. Medical News: CDC Sounds the Alarm On Deadly Fungus, Candida Auris Ravaging U.S. Healthcare Facilities At A Startling Pace!
U.S. Medical News
: Candida auris (C. auris), a formidable fungus posing a critical antimicrobial resistance (AR) challenge, has been spreading with astonishing speed across U.S. healthcare facilities between 2020-2021, as reported by the Centers for Disease Control and Prevention (CDC) in the Annals of Internal Medicine.
https://www.acpjournals.org/doi/full/10.7326/M22-3469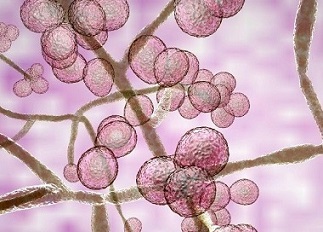 Nationwide, clinical cases spiked from 476 in 2019 to 1,471 in 2021, and screening cases tripled from 2020 to 2021, totaling 4,041.
But was is even more alarming is that for the year 2022, there were 2,377 clinical cases of Candida auris infections and 5,754 screening cases (January 2022 - December 2022) in the United States!
https://www.cdc.gov/fungal/candida-auris/tracking-c-auris.html
There are currently three main drug classes of antifungals, which healthcare professionals use to treat fungal infections:
-azoles, such as fluconazole
-polyenes, such as amphotericin B
-echinocandins, such as anidulafungin
According to a 2021 CDC report, in the United States, around 85% of C. auris is resistant to azoles, around 33% is resistant to amphotericin B, and 1% is resistant to echinocandins.
https://www.cdc.gov/mmwr/volumes/70/wr/mm7029a2.htm
This means echinocandins are usually the first-line treatment for invasive Candida infections, including C. auris.
The report also notes researchers have identified some strains of C. auris that are pan-resistant, meaning they are resistant to all three classes of antifungal drugs.
Equally distressing is the new 2021 data in the published study showing a threefold increase in cases resistant to echinocandins, the top-recommended antifungal medication for treating C. auris infections.
Typically, C. auris does not threaten healthy individuals, but it poses significant risks to severely ill patients, those with invasive medical devices, or those experiencing long or frequent stays in healthcare facilities.
The U.S. CDC classifies C. auris as an urgent antimicrobial resistance menace due to its frequent resistance to multiple antifungal drugs, its ability to spread easily within healthcare settings, and its propensity for causing severe infections with high mortality rates.
"The dramatic increase and widespread distribution of cases underscore the need for persistent monitoring, enhanced laboratory capabilities, faster diagnostic tests, and strict adherence to proven infection prevention and control practices," stated CDC epidemiologist Dr Meghan Lyman, the paper's lead author.
Candida auris presents a grave global health risk, and the U.S.CDC is particularly concerned about this fungus for four primary reasons:
-It is frequently multidrug-resistant, meaning that it can withstand multiple antifungal drugs commonly utilized for treating Candida infections. Some strains can even resist all three available classes of antifungal drugs.
>
-Standard laboratory methods struggle to accurately identify C. auris, and labs lacking specific technology may misidentify it. This misidentification could lead to improper treatment.
-It has instigated outbreaks within healthcare environments. For this reason, it is crucial to swiftly identify C. auris in hospitalized patients, allowing healthcare facilities to implement special measures to halt its spread.
-C. auris can survive for long periods on the skin and surfaces, which means it can pass more easily from person to person.
Since an initial U.S. report in 2016, C. auris has proliferated, with 3,270 clinical cases (involving active infections) and 7,413 screening cases (detecting the fungus without causing infections) recorded through December 31, 2021.
Clinical cases have risen yearly since 2016, with the steepest surge taking place between 2020-2021 and now in 2022.
According to
U.S. Medical News
coverages, the U.S. CDC has observed a continued increase in case numbers for 2022 and also into 2023.
From 2019-2021, 17 states documented their first-ever C. auris case. Nationwide, clinical cases spiked from 476 in 2019 to 1,471 in 2021, and screening cases tripled from 2020 to 2021, totaling 4,041. Screening plays a crucial role in preventing the spread of the fungus by identifying carriers, allowing for the implementation of infection prevention measures.
It is believed that various factors have contributed to the rising C. auris case numbers, including inadequate infection prevention and control (IPC) practices in healthcare facilities.
Case numbers may also have climbed due to intensified efforts to detect cases, such as increased colonization screening - a test that determines if an individual is carrying the fungus without infection or symptoms.
Public health investigations suggest that the COVID-19 pandemic may have exacerbated the spread of C. auris by straining healthcare and public health systems.
Data for this report on 2019 to 2021 cases was provided in part by the U.S. CDC's Antimicrobial Resistance Laboratory Network, which offers nationwide lab capacity to swiftly detect antimicrobial resistance and inform local responses to prevent further spread and protect individuals.
The American Rescue Plan Act has supported U.S.CDC efforts to significantly bolster laboratory capacity, including state, territorial, and local health departments, with susceptibility testing capacity for C. aur auris increasing from seven Regional Labs to over 26 labs across the nation.
The U.S.CDC remains committed to collaborating with state, local, and territorial health departments, along with other partners, to confront this emerging public health hazard. For more information on C. auris, consult the Antimicrobial Resistance Threats Report, which identifies C. auris as an urgent threat in the United States, or the World Health Organization's fungal priority pathogen list, which designates C. auris as a global priority.
https://www.cdc.gov/drugresistance/biggest-threats.html
https://www.cdc.gov/drugresistance/pdf/threats-report/candida-auris-508.pdf
https://www.who.int/health-topics/antimicrobial-resistance
For the latest
U.S. Medical News
, keep on logging to Thailand Medical News.