BREAKING! University Of Maryland Study Finds That Pyronaridine Tetraphosphate Is An Effective Antiviral Against All Coronaviruses And SARS-CoV-2 Variants!
COVID-19 News
: The COVID-19 pandemic, stemming from the severe acute respiratory syndrome coronavirus-2 (SARS-CoV-2), continues to pose a significant threat to global public health. As new variants of the virus emerge, the efficacy of current treatment options is compromised, underscoring the need for effective antiviral and anti-inflammatory therapies. While various compounds have shown promise in inhibiting SARS-CoV-2 infection in laboratory settings, their performance in real-world scenarios has been inconsistent as covered in various studies and past
COVID-19 News
reports. The demand for antiviral drugs that are both efficacious and broadly effective against highly pathogenic coronaviruses, including SARS-CoV-2, SARS-CoV-1, and MERS-CoV, remains high.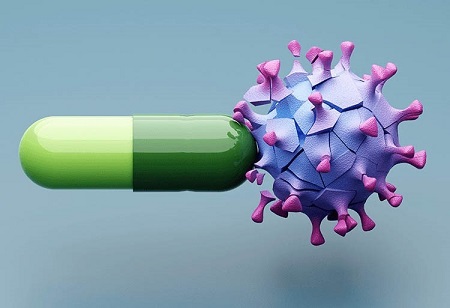 Pic Credit: Jorg Greuel/Getty Images
Pyronaridine Tetraphosphate's Potential as an Antiviral
A recent study conducted by researchers at the University of Maryland School of Medicine has shed light on the potential of pyronaridine tetraphosphate as an effective antiviral against coronaviruses. This study offers a comprehensive investigation into pyronaridine's capabilities, both in vitro and in vivo, against SARS-CoV-2 and its variants.
Pyronaridine is already listed on the WHO Essential Medicine List due to its role as a safe and accessible malaria treatment.
Understanding the Scope of the Study
In the pursuit of effective COVID-19 treatments, the study examined the inhibitory effects of pyronaridine on SARS-CoV-2 infection using various models. The researchers utilized cellular models and transgenic mouse models, including the K18-hACE2 mouse model, to evaluate the drug's efficacy against SARS-CoV-2, SARS-CoV-1, and MERS-CoV. The stud team also investigated pyronaridine's potential as a combination therapy with existing antivirals, molnupiravir, and nirmatrelvir, demonstrating its compatibility and possible synergistic effects.
Background on Current Treatment Options
The study also highlights the limitations and challenges posed by current COVID-19 treatment options, including monoclonal antibodies, immune modulators, and direct-acting antiviral drugs like remdesivir, molnupiravir, and Paxlovid. These treatments have demonstrated varying levels of efficacy, and the emergence of new variants has raised concerns about their long-term effectiveness.
The Potential of Pyronaridine
Pyronaridine, initially developed as an antimalarial drug, has shown promising results in inhibiting the replication of SARS-CoV-2 in vitro. The study highlights the drug's multifaceted mechanisms of action, including inhibition of hemozoin formation, intercalation into DNA, and inhibition of topoisomerase II. These mechanisms are explored further in the context of antiviral and anti-inflammatory effects, positioning pyronaridine as a potential therapeutic candidate against COVID-19.
In Vivo Efficacy
The resea rch delves into the in vivo efficacy of pyronaridine using mouse models infected with various coronaviruses. The study reveals that pyronaridine administration significantly reduces viral load, lung pathology, and inflammation. Notably, pyronaridine demonstrates effectiveness across different variants of SARS-CoV-2, including the highly transmissible Omicron variant.
Combination Therapy Potential
One of the study's highlights is the potential of pyronaridine in combination with existing antiviral drugs. By combining pyronaridine with molnupiravir and nirmatrelvir, the researchers observed synergistic effects that further reduced viral titers, lung pathology, and inflammatory cytokine levels. This finding suggests a new approach to COVID-19 treatment by maximizing the benefits of different antiviral mechanisms.
Broad Spectrum Antiviral Potential
The study explores pyronaridine's antiviral activity against other highly pathogenic coronaviruses, such as SARS-CoV-1 and MERS-CoV. The researchers found that pyronaridine effectively inhibits these viruses, suggesting its broad-spectrum potential against future coronavirus outbreaks.
Conclusion
In conclusion, the study conducted by the University of Maryland School of Medicine unveils pyronaridine tetraphosphate as a promising antiviral candidate against COVID-19 and other highly pathogenic coronaviruses. The drug's demonstrated efficacy in both in vitro and in vivo models, combined with its oral administration and known safety profile, position it as a potentially impactful tool in the ongoing battle against the pandemic. Furthermore, its compatibility with existing antiviral treatments and its ability to synergistically enhance their effects underscore pyronaridine's potential in combination therapies. As the world continues to navigate the challenges of emerging variants and evolving treatment strategies, pyronaridine offers a beacon of hope for more effective and comprehensive solutions in the fight against coronaviruses. Further clinical testing and exploration of its mechanisms will be crucial in realizing its potential as a transformative antiviral agent.
The study findings were published in the peer reviewed journal: mBio.
https://journals.asm.org/doi/10.1128/mbio.01587-23
For the latest
COVID-19 News
, keep on logging to Thailand Medical News.