Canadian Study Finds That Interferon Lambda Helps In Rapid Clearance Of SARS-CoV-2 Even In Age-Related Delays In The Induction Of T Cell Immunity!
COVID-19 News
: A new breakthrough study by Canadian researchers from the University of Manitoba, University of Toronto, Canada University Health Network and University of Alberta, Edmonton has found that treating SARS-CoV-2 infected individuals with interferon Lambda helps in rapid clearance of the virus even in those with age-related delays in the induction of T cell immunity!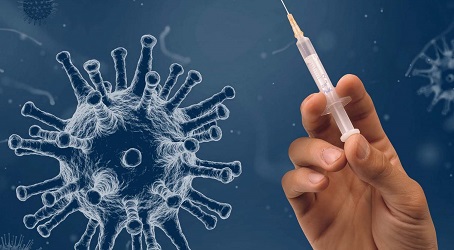 This new treatment approach is also effective against all kinds of new emerging SARS-CoV-2 variants and sub-lineages.
Interferon Lambda belongs to type III interferon group of anti-viral cytokines, that consists of four IFN-λ (lambda) molecules called IFN-λ1, IFN-λ2, IFN-λ3 (also known as IL29, IL28A and IL28B respectively), and IFN-λ4. They were discovered in 2003. Their function is similar to that of type I interferons, but is less intense and serves mostly as a first-line defense against viruses in the epithelium.
Several IFNL pseudogenes are located in the vicinity of the genes encoding IFNλs 1–3, and a common dinucleotide polymorphism in the IFNL locus can result in a frameshift mutation that enables the expression of a functional IFNL4 gene product.
An important difference between type I and type III interferons is the expression of their respective receptor complexes. IFNAR is widely expressed on almost all cell types in the body, whereas expression of the IFNλ receptor (IFNLR) is more limited, being highly expressed on epithelial cells and some immune cells, such as neutrophils in mice and B cells in humans. This distribution enables the IFNλ system to have specialized effects at barrier sites.
Although type I and type III interferons share downstream signaling machinery, some differences exist in the kinetics of different types of interferon responses. Type III interferons induce longer-lasting expression of ISGs at lower amplitude than type I interferons.
Importantly, interferons induced early after SARS-CoV-2 infection are crucial for shaping immunity and preventing severe COVID-19.
The study team previously demonstrated that injection of pegylated interferon-lambda accelerated viral clearance in COVID-19 patients (NCT04354259).
https://www.sciencedirect.com/science/article/pii/S221326002030566X
Again strangely, many
COVID-19 News
outlets did not cover this important discovery and there was no response from the global medical community to further explore this treatment protocol despite its effectiveness and availability.
In order to determine if the viral decline is mediated by enhanced immunity, the study team assessed in vivo responses to interferon-lambda by single cell RNA sequencing and measure SARS-CoV-2-specific T cell and antibody responses between placebo and interferon-lambda-treated patients.
The study findings showed that interferon-lambda treatment induces interferon stimulated genes in peripheral immune cells expressing IFNLR1, including plasmacytoid dendritic cells and B cells.
&nbsp ;
Importantly, interferon-lambda does not affect SARS-CoV-2-specific antibody levels or the magnitude of virus-specific T cells.
The study team however identified delayed T cell responses in older adults, suggesting that interferon-lambda can overcome delays in adaptive immunity to accelerate viral clearance in high-risk patients.
The study findings shows that interferon-lambda offers an early COVID-19 treatment option for outpatients to boost innate antiviral defenses without dampening peripheral adaptive immunity.
The study findings were published in the peer reviewed journal: Nature Communications.
https://www.nature.com/articles/s41467-022-34709-4
Interferons (IFNs) are a crucial part of the innate antiviral immune response and drive the expression of a wide array of genes with antiviral and immunoregulatory properties, collectively known as interferon-stimulated genes (ISGs).
Two groups of IFNs contribute directly to the innate antiviral response at mucosal barriers in humans- type I (eg. IFN-α, IFN-β) and type III (IFN-λs). The broad pleiotropic effects of ISGs can overcome antiviral resistance, making type I or III IFNs potential therapeutics for new and/or highly diverse viruses.
Past studies have found a link between severe COVID-19 and deficiencies in, or autoantibodies to, type I IFN, while stronger type I IFN responses have been associated with asymptomatic infection, highlighting the critical role of IFNs in disease evolution.
https://pubmed.ncbi.nlm.nih.gov/34824360/
https://pubmed.ncbi.nlm.nih.gov/33544838/
https://www.science.org/doi/10.1126/science.abd4570
https://pubmed.ncbi.nlm.nih.gov/33851338/
Similar to other viruses, SARS-CoV-2 encodes proteins to antagonize IFN responses however supplementing the natural IFN response with IFN treatment has been found to be effective against the virus.
The type III IFNs act primarily at mucosal barriers through binding a unique heterodimeric receptor (IFN-λR1/IL-10RB) to promote innate antiviral immunity.
The Phase II clinical trial data demonstrated that a single subcutaneous injection of PEG-IFN-λ (180 µg) showed efficacy as an early antiviral treatment for COVID-19.
https://www.sciencedirect.com/science/article/pii/S221326002030566X
In this new study, the researchers showed that specific immune cells in the peripheral blood were responsive to PEG-IFN-λ, but this responsiveness did not modulate peripheral adaptive immunity to SARS-CoV-2, either positively or negatively.
However, early sampling revealed that older patients displayed a delayed T cell response towards SARS-CoV-2, showing a less diverse and less functional early response.
The study findings showed that accelerated clearance of SARS-CoV-2 by PEG-IFN-λ was mediated by induction of the antiviral ISG response without major effects on B and T cell immunity, an advantage in older patients where the T cell immune response was delayed.
The study team concluded, "To summarize, our analyses demonstrate that a single dose of PEG-IFN-λ accelerates SARS-CoV-2 clearance without affecting virus-specific T cell responses or antibody production in mild-to-moderate acute SARS-CoV-2 infection. Compared to current antiviral treatments for COVID-19, PEG-IFN-λ treatment is broad-acting, effective with a single dose, and is less likely to be affected by new variants or resistance mutations. This supports future use of PEG-IFN-λ as an early treatment option because it provides beneficial antiviral effects without negative consequences on adaptive immunity. This aspect may be particularly relevant for older COVID-19 patients who may have naturally delayed T cell responses to SARS-CoV-2 early in an infection."
For the latest
COVID-19 News
, keep on logging to Thailand Medical News.