WARNING! SARS-CoV-2 Infections Can Also Cause Sensorineural Hearing Loss (SSNHL)!
COVID-19 News
: A nurse's personal battle with COVID-19 related hearing loss has sparked alarms on a little-known side effect and has prompted further research into this COVID-19 effect that seems to be growing in terms of reported cases.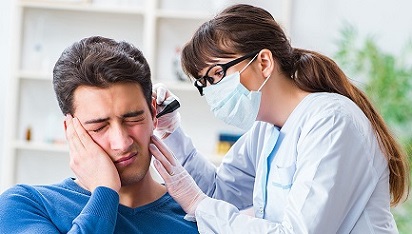 Kim Gibson, a nursing lecturer at the University of South Australia and registered nurse with a clinical background in neonatal intensive care, never expected her mild COVID-19 infection to leave her battling sudden sensorineural hearing loss (SSNHL). Now, she uses her harrowing experience to raise awareness and inform research on this little-known side effect of the virus.
Despite being fully vaccinated, Gibson experienced acute hearing loss in one ear, vertigo, and tinnitus several weeks after her COVID-19 infection in 2022. An otolaryngologist confirmed the sensorineural hearing loss, a side effect not commonly listed on websites or discussed by general practitioners. Gibson received a course of oral prednisolone and betahistine, which gradually improved her hearing, though she still suffers from intermittent tinnitus.
Gibson's study findings aiming to shed light on the lesser-known impacts of COVID-19. She believes clinicians should include sudden hearing loss as a potential side effect when discussing the virus with patients. High-dose corticosteroids are the recommended first line of treatment for SSNHL, and prompt referrals to specialists are essential.
Previous
COVID-19 News
coverages had also reported about hearing loss in COVID-19 infected individuals but it is only of late that physicians are witnessing more such cases.
https://www.thailandmedical.news/news/researchers-say-one-potential-long-term-health-implication-of-covid-19-could-be-hearing-loss
https://www.thailandmedical.news/news/covid-19-medical-news-university-of-manchester-reports-of-increased-occurrences-of-hearing-loss-by-recovered-covid-19-patients
https://www.thailandmedical.news/news/covid-19-effects-first-documented-case-of-permanent-hearing-loss-due-to-covid-19-in-uk-published-in-british-medical-journal-as-more-cases-emerging
https://www.thailandmedical.news/news/harvard-and-mit-study-shows-that-sars-cov-2-coronavirus-can-infect-the-inner-ear-causing-audiovestibular-dysfunction
The Royal Australian College of General Practitioners explains that sudden deafness occurs when an individual loses their hearing quickly, typically in one ear. This can happen instantly or over several days and can range from mild impairment to total hearing loss. In some cases, the loss may be temporary, while in others, it can be permanent.
Previous studies have linked SSNHL to COVID-19 and, to a lesser extent, as a potential side effect of vaccination. However, Gibson warns that even those with minor COVID-19 infections could be at risk of permanent and debilitating long-term effects. High-quality, person-centered care is crucial in addressing these issues.
During the pandemic, approximately one-third of patients with SSNHL tested positive for COVID-19 when referred to an audiologist. Other studies reported an increase in SSNHL in 2020 and 2021, including among asymptomatic individuals.
Gibson's case is unique as her SSNHL developed five weeks after a mild COVID-19 infection. Although causation is challenging to prove, the authors of the case study postulate an association between the virus and SSNHL, as the pure tone audiogram (PTA) revealed a sensory-neural mechanism for unilateral hearing loss at mid-to-high frequencies.
The severity of COVID-19 infections and the timing of SSNHL remain unpredictable, prompting the researchers to recommend that clinicians consider discussing SSNHL with patients and maintain a low threshold for suspicion. Early administration of high-dose corticosteroids is a significant predictor of auditory outcomes and is the recommended first-line treatment for SSNHL.
SSNHL and its associated symptoms can have a significant impact on a person's quality of life and are closely related to anxiety and depression. Gibson emphasizes the importance of a holistic approach in treating SSNHL, considering stress reduction and well-being exercises as part of a comprehensive tinnitus management plan.
As research into the short and long-term impacts of COVID-19 continues, it is crucial to recognize the variety of symptoms patients may present and rigorously investigate SSNHL among those with active or recently recovered infections. The risk of permanent audio-vestibular symptoms cannot be disregarded, and vigilance is vital to addressing this alarming side effect.
Gibson's experience underscores the need for awareness and research into the lesser-known side effects of COVID-19. She hopes her story will prompt clinicians to consider SSNHL in their discussions with patients, leading to better care and improved outcomes for those affected by this debilitating condition.
Gibson is working to expand her research and collaborate with other experts to better understand the prevalence and mechanisms of SSNHL in COVID-19 patients. She believes that a multidisciplinary approach, involving otolaryngologists, audiologists, and primary care providers, is vital to improving patient care and outcomes.
While the connection between COVID-19 and SSNHL is still being investigated, Gibson's experience highlights the importance of staying informed about the potential side effects and complications of the virus. As more cases emerge, the medical community will have a clearer understanding of the extent and nature of this phenomenon.
For now, it is crucial that health care professionals maintain a high level of awareness when treating patients who have had COVID-19. This heightened vigilance will ensure that patients receive prompt and appropriate care and reduce the risk of long-term complications.
Gibson's advocacy and determination to raise awareness about SSNHL in COVID-19 patients serve as a reminder that even mild cases of the virus can have life-changing consequences. As the world continues to grapple with the pandemic, it is essential to remain vigilant and informed about all aspects of COVID-19 and its potential impacts on our health.
Gibson's research findings and recommendations were published in the peer reviewed BMJ Case Reports.
https://casereports.bmj.com/content/16/4/e252899
For the latest
COVID-19 News
, keep on logging to Thailand Medical News.
Please help share this article to your loved ones and friends as google along with those controlling the COVID-19 narratives are these days trying to shadow ban sites that continue to warn about the dangers of the COVID-19 disease and its long-term effects or any sites that warn about the still potential risk from the SARS-CoV-2 sub-lineages that are in circulation. They simply want everyone to assume that COVID-19 is over or is mild. Google these days are only promoting news sites that are under the BBC's Trusted News Network or Sites that are under Google News so that all narratives with regards to COVID-19 and the vaccines can be controlled! Their aim is also to wipe out all independent news sites as that they can totally control all contents on the internet! Please boycott all media news networks linked to these groups and do not even post their links etc.
https://finance.yahoo.com/news/alternative-healthcare-activists-file-antitrust-162100012.html
https://www.forbes.com/sites/carlieporterfield/2023/01/13/rfk-jr-sues-bbc-and-other-media-outlets-over-covid-censorship/?sh=26abfe9e1508