COVID-19 News: SARS-CoV-2 Infections Surge Amid Rising Excess Deaths - A Closer Look At Canada's Pandemic Landscape
COVID-19 News
: In a disquieting twist of fate, COVID-19 infections appear to be rearing their heads once again in the vast expanse of Canada, hinting at a potential resurgence of the relentless pandemic. Alarming reports from the Public Health Agency of Canada (PHAC) suggest that the nation's prolonged battle against the virus might be far from over, with early indicators showcasing fluctuating COVID-19 activity after an extended period of gradual decline.
https://health-infobase.canada.ca/covid-19/#a1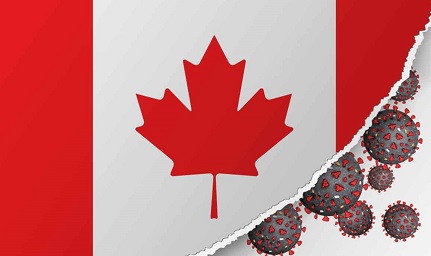 This unsettling development has raised concerns among health experts, prompting a deeper exploration into the causes and implications of this resurgence.
As summer envelops the land, COVID-19 activity has been assessed as ranging from low to moderate across various provinces and territories. Yet, ominous undercurrents have emerged, with experts predicting a forthcoming surge in COVID-19 cases by the time August unfurls.
Dr Allison McGeer, a distinguished infectious diseases specialist based at Toronto's Mount Sinai Hospital, offers a sobering assessment to
COVID-19 News
reporters, "I think the solid evidence is that COVID-19 is coming back in Canada." However, she cautions that the upswing in activity might take several weeks to manifest in a substantial manner.
To monitor this evolving situation, public health experts employ a diverse array of methods, including wastewater surveillance and analysis of COVID-19 test positivity rates. Notably, the landscape of testing has shifted, with widespread PCR testing yielding to targeted assessments of individuals hospitalized or displaying symptomatic patterns. Dr McGeer emphasizes that the impending spike in cases can be attributed to several converging factors, including diminishing vaccine immunity, the emergence of new subvariants, and the upcoming transition to indoor environments as autumn approaches.
One subvariant that has garnered considerable attention is EG.5, an offshoot of the XBB.1 family of the Omicron variant. With 99% of genetically sequenced COVID-19 cases attributed to XBB subvariants, EG.5's anticipated ascendancy in the coming weeks has ignited concerns.
Dr Dawn Bowdish, an esteemed immunologist at McMaster University, delves into the intricacies of EG.5, highlighting its potential for greater contagion due to its enhanced immunity-evading properties. While the variant might be more transmissible, no indications exist that it inflicts heightened severity upon otherwise healthy individuals.
However, the shadow of a resurgent pandemic falls most heavily upon seniors and immunocompromised individuals. With their vulnerability in mind, health experts advocate for a renewed focus on vaccination, particularly as fall approaches. The upcoming wave of updated vaccines targeting the XBB subvariant family is poised to offer robust protection against severe infections and symptomatic cases alike, reinforcing the importance of preventive measures.
Even as mask mandates wane across the country, the resurfacing threat underscores the necessity of responsible behaviors. The ongoin g imperative to remain at home when unwell remains paramount in curbing the virus's potential to spread. Although mask mandates might have eased, their persistence in patient-care areas of many hospitals reflects a continued commitment to patient safety and limiting transmission.
Unmasking the Enigma: Unprecedented Excess Deaths
Simultaneously, a perplexing puzzle has surfaced on a different front, suggesting an enigmatic surge in mortality that defies easy explanation. 2023 has witnessed a peculiar trend wherein more lives are being claimed than anticipated, evoking concerns about unexplained excess deaths. This phenomenon, characterized by a surge in fatalities beyond expected levels, has ignited a flurry of speculation and scrutiny.
https://lookerstudio.google.com/embed/u/0/reporting/519dd38b-0284-4d9d-b2b0-0d5ae5ab5e9c/page/p_1zkyxdfmxc
While official data portrays a decline in COVID-19 case counts compared to the preceding year, the full scale of the pandemic's impact remains shrouded in ambiguity. As Dr Tara Moriarty, an infectious-disease researcher and co-founder of COVID-19 Resources Canada, elucidates, excess mortality statistics reveal a 15% to 20% increase in mortality from 2020 and 2021, marking an unsettling departure from historical norms. Notably, 2022's grim toll looms large in the rearview mirror, but the surge remains pronounced when contrasted with the initial years of the pandemic.
From the onset of the pandemic until June, Dr Moriarty team's calculations suggest that Canada has witnessed an astounding surge of nearly 90,500 excess deaths, a staggering figure that surpasses the toll of Canadian lives lost during the tumultuous Second World War. It's worth noting that this figure has been meticulously refined, accounting for fatalities stemming from drug poisonings, suicides, mass homicides, and even a harrowing heat wave that swept through British Columbia.
In stark contrast, the officially documented COVID-19 deaths since the pandemic's inception pale in comparison, totaling 53,216 according to the data meticulously curated by the Public Health Agency of Canada.
The complexity of the phenomenon of excess deaths during the ongoing COVID-19 crisis is exacerbated by Canada's intricate reporting system for deaths. Unlike countries such as Britain and France, which boast timely death-reporting systems, Canada grapples with disjointed reporting practices across its provinces. This systemic lag has hindered a clear attribution of excess deaths to COVID-19, further complicating the interpretation of the phenomenon's significance.
Dr Moriarty underscores the urgency of unraveling this enigma, emphasizing the need to discern the underlying causes of the elevated death toll. While attributing these excess deaths solely to COVID-19 might be premature, their emergence warrants rigorous investigation and analysis. The confluence of various factors, including delayed reporting and underreporting, perpetuates the mystery surrounding excess mortality and necessitates a more comprehensive understanding.
Looking Beyond the Numbers - Confronting a Complex Landscape
Interpreting these unsettling trends requires a nuanced perspective that transcends raw statistics. Experts such as Kim McGrail, a professor at the University of British Columbia, and Statistics Canada advocate for a more holistic approach, recognizing excess mortality as a harbinger of deeper complexities. These anomalies serve as signposts, indicating a need for in-depth exploration into the multifaceted influences steering mortality rates in unanticipated directions.
Dr McGrail underscores the complex interplay of factors influencing mortality in the pandemic era. Beyond direct COVID-19 fatalities, the ripple effects of infection, mental health implications, delayed medical interventions, and the broader impact of public health crises underscore the intricate tapestry of mortality trends. These factors conspire to paint a vivid portrait of the pandemic's multifaceted toll on human life.
Even if excess mortality is not exclusively attributed to COVID-19, its implications remain far-reaching. Dr Moriarty champions a proactive stance, urging Canada to grapple with the ongoing challenges posed by the virus. The potential for lingering long COVID effects, burdened healthcare systems, economic setbacks, and lasting population health consequences necessitate a resolute response.
Moreover, these unsettling trends underscore the imperative to enhance Canada's death-reporting mechanisms. By establishing a robust and efficient system, the nation can prepare for future crises, whether spawned by pandemics or environmental shifts, while gaining a clearer understanding of emerging challenges.
In the face of mounting uncertainty, one truth remains undeniable - Excess deaths and resurging COVID-19 cases are intertwined facets of a complex tapestry. As Canada navigates these uncharted waters, a concerted effort to decipher the underlying dynamics is crucial to safeguarding lives, preserving health, and charting a course toward a more resilient future.
For the latest
COVID-19 News
, keep on logging to Thailand Medical News.