COVID-19 News: Besides BF.7 With C1243F Mutation, Other New Concerning Sublineages From BA.2.3.20 And BA.5.2 With New Mutations Identified In China!
COVID-19 News
: International researchers are now able to identify more concerning variants that have emerged in China by obtaining samples for genomic sequencing from Chinese travelers arriving at other countries who are not only testing positive for COVID-19 but some who have been hospitalized upon arrival after developing disease severity!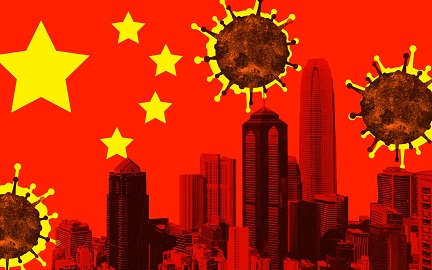 The Chinese authorities are deliberating concealing critical data with regards to the COVID-19 catastrophe that is unfolding in the country and certain data that is shared with the international community as a result of pressure from the WHO and UN are only bits and parcels of data they are releasing to mislead the international community.
https://www.thailandmedical.news/news/breaking-covid-19-news-china-bans-all-private-companies-and-also-researchers-from-genomic-sequencing-of-new-sars-cov-2-variants
China even used its state-controlled media to help disseminate such information recently and other
COVID-19 News
while some stupid foreign websites that have no credibility simply accepted such data as the truth!
https://www.globaltimes.cn/page/202212/1282775.shtml
While it has already been established that a new BF.7 variant spotting the C1243F spike mutation is circulating in China and is possibly driving disease severity, other variants spotting interesting new mutations have also been identified.
https://www.thailandmedical.news/news/covid-19-news-multiple-new-variants-in-china-could-be-behind-increasing-disease-severity-including-new-bf-7-variant-with-c1243f-spike-mutation
To begin, with regards to the BA.5.2 subvariant, numerous new sub-lineages of it with new mutations have been found originating from China.
There is one new sub-lineage of BA.5.2 spotting spike mutation T8831I and an ORF1b mutation S997P. International researchers had identified this in the last 36 hours.
https://github.com/cov-lineages/pango-designation/issues/1480
International researchers have also identified yet another BA.5.2 sub-lineage, this time spotting a spike mutation A570S.
https://github.com/cov-lineages/pango-designation/issues/1479
Prominent Chinese virologist Professor Dr Yunlong Richard Cao also spotted yet another BA.5.2 sub-lineage with the nucleocapsid mutation Q241K.
https://github.com/cov-lineages/pango-designation/issues/1478
Then there is also another BA.5.2 sub-lineages that was detect ed in parts of Guangdong in China some 3 to 4 days back spotting ORF1a mutation T1788< and also a Nuc mutation C4573T.
https://github.com/cov-lineages/pango-designation/issues/1472
There is also another BA.5.2 sub-lineage with the mutation T1050N found in the ORF1b protein that was detected in Chinese travelers arriving in various countries.
https://github.com/cov-lineages/pango-designation/issues/1471
There also strong suspicions that another BA.5.2 sub-lineage ie BA.5.2.1 with new mutations that is behind the growing COVID-19 hospitalizations and deaths in Japan are also circulating in China.
https://www.thailandmedical.news/news/breaking-covid-19-news-researchers-concerned-about-new-ba-5-2-1-with-mutations-in-the-orf9b-in-japan-may-be-driving-disease-severity-and-deaths
Besides the new BF.7 and BA.5.2 sub-lineages with new mutations, international researchers have also identified a new BA.2.3.20 sub-lineage with the ORF8 mutation T121 that could possibly be originating from travelers from China.
https://github.com/cov-lineages/pango-designation/issues/1481
China, Japan along with two other South-east countries (one famous for whores and the other that boasts itself as a wealthy nation) are being speculated by international researchers as countries that are likely to become the new hotbeds for the rise of possibly new concerning SARS-CoV-2 variants in the East due to a variety of factors ie lack of testing, kinetics of vaccination and booster rates, kinetics of infection, reinfection and co-infection rates, the dangerously promoted ideology that the virus is now mild and that people have to learn to live with it…hence a relaxation of preventive measures, lots of citizens from these countries are travelling around, the local authorities strict measures to control COVID-19 information and the control of media in these countries through various strategies. Hopefully it will all come back to haunt them badly in coming weeks or months.
In the meanwhile unlike a certain South-East country where politicians, military dictators and the local whores are greasing themselves with lubricants to welcome the Chinese tourists due to their desperation for the tourists dollar after having depleted the reserves in the country through mismanagement and corruption and having no regard for the health safety of it citizens, other countries should instead take a hard stand and even ban Chine travelers to their countries for the time being and even other travelers from certain other Asian countries and also prevent citizens from their own countries from visiting China or the other high risk Asian countries.
https://www.thailandmedical.news/news/covid-19-news-china-to-release-human-bioweapons-to-spread-more-virulent-variants-globally-as-it-relaxes-all-border-controls-on-the-8th-of-january-2023
2023 is going to be messy year as the COVID-19 pandemic has been so badly managed from the start and so messed up that we will be paying the price for it starting from 2023 onwards, for those dreaming that herd immunity or the boosters or that the current US FDA antivirals are going to help them… or worse that COVID-19 is now mild, they are in for rude shock!
For the latest
COVID-19 News
, keep on logging to Thailand Medical News.