WARNING! SARS-CoV-2 Infections Are Accelerating T Cell Immunosenescence And Increasing Cardiovascular Disease Risks In CMV-Seropositive Individuals!
COVID-19 News
: A groundbreaking study by the University of Cordoba-Spain and Reina Sofia University Hospital-Spain has revealed that SARS-CoV-2 infections in Cytomegalovirus or CMV-seropositive individuals are linked to accelerated T cell immunosenescence and an increased risk of cardiovascular disease. This discovery has significant implications, considering the vast prevalence of both cytomegalovirus (CMV) and SARS-CoV-2 infections globally.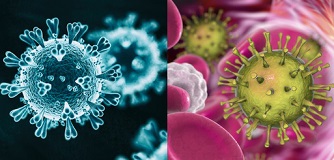 Cytomegalovirus or CMV, a common herpesvirus infection with global seroprevalence ranging from 45% to 100%, is a major driver of accelerated immunosenescence related to CD28null T cells expansion. This expansion and its proatherogenic T cells have been independently associated with cardiovascular disease and COVID-19 severity. CMV latent infection has been associated with several autoimmune conditions, as well as with cardiovascular disease.
Researchers investigated the potential contribution of SARS-CoV-2 to immunosenescence and its relationship with CMV by immunophenotyping innate and adaptive immune subpopulations from mild/asymptomatic SARS-CoV-2 infected (mCOVID-19) individuals and healthy donors (HD).
The study team found a significant increase in CD28nullCD57+CX3CR1+ T cell percentages in mCOVID-19 CMV+ individuals, which remained stable up to 12 months post-infection. Moreover, mCOVID-19 individuals showed no significant differences with aortic stenosis patients.
SARS-CoV-2 infection can cause COVID-19 with a wide range of symptoms and varying degrees of severity as covered in various past studies and also
COVID-19 News
reports. Most studies have focused on the acute infection and severity of COVID-19. However, little information is available concerning the long-term impact of SARS-CoV-2 on the immune system in mild or asymptomatic infected individuals.
Immunosenescence is the age-related decline of adaptive and innate immune responses, and for many years, the expansion of CD28null T cells was considered a consequence of chronological aging and a hallmark of immunosenescence and frailty. However, it is now understood that this expansion is a sign of replicative senescence and specifically, a hallmark of CMV chronic infection. CMV is considered one of the main factors driving early or accelerated immunosenescence, affecting up to 40-90% of the world's population.
https://pubmed.ncbi.nlm.nih.gov/20564615/
CMV latent infection has been associated with several autoimmune conditions, as well as with cardiovascular disease (CVD). Furthermore, CMV-seropositivity has been associated with an increased risk of cardiovascular death by over 20%. The study hypothesizes that CD28null T cells, capable of infiltrating the vasculature, will be attracted by the FKN and IP-10 gradient created by the activated endothelial cells, ultimately causing vascular damage.
Recent studies have demonstrated an association of CD8+ and CD4+ CD28null T cell percentages with higher morbidity and mortality rates in COVID-19 and the relation of CMV infection with increased COVID-19 severity and hospitalization risk. Furthermore, an increment of inflammatory cardiovascular events led by SARS-CoV-2 infection has been observed.
Under this premise, the study team aimed to investigate the potential role of SARS-CoV-2 as an enhancer factor, leading to early immunosenescence and increased cardiovascular risk.
The study findings showed that SARS-CoV-2 infection enhances CMV-driven accelerated immunosenescence, with numerous studies already suggesting a link between SARS-CoV-2 infection and an elevated risk of CVD based on clinical incidence data
.
The research shows that SARS-CoV-2 infection is, in fact, an accelerating factor of CMV-associated T cell senescence that may lead to cardiovascular disease.
Considering the current SARS-CoV-2 infection numbers (ranging anything between 4 to 5 billion people globally!) and the prevalence of CMV infection worldwide, these findings may have significant implications for the long-term health of millions of individuals.
Furthermore, the study findings highlight the importance of understanding the interaction between CMV and SARS-CoV-2 infections and their combined impact on T cell immunosenescence. As the world continues to grapple with the effects of the ongoing pandemic, it is crucial for healthcare systems and policymakers to address the long-term consequences of SARS-CoV-2 infection on the immune system and overall health.
One potential avenue for future investigation is the development of new therapies targeting CMV. Currently, there are no approved vaccines for CMV, but several candidates are in development, and their success could have far-reaching implications for public health. Additionally, research into effective antiviral therapies for CMV could help to reduce the burden of this widespread infection and its impact on immunosenescence.
As new variants of SARS-CoV-2 continue to emerge, understanding the long-term effects of vaccination on T cell immunosenescence and cardiovascular risk will be essential for guiding public health strategies and mitigating the lasting impact of the pandemic.
Moreover, lifestyle interventions and risk factor management could play a crucial role in addressing the long-term health implications of SARS-CoV-2 infection and accelerated immunosenescence. Strategies such as regular physical activity, a balanced diet, stress reduction, and smoking cessation could help to support immune system function and mitigate the risks associated with accelerated immunosenescence and increased cardiovascular disease risk.
In conclusion, the study findings shed light on the potential long-term health consequences of SARS-CoV-2 infection in CMV-seropositive individuals, revealing an acceleration of T cell immunosenescence and increased risk of cardiovascular disease. These study findings serve as a stark reminder of the lasting impact that the COVID-19 pandemic could have on global health, and the urgent need for continued research and intervention to address these challenges and mitigate the long-term health effects of SARS-CoV-2 infection, particularly in the context of widespread CMV infection.
The study findings were published in The Journal of Infectious Diseases, a peer reviewed journal.
https://academic.oup.com/jid/advance-article/doi/10.1093/infdis/jiad119/7143701?login=false
For the latest
COVID-19 News
, keep on logging to Thailand Medical News.