Dengue News: Dengue Cases Rising In Oman With Approximately 2240 Cases Reported So Far!
Dengue News
: As the calendar turns to October 2023, Oman is grappling with a concerning surge in dengue fever cases, with over 2240 reported cases thus far. This marks a distressing increase from the 1,989 cases reported just a few weeks ago on September 18th, painting a worrisome picture of the dengue outbreak in the country.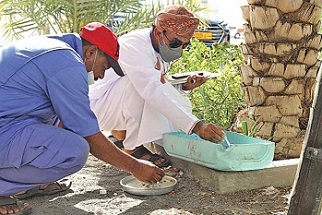 The Ministry of Health (MoH) has issued a report highlighting the alarming rise in dengue fever, predominantly caused by the Aedes mosquito. The increasing numbers have prompted coordinated efforts between the Ministry and relevant authorities to combat the Aedes mosquito, which acts as the vector for this debilitating disease.
North Batinah Takes the Lead in the Fight Against Dengue
The Ministry of Health's 2023 Annual Report, unveiled to
Dengue News
outlets on September 18th, revealed a stark increase in dengue cases across Oman, with 1,989 individuals diagnosed with the disease in the previous year. To combat the Aedes aegypti mosquito, responsible for transmitting dengue, the Ministry has joined forces with various authorities.
Taking the lead in this crucial fight against dengue, the North Batinah Municipality launched a comprehensive campaign to tackle the menace head-on. Ali al Omrani, Director of Health Affairs Department at North Batinah Municipality, has expressed the municipality's unwavering commitment to eradicating the Aedes mosquito. Their strategy involves continuous campaigns across all wilayats, bringing together 16 teams in collaboration with the Directorate General of Health Services in the governorate.
These teams are executing a total of 5,567 targeted control campaigns aimed at eliminating mosquito breeding areas. In addition to these efforts, 1,599 educational campaigns will be conducted to raise awareness among the community. Sulaiman al Sunaidi, Director General of North Batinah Municipality, emphasized the vital role of the community, stating that while specialized spraying techniques are essential, community involvement is crucial to expedite the process.
Furthermore, Sunaidi stressed the importance of raising awareness about the dangers of mosquito proliferation. He believes that an informed and vigilant community can make a significant difference in curbing the spread of dengue.
Prevention Measures Urged by the Ministry of Health
The Ministry of Health has urged citizens and residents of Oman to take necessary steps to eliminate mosquito breeding sites within their surroundings. This includes properly covering water tanks and cleaning them every five days. It is essential to dispose of water from air conditioners and change water in fountains and swimming pools every five days. Regular monitoring of water reservoirs used for agricultural purposes is also recommended, along with changing water kept in containers for animals and birds every five days.
The Aedes aegypti mosquito, which carries distinctive black and white leg markings along with a lyre-shaped mark on its thorax, is the primary vector for diseases such as dengue, chikungunya, Zika, Mayaro, and yellow fever. Notably, female Aedes aegypti mosquitoes transmit dengue after biting an infected person.
As t he dengue outbreak continues to surge in Oman, it is crucial for the entire community to come together, taking proactive measures to prevent mosquito breeding and protect themselves from this potentially life-threatening disease. The efforts of health authorities, municipalities, and individuals are indispensable in overcoming this growing public health challenge.
For the latest
Dengue News
, keep on logging to Thailand Medical News.