COVID-19 Cases Rising In Indonesia After Muslim Holiday Break. 2,647 New COVID-19 Infections And 25 Deaths In Last 24 Hours
COVID-19 News
: COVID-19 cases are once again rising in Indonesia after the Muslim Holiday break of Idul Fitri as predicted.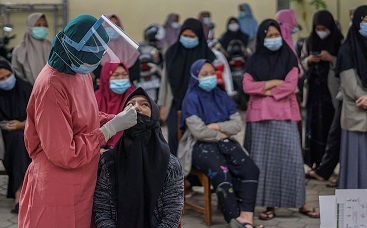 On April 23, a day after Idul Fitri, a low number of confirmed cases was recorded at 384 but it has continued to rise since then.
On Friday the 28th of April, Health authorities reported more than 2067 new daily COVID-19 infections as 'mudik' travellers returned to cities after the holiday break.
This marked the continuing trend thereafter, with daily infections crossing the 2000 mark despite low testing rates. The last time the Indonesia reported more than 1,000 daily cases was four months ago on December 22nd, 2022.
In the last 24 hours, a total of 2,647 new COVID-19 infections and 25 COVID-19 deaths were reported by Indonesian health authorities.
Indonesian officials are warning the local public to be vigilant as COVID-19 cases rise in the country and they predict that the number of COVID-19 cases will continue to surge over the next few days due to the XBB.1.16 variant that is starting to be predominant in the country after being detected on March 23rd with only 10 cases then in Jakarta.
The XBB.1.16 variant along with the increased mobility during the Muslim holiday of Idul Fitri are contributing factors to the rise in COVID-19 infections in the country.
Indonesia's Health Ministry spokesperson Mohammad Syahril said the current uptick in cases was not yet dangerous or significant as the current mortality rate and hospital bed occupancy rates from COVID-19 in the country were still below World Health Organization standards.
He told
COVID-19 News
outlets, "There is no need for the public to panic, but we must still be alert especially as this uptick of cases could have been among the elderly and those with comorbidities."
It was reported however that in the past two weeks, the hospital occupancy rate in Indonesia has risen from 3.63 percent to 7.03 percent, and the number of patients treated has increased from 1,521 to 2,966.
In Jakarta, Indonesia's capital that is the most affected, health agency officials said the current COVID-19 surge is affecting the capital city's hospital bed occupancy rate which currently stands at 16 per cent - double of what it was in early April.
The COVID-19 death toll has also climbed across the country, with the most significant increase of 37 COVID-19 deaths in a day recorded on April 28.
However, the World Health Organization (WHO) has classified the COVID-19 situation in Indonesia as still under control, with a Level 1 threshold of 8,000 cases per day.
Jakarta Health Agency's head of the epidemiology and immunization surveillance division Dr Ngabila Salama told media in a press statement two days ago that the number of daily COVID-19 cases could reach more than 4,000 by next week.
Dr Salama said the spike in the number of COVID-19 cases could be the tip of the iceberg, pointing to the low number of tests carried out and the high positivity rate.& lt;br />
At present, Indonesian government data shows that nationally there are only about 10,000-15,000 COVID-19 tests conducted per day with a positivity rate of between 10 to 20 percent. Indonesia's population is about 274 million!
Dr Salama insisted that the COVID-19 situation in Indonesia is under control and urged locals to remain calm.
Dr Salama however warned that people should remain vigilant and encouraged them to wear a mask in crowded areas and take their booster shots.
Indonesian President Joko "Jokowi" Widodo has urged Indonesians to postpone their return journey and to work remotely as this could help mitigate the potential uptick of cases especially among the vulnerable groups.
The Indonesian ministry's spokesperson, Mohammad Syahril, also urged locals to remain vigilant and follow health protocols, such as wearing masks in crowds and paying attention to personal health and immunity. He said, "The key to preventing transmission is through the implementation of health protocols."
For the latest
COVID-19 News
, keep on logging to Thailand Medical News.