BREAKING! Medical News: Hong Kong Researchers Discover New Strain Of Airborne Melioidosis Bacteria!
Medical News
: Researchers from Hong Kong Polytechnic University have discovered a new strain of Burkholderia pseudomallei or B. pseudomallei, the bacteria that causes Melioidosis.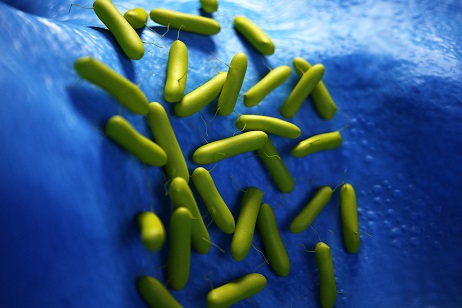 What is worrisome is that this new bacterial genome sequence called ST-1996 is found to be airborne!
https://news.rthk.hk/rthk/en/component/k2/1680677-20221220.htm
Typically, the bacteria is spread through contact with contaminated soil or water, or inhaling contaminated dust.
Shockingly, the Hong Kong researchers discovered the bacteria in air samples for the first time in the city.
Hong Kong has reported an outbreak of melioidosis infections with more than 43 lab confirmed cases so far and many more still under investigation.
27 confirmed cases involved residents from an area known as the Sham Shui Po district.
So far this year, Hong Kong recorded 43 melioidosis infections, of which 27 involved residents of Sham Shui Po. Ten cases have been recorded annually on average over the past five years, less than five recorded in the district in Kowloon.
The source of the infection in Sham Shui Po, as well as the transmission method of the bacteria were unknown. Some experts had previously suggested the possibility of water contamination in freshwater reservoirs.
The research team from Polytechnic University, led by Dr Gilman Siu Kit-hang, associate professor of the department of health technology and informatics, shocking discovered viable melioidosis bacteria in an air samples in the city of Hong Kong.
The air samples were collected near a construction site in Pak Tin Estate on August 15, five days after Typhoon Mulan passed by Hong Kong, marking the first time the bacteria was found to remain in the air after a storm.
The air samples were found to contain a novel genome sequence of the bacteria called ST-1996.
This new strain of Burkholderia pseudomallei was also identified in 38 of the cases recorded by 5 hospitals in Sham Shui Po, Kwai Tsing, Tsuen Wan and Lantau Island from January 2015 to October this year.
Dr Siu told Thailand
Medical News
, "From August to October this year, more than 70 per cent of melioidosis cases in the area got pneumonia. The proportion is significantly higher than in other places such as Australia and Thailand, where less than half of the cases presented with severe symptoms or pneumonia."
The study team said that this new strain is not only be airborne but possibly more pathogenic.
The study team commented, "These clinical and epidemiological findings all suggested that the outbreak in Sham Shui Po is caused by airborne transmission. ST-1996 is a new strain, its sequence is quite similar to some strains found in Hainan and Thailand. But we need further study to find out its level of drug resistance and toxicity."
Scientist believe that the bacteria typically found in soil could have evolved to become airborne and warn that typhoon s and storms can help spread the bacteria.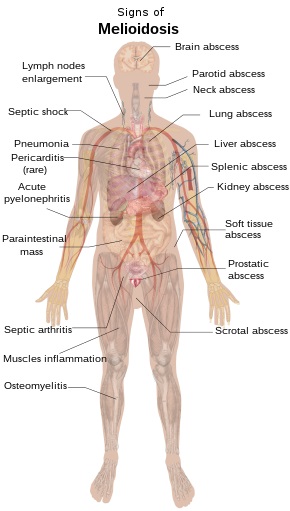 Melioidosis, also called Whitmore's disease, is an infectious disease that can infect humans or animals. The disease is caused by the bacteria Burkholderia pseudomallei or B. pseudomallei, which is found in contaminated soil and water.
Typically, humans and animals are believed to acquire the infection by inhalation of contaminated dust or water droplets, ingestion of contaminated water, and ingestion of soil-contaminated food or other contact with contaminated soil, especially through skin abrasions.
Symptoms of disseminated melioidosis infection include fever, weight loss, stomach or chest pain, muscle or joint pain, headache, and seizures. Localized infections may present with pain, localized swelling, skin infection, ulceration, and abscess formation (with associated fever and muscle aches and pains).
In severe cases, pneumonia, abscess formation blood infections and sepsis can occur with fatal outcomes.
The WHO has been informed of the discovery and various teams of scientists are in the midst of conducting further research and investigation of this new strain of Melioidosis bacteria, its airborne properties and also the possible origin along with the degree of spread of this new strain.
For the latest
Medical News
, keep on logging to Thailand
Medical News
.