The Hidden Threat Lurking in the Wake of COVID-19: The Urgent Need For Sepsis Awareness
Sepsis
: The COVID-19 pandemic has been an unprecedented challenge, but as we see light at the end of the tunnel, another deadly threat emerges. The UK Sepsis Trust (UKST) estimates that 20% of COVID-19 survivors, approximately 100,000 people, are at risk of developing sepsis within the first year of being discharged from the hospital. Unless diagnosed early, this could cost the UK government an additional £1bn in patient care and benefits.
https://sepsistrust.org/new-data-highlight-the-risk-of-repeat-infections-in-covid-19-survivors/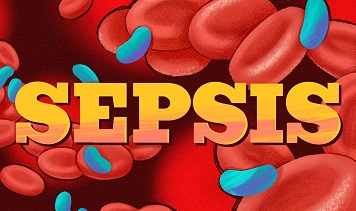 A staggering 245,000 people are affected by
sepsis
in the UK every year, with at least 48,000 losing their lives to this devastating condition. A study by the York Health Economics Consortium reveals that early diagnosis of sepsis could save the NHS over £5,500 per patient. This highlights the urgency of raising sepsis awareness in the wake of COVID-19.
In response to this alarming data, the UKST has launched the 'Blurred Lines' health communications campaign. This initiative seeks to raise awareness of the link between COVID-19 and sepsis and provide support to those affected through the COVID-19 Recovery Response programme. The UKST is calling on the government to invest £1m in the campaign, which could potentially save hundreds of lives and £200m in treatment and benefits.
Sepsis, also known as blood poisoning, is the immune system's overreaction to an infection or injury. While the immune system usually fights infections, in sepsis, it attacks the body's own organs and tissues. Without prompt treatment, sepsis can lead to organ failure and death. Early diagnosis and treatment with antibiotics can dramatically improve outcomes.
Dr Ron Daniels, Founder and Director of the UK Sepsis Trust, emphasizes the critical need for both health professionals and the public to recognize the signs of sepsis. The 'Global Burden of Disease Report' estimated that sepsis affected a staggering 48.9 million people and claimed 11 million lives worldwide in 2017. The growing threat of infectious diseases, like COVID-19 and Ebola, only exacerbates the global burden of sepsis.
Recognizing the symptoms of sepsis is crucial for early intervention and saving lives. Sepsis can affect anyone, regardless of age or health status. Symptoms in adults include slurred speech or confusion, extreme shivering or muscle pain, passing no urine in a day, severe breathlessness, a feeling of impending death, and mottled or discoloured skin.
In children, symptoms may present differently. Parents should seek immediate medical attention if their child has a fever or very low temperature, rapid breathing, seizures, mottled or bluish skin, a non-fading rash, lethargy, or feels abnormally cold to touch. Additional warning signs for children under five include not feeding, repeated vomiting, and not passing urine for 12 hours.
Certain individuals are at higher risk of developing sepsis, including the very young and old, diabetics, those on long-term steroids or cancer treatments, organ transplant recipients, the malnourished, those with serious liver disease or compromised immune systems, pregnant women, and those recovering from surgery.
The UKST recently worked with the popular soap opera Coronation Street to create a sepsis storyline, raising awareness among millions of viewers. This collaboration aims to empower both families and health professionals to recognize sepsis and save lives.
The COVID-19 pandemic has highlighted the devastating impact of infectious diseases, and the hidden threat of sepsis looms large. Investing in sepsis awareness campaigns like 'Blurred Lines' can save lives and ease the financial burden on the NHS and the UK government. By raising awareness and encouraging early diagnosis, we can help to reduce the mortality rate of sepsis and improve outcomes for thousands of patients.
It is crucial that public health campaigns, health professionals, and the general public work together to recognize and address the signs of sepsis. With increased awareness and vigilance, such initiatives can prevent the devastating impact of this life-threatening condition and support those who have survived COVID-19 on their path to recovery.
SARS-CoV-2 Infections And Sepsis
Studies have shown that while bacterial sepsis
causes an early and sudden onset clinical deterioration, viral diseases such as COVID-19 may exhibit a relatively late onset and chronic course.
https://www.ncbi.nlm.nih.gov/pmc/articles/PMC8771020/
https://www.ncbi.nlm.nih.gov/pmc/articles/PMC7765555/
Numerous studies have already validated that COVID-19 infections can trigger sepsis only in those that are having severe COVID-19 but even in those with mild or moderate symptoms and even in the asymptomatics subsequently!
https://www.frontiersin.org/articles/10.3389/fimmu.2021.602848/full
https://www.sepsis.org/news/latest-study-news-on-sars-cov-2-covid-19-and-sepsis/
https://www.nature.com/articles/s41423-022-00909-7
In the U.S., one in three patients hospitalized for COVID-19 develop sepsis.
https://www.ncbi.nlm.nih.gov/pmc/articles/PMC9243246/
It was reported in two published case series about patients with severe COVID-19 from the Seattle-USA, developing septic shock severe enough to require drugs to support the heart and circulation in almost 70% of patients. The overall organ damage among these patients was also substantial. More than 30% of patients in one series had evidence of liver injury and 75% had evidence of a depressed immune response. The other series reported acute kidney failure in almost 20% of affected patients requiring ICU care. In these studies, the great majority of patients tested negative for co-infection of bacteria and viruses. The lack of bacterial or viral co-infection suggests that the observed septic shock and/or organ damage may have been directly related to SARS-CoV-2.
https://www.nejm.org/doi/full/10.1056/NEJMoa2004500
https://jamanetwork.com/journals/jama/fullarticle/2763485
Although viral sepsis is a possible complication of SARS-CoV-2, viral infections alone generally do not cause sepsis as frequently as bacterial infections do. For example, seasonal influenza is commonly associated with bacterial co-infection that leads to severe illness. It is typically this kind of severe illness that requires admission to the ICU and causes ventilator-associated pneumonia. Often times, flu-associated bacterial co-infection is caused by pathogens that colonize in the nasopharynx ie the upper part of the throat that sits behind the nose.
https://www.ncbi.nlm.nih.gov/pmc/articles/PMC6376788
https://www.cebm.net/covid-19/differentiating-viral-from-bacterial-pneumonia/
Typical bacterial pathogens that lead to pneumonia and sepsis include staphylococcus and streptococcus. From the case series previously discussed, COVID-19 may differ from seasonal influenza, causing sepsis more often by itself, rather than from a bacterial co-infection.
Research data suggest that co-infection with COVID-19 may be more common. A study published in April 2020 investigated the co-infection rates between SARS-CoV-2 and other respiratory pathogens and found that more than 20% of positive SARS-CoV-2 specimens also tested positive for one or more non-SARS-CoV-2 pathogens.
https://jamanetwork.com/journals/jama/fullarticle/2764787
These specimens came from symptomatic patients, with symptoms ranging in severity.
A past retrospective study of hospitalized COVID-19 patients found an even greater likelihood of co-infection. The study showed that, of patients who did not survive, half had experienced a secondary infection. Of the non-survivors, 100% of patients had sepsis and 70% were noted to have septic shock.
https://www.thelancet.com/journals/lancet/article/PIIS0140-6736(20)30566-3/fulltext
However, in the case of COVID-19, the virus's effect on the body as a whole and its relationship to sepsis are not yet well understood. This may be due to inconsistent testing for secondary pathogens and because researchers are still trying to determine what the best care and treatments are for COVID-19.
For the latest about COVID-19 Associated
Sepsis
, keep on logging to Thailand Medical News.
Read Also:
https://www.thailandmedical.news/news/covid-19-clinical-care-acute-gastrointestinal-injury-occurs-in-almost-86-percent-of-critical-condition-covid-19-patients,-often-leading-to-sepsis-and-
https://www.thailandmedical.news/news/covid-19-sepsis-italian-researchers-warns-of-antimicrobial-drug-resistant-co-infections-in-covid-19-patients
https://www.thailandmedical.news/news/study-finds-that-covid-19-induced-acute-kidney-injury-similar-to-sepsis-caused-kidney-injury-and-that-mitochondrial-dysfunction-may-play-a-key-role
https://www.thailandmedical.news/news/breaking-fumarate-hydratase-discovered-as-an-enzyme-that-holds-the-key-to-treating-inflammatory-diseases-such-as-lupus,-arthritis,-sepsis-and-covid-19