COVID-19 News: Israeli Study Finds That SARS-CoV-2 Infections Can Trigger New-Onset Atrial Fibrillation!
COVID-19 News
: In the midst of the global COVID-19 pandemic, researchers continue to unravel the complex web of health impacts that the SARS-CoV-2 virus can induce. A new study conducted by experts from the Technion-Israel Institute of Technology and the Lady Davis Carmel Medical Center in Haifa, Israel, sheds light on a potential association between SARS-CoV-2 infections and the emergence of new-onset atrial fibrillation (NOAF), a concerning heart rhythm disorder.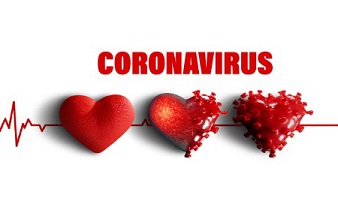 Atrial fibrillation (AFib), characterized by an irregular and often rapid heartbeat, is classified as a cardiac arrhythmia. This condition can lead to the formation of blood clots within the heart, heightening the risk of severe complications such as stroke, heart failure, and other cardiovascular issues. Recognizing the symptoms of AFib, including heart palpitations, an erratic pulse, shortness of breath, dizziness, faintness, or lightheadedness, is crucial for timely intervention and management.
While a number of case reports and past
COVID-19 News
coverages have covered about random cases of infected COVID-19 patients manifesting atrial fibrillation, no study had ever been conducted to actually link SARS-CoV-2 infections with new-onset atrial fibrillation (NOAH) till now.
https://www.cureus.com/articles/91482-new-onset-atrial-fibrillation-in-covid-19-infection-a-case-report-and-review-of-literature#!/
https://amjcaserep.com/abstract/full/idArt/933163
https://www.eurorad.org/case/16883
https://www.heartrhythmcasereports.com/article/S2214-0271(20)30127-5/fulltext
The study's primary objective was to investigate the possible link between SARS-CoV-2 infections and the occurrence of new-onset atrial fibrillation or NOAF.
Despite growing indications of such a connection, scientific evidence has remained limited.
To address this gap, the study team embarked on a nested-case control study, involving a cohort of approximately 2.9 million adults who were beneficiaries of Israel's largest healthcare provider. The investigation spanned from March 1st, 2020, to June 30th, 2022, encompassing the critical phases of the COVID-19 pandemic.
In the course of the study, 18,981 individuals were identified as developing new-onset atrial fibrillation (NOAF), and they were meticulously matched with 189,810 controls. These control subjects were selected based on similar age, sex, and duration of follow-up. By establishing these strict parameters, the study team aimed to ensure the credibility of their findings.
Upon rigorous analysis of the data, the study uncovered a noteworthy association between SARS-CoV-2 infections and the increased risk of NOAF. The adjusted odds ratio (OR) stood at 4.24 (with a 95% confidence interval of 3 .89–4.62), signifying a substantial elevation in the risk of NOAF among those infected with the virus.
To further validate the findings, the study team implemented a lag-time analysis, which considered the time elapsed between the SARS-CoV-2 infection and the onset of NOAF. This analytical approach consistently reaffirmed the connection, with the strength of association slightly diminishing as the lag time extended, eventually stabilizing around a 20-day lag.
In a concerted effort to minimize potential biases, the study team introduced a negative control exposure scenario. This approach involved examining whether a different medical condition, such as low back pain, was similarly linked to NOAF. The results from this negative control analysis were strikingly different, reinforcing the distinctiveness of the observed association between SARS-CoV-2 infections and new-onset atrial fibrillation (NOAF).
As the study provides crucial insights into the interplay between COVID-19 and cardiac health, it underscores the potential role of the virus in triggering NOAF even among individuals not requiring hospitalization. This revelation poses vital questions about the need for enhanced monitoring and care for individuals who have contracted SARS-CoV-2, particularly in the outpatient setting.
In conclusion, the research conducted by the Technion-Israel Institute of Technology and the Lady Davis Carmel Medical Center adds to the growing body of evidence suggesting that SARS-CoV-2 infections might serve as a catalyst for new-onset atrial fibrillation. By meticulously analyzing a substantial cohort of patients and controls, the study illuminates the intricate relationship between viral infections and cardiovascular health. These study findings carry profound implications for medical professionals, prompting a closer examination of the potential cardiovascular consequences of COVID-19 and emphasizing the importance of comprehensive patient care during and after the infection.
The study findings were published a pre-proof in the peer reviewed International Journal of Cardiology.
https://www.sciencedirect.com/science/article/abs/pii/S0167527323011774
For the latest
COVID-19 News
, keep on logging to Thailand Medical News.
Read Also:
https://www.thailandmedical.news/news/cleveland-clinic-and-northwestern-university-study-shows-that-metformin-could-be-repurposed-to-treat-atrial-fibrillation-findings-relevant-in-covid-se
https://www.thailandmedical.news/news/university-of-california-study-shows-that-alcohol-consumption-raises-risk-for-atrial-fibrillation-and-may-give-rise-ultimately-to-heart-failure