COVID-19 News
: The ongoing COVID-19 pandemic has left numerous people grappling with persistent post-COVID-19 symptoms, collectively known as long COVID.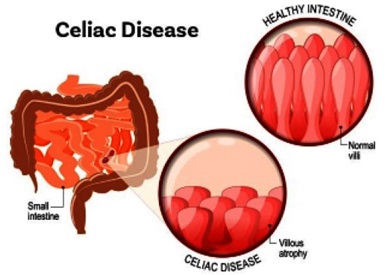 Previous research and
COVID-19 News
coverages have shown that COVID-19 shares immunological traits with autoimmune diseases, including overactivity of certain immune cells. This has led to growing evidence linking COVID-19 with the development of autoimmune disorders such as rheumatoid arthritis, systemic sclerosis, and celiac disease.
A new study has found that COVID-19 also increases the risk of celiac disease, especially for many in the Post COVID phases.
Celiac disease, a prevalent autoimmune intestinal disorder affecting around 1% of the global population, is commonly triggered by a genetic predisposition and a gluten-rich diet. However, studies have also found that gut microbiota imbalances play a role in its development. As changes in gut microbiota are also associated with long COVID-19, they may be potential mediators between COVID-19 and celiac disease, warranting further investigation to determine whether COVID-19 directly causes celiac disease.
Researchers from the Department of Respiratory and Critical Care Medicine at Shanghai Jiao Tong University (SJTU)-China examined the relationship between critical COVID-19 and celiac disease through the lens of gut microbiota using a Mendelian randomization (MR) study.
Understanding the Causal Relationship:
In order to investigate the causal relationship between COVID-19 and celiac disease, the study team conducted a two-step MR analysis, focusing on the gut microbiota, specifically the Victivallaceae family.
Their study findings revealed a causal relationship between critical COVID-19 and an increased risk of celiac disease. This relationship was mediated by a decrease in the abundance of Victivallaceae, further deepening our understanding of the mechanisms connecting COVID-19 and celiac disease.
The Role of Gut Microbiota:
An imbalance in gut microbiota is known to play a role in the development of celiac disease. Dysbiosis, or an imbalance in the gut microbiota, has also been linked to COVID-19 severity. The MR study confirmed the causal relationship between critical COVID-19 and a higher risk of celiac disease by reducing Victivallaceae abundance. Regulating gut microbiota could, therefore, be a feasible measure to improve celiac disease symptoms in patients experiencing post-COVID-19 conditions.
Victivallaceae, a family of bacteria found in the human intestinal tract, has been associated with obesity and clinical response to anti-PD-1 immunotherapy in cancer patients. It is hypothesized that the effect of critical COVID-19 on celiac disease via Victivallaceae abundance may be partially mediated by an inflammatory response.
Strengths and Limitations:
The MR study has several strengths, such as using the largest GWAS database available, eliminating the impact of population stratification, and producing original results. However, there are some limitations, including the focus on a limited number of gut microbiota, a predominantly European ances try study population, and the need for more MR studies to explore the causal relationship between hospitalized COVID-19 patients and other post-COVID-19 conditions.
Conclusion
: The MR study identified a causal role of critical COVID-19 on celiac disease through the mediation of Victivallaceae abundance. The study findings suggest that modifying gut microbiota could help alleviate symptoms for celiac disease patients during the post-COVID-19 period. Future clinical studies on the relationship between gut microbiota and celiac disease could explore potential non-dietary therapies involving the transplantation of Victivallaceae into celiac disease sufferers, followed by rebuilding a healthier gut microbiota. As we continue to grapple with the aftermath of COVID-19, understanding the mechanisms connecting the virus and autoimmune diseases like celiac disease is vital in developing effective interventions and treatments.
The study findings were published on a preprint server and are currently being peer reviewed.
https://papers.ssrn.com/sol3/papers.cfm?abstract_id=4409348
For the latest
COVID-19 News
, keep on logging to Thailand Medical News