BREAKING! American And Argentinian Scientists Find That The Human Respiratory Syncytial Virus (RSV) Is Rapidly Mutating To Evade Vaccines!
RSV Virus News
: A first study by scientists from Ricardo Gutiérrez Children's Hospital, Buenos Aires-Argentina and Vanderbilt University Medical Center, Nashville-USA ash found that the the human respiratory syncytial virus (RSV) is rapidly mutating to evade vaccines!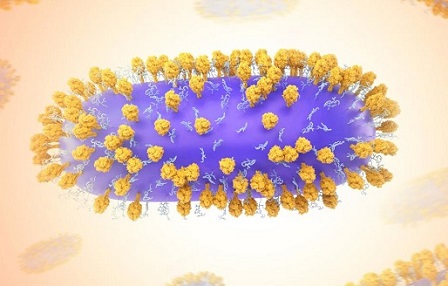 The respiratory syncytial virus (RSV) is a major cause of lower respiratory tract infections (LRTIs) in children worldwide. However, current understanding of RSV spatiotemporal distribution, evolution, and viral variant emergence is limited due to the scarcity of complete genome data. In this study, nasopharyngeal samples were collected from hospitalized pediatric patients in Buenos Aires during four consecutive RSV outbreaks (2014-2017). Random subsampling of these samples allowed for the complete genome sequencing of RSV.
This sequencing effort resulted in one of the largest collections of RSV genomes from a single location, with 141 RSV-A and 135 RSV-B genomes sequenced.
Interestingly, RSV-B was dominant during the 2014-2016 outbreaks, accounting for 60% of cases, but was abruptly replaced by RSV-A in 2017, with RSV-A accounting for 90% of sequenced samples.
This dramatic predominance switch may have been due to the decrease in viral diversity observed in Buenos Aires in 2016, represented by both a reduction in genetic lineages and the predominance of viral variants defined by signature amino acids.
Phylodynamic studies and viral population characterization were performed to better understand the evolutionary dynamics of RSV.
Multiple introductions of RSV to Buenos Aires were detected, some with persistent detection over seasons, and RSV was observed to migrate from Buenos Aires to other countries.
The study findings suggest that the decrease in viral diversity may have allowed for the introduction and successful spread of an antigenically divergent RSV variant in the subsequent outbreak.
The detailed analysis of intra- and inter-outbreak RSV diversity provides valuable insight into the evolutionary dynamics of this important respiratory virus.
The study findings highlight the importance of continuous RSV surveillance to better understand and predict the emergence of novel RSV variants and to inform public health interventions to control RSV infections.
The study findings were published in the peer reviewed journal: Virus Evolution.
https://academic.oup.com/ve/article/9/1/vead006/7003417?login=false
However, according to corresponding author, Dr Suman Das, Ph.D., an associate professor of Medicine at Vanderbilt University Medical Center, developing an effective vaccine is challenging due to RSV's ability to mutate quickly and evade detection by the immune system. Already current
RSV Virus News
coverages are showing that vaccines are failing and breakthrough RSV infections are rising.
Dr Das warned that the virus will continue to evolve even after the vaccine's release, as happened with COVID-19, and that all must comprehend the muta tion's nature to assess its impact on vaccine efficacy.
Dr Das' laboratory is a leader in RSV genome sequencing, aiming to comprehend the viral genetic code's diversity that leads to various virus strains. The study team detailed the diversity of RSV, detailing how the prevalence of a particular strain enabled the emergence of a previously undiscovered strain in 2017.
Dr Das draws a parallel to SARS-CoV-2 and the emergence of the new strain Omicron, which caught the immune system off guard, resulting in its swift spread.
Dr Das cautions that diversity, or the lack of it, could indicate an incoming new strain of the virus. Therefore, exploring different genotypes might be the key to identifying the next virus strain.
A second study by researchers from Vanderbilt University Medical Center-USA, investigate the association between RSV genetic variation with host characteristics, systematically. The study team revealed two differing RSV epidemics in middle Tennessee. The middle Tennessee RSV 2012/2013 epidemic season (November 2012 to March 2013) was dominated by RSV-A strains and was characterized by multiple introductions and rapid spread of both G-72nt-duplicated and non-G-72nt-duplicated RSV-A strains, while in the 2013/2014 epidemic season (November 2013 to March 2014), RSV-B strains were predominant and cocirculated with G-72nt-duplicated RSV-A strains.
The recent surge in RSV infections starting in late 2022 at children's hospitals across the United States had prompted the development of several vaccines, with two already recommended for older adults by the US Food and Drug Administration.
While respiratory syncytial virus (RSV) poses a considerable health burden on children, older adults, and the immunocompromised, little attention has been paid to identifying the frequency of new RSV genotypes and how the combination of nasopharyngeal microbiome and viral genotypes affect RSV disease outcomes.
In this observational cohort aimed at capturing the first infant RSV infection, the study team employed multi-omics approaches to sequence 349 RSV complete genomes and matched nasopharyngeal microbiomes. During the 2012/2013 season, RSV-A dominated, while RSV-B dominated in 2013 and 2014.
The study findings suggest that non-G-72nt-duplicated RSV-A strains are more common in male infants (P = 0.02), while G-72nt-duplicated genotypes (ON1 lineage) are equally distributed in both males and females. DESeq2 testing of the nasal microbiome revealed that Haemophilus was significantly more prevalent in infants with RSV-A infection than in infants with RSV-B infection (adjusted P = 0.002). Moreover, the broad microbial clustering of the abundant genera was significantly linked to infant sex (P = 0.03). Overall, the study highlights sex variations in RSV genotype and host nasopharyngeal microbiome, indicating a complex interplay between host genetics, virus genotype, and associated nasopharyngeal microbiome.
The study used multi-omics approaches to sequence 349 RSV complete genomes and matched nasopharyngeal microbiomes. The study team found sex-related differences in RSV genotype-nasopharyngeal microbiome interactions, suggesting an interplay between host genetics, virus, and microbiome that requires further investigation.
The study was published in the peer reviewed Journal of Virology.
https://journals.asm.org/doi/10.1128/jvi.01472-22
The study builds upon previous collaborative research by Dr Das, Dr Stokes Peebles, MD, Dr Tina Hartert, MD, MPH, and colleagues at Emory University School of Medicine and the J. Craig Venter Institute.
Their past work showed a correlation between RSV and asthma, as well as increased severity of RSV infections in male infants. The most recent study discovered that a specific strain of RSV was more prevalent in male infants who had bacterial infections in their nasal passages. The researchers emphasized the importance of understanding how different RSV genotypes and host factors impact disease severity in order to develop a successful vaccine. They also stressed the need for surveillance and sequencing programs to identify emerging RSV variants and update vaccines accordingly. Dr Das explained, "We want to be ahead of the game by knowing where the virus is evolving and how vaccines are driving evolution."
For the latest
RSV Virus News
, keep on logging to Thailand Medical News.