BREAKING NEWS! South Korea Delays Easing Of Virus Curbs Amid Soaring COVID-19 Cases And Hospitalizations
COVID-19 News
: In a surprising turn of events, South Korea has announced the postponement of its ambitious plan to ease anti-virus restrictions and transition back to pre-pandemic norms. The decision comes as the nation grapples with a sharp surge in COVID-19 infections and hospitalizations.
https://www.youtube.com/watch?v=MiayqA3SRp4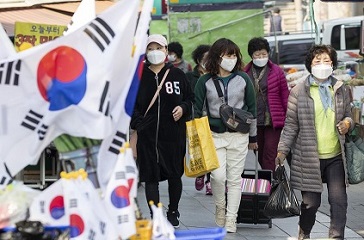 The Korea Disease Control and Prevention Agency (KDCA) made the announcement on Monday, revealing that the eagerly anticipated announcement to lower the COVID-19 disease level to Class 4 and eliminate mask mandates in hospitals, scheduled for Wednesday, has been placed on hold.
A spokesperson from the KDCA told local
COVID-19 News
outlets, "Given the persistent increase in new daily infections over the past six weeks, we must intensify our monitoring efforts. Our new plans will be devised after a comprehensive review of the evolving epidemic landscape and consultation with esteemed experts."
The initial plan aimed to transition the infectious disease level of COVID-19 from its current Class 2, the second-highest level, to the lowest level of Class 4. This was a strategic move intended to restore the healthcare system to full normalcy.
Under Class 4 categorization, diseases such as influenza and hand, foot and mouth disease are subject to specimen-based surveillance, differing from Class 2 ailments like tuberculosis, measles, and cholera, which mandate isolation for infected patients.
The proposed changes included lifting the remaining mask mandate at high-risk facilities, particularly in general hospitals, and ceasing the monitoring of all COVID-19 patients by the government. However, the rising tide of infections has forced a reevaluation of these plans, prompting the authorities to prioritize public health and safety.
Data from the past week ending July 31, 2023, revealed an alarming 23.7 percent surge in new infections compared to the previous year, totaling a staggering 313,900 cases. A significant proportion of the population, nearly 45,000 individuals, were confirmed to be infected with the virus. Worryingly, the KDCA has projected a further escalation, forecasting a potential surge to 76,000 new daily cases by mid-August.
Hospitalizations are also increasing at a fast rate, putting a strain on the country's public healthcare infrastructure.
What is worrying in the current surge is that babies, young children and young adults are also getting seriously sick with many manifesting signs of disease severity.
Due to very low genomic sequencing, it is very premature to say which SARS-CoV-2 sub-lineages are driving the surge but it will most likely be sub-lineages from the XBB family.
The sudden and drastic shift in strategy underscores the gravity of the situation faced by South Korea. The government's decision to delay the relaxation of anti-virus measures reflects a prudent approach, prioritizing public health above all else.
For more updates on the
COVID-19
crisis unfolding in South Korea, keep on logging to Thailand Medical News.
Read Also:
https://www.thailandmedical.news/news/covid-19-crisis-in-south-korea:-soaring-test-kit-prices-and-a-surge-that-experts-say-is-worse-than-last-winter