Australia Braces for More COVID-19 Waves Amid Rising Cases and New Booster Campaign. XBB.1.16 And XBC.1.6 Expected To Lead New Onslaughts
COVID-19 News
: The COVID-19 situation in Australia continues to escalate as the nation records its seventh-straight week of increased cases. With 26,531 new confirmed cases and 90 deaths reported this week, authorities are urging Australians to receive their booster doses as soon as possible. Hospitalizations have risen to 1,508, but the number of people in intensive care has slightly dropped to 33.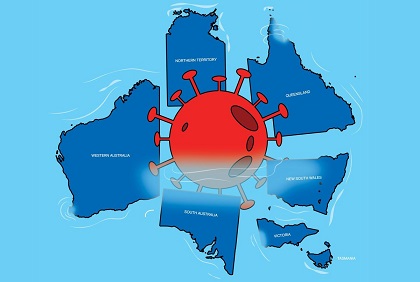 Every state and territory in Australia reported more infections this week, with New South Wales leading the numbers with 9,684 cases. As the end of the summer wave subsides and winter approaches, Chief Medical Officer Paul Kelly warns that new COVID-19 waves are imminent, making it crucial for the public to remain vigilant.
Local
COVID-19 News
coverages show that new South Wales not only has the most number of new weekly COVID-19 infections but also rising hospitalizations including ICU admissions and also deaths. Almost 900 individuals are now hospitalized for COVID-19 in the past week.
In response to the rising cases, the government is rolling out a new ad campaign this weekend to encourage higher booster rates. Recent figures show that one million people have received their 2023 booster doses, with 70% of them being over the age of 60.
Additionally, eligibility for the antiviral COVID-19 treatment Paxlovid will be expanded under the PBS (Pharmaceutical Benefits Scheme). Australians aged between 60 and 69 with only one risk factor for severe illness will now be able to receive the subsidized treatment starting on Saturday.
Health Minister Mark Butler emphasized that the COVID-19 waves are not over, and it is essential to reinforce standard messages about remaining COVID safe. As Australia braces for new COVID-19 waves, the government continues to prioritize targeted messages for higher-risk individuals and efforts to increase booster uptake.
As Australia faces the possibility of more COVID-19 waves, the government is taking additional steps to support the healthcare system and the public. The High Risk Settings Pandemic Payment scheme, which provided a lump sum payment of up to $750 to workers in high-risk settings who had taken unpaid leave due to COVID-19, will be replaced by a new Commonwealth program focusing on aged care workers. This move is expected to impact thousands of health and disability workers, narrowing the eligibility criteria.
The Australian government has also extended leave grants of $750 for aged care workers who are forced to isolate due to COVID-19 but lack leave entitlements. These provisions, initially scheduled to end in March, will now continue from April 1 for eligible staff.
Australians are urged to follow the COVID safe guidelines, including hand hygiene, mask-wearing, and social distancing. As the winter season approaches, it is essential for the public to be aware of the potential increase in COVID-19 cases and to take necessary precautions.
The government also stresses the importance of staying informed about the latest COVID-19 updates and guidelines, as the situation remains fluid. It is crucial for Australians to understand the risks associated with the virus and adhere to public health measures to minimize the spre ad.
XBB.1.16 And XBC.1.6 To Lead New COVID-19 Onslaught
While the main sub-lineages at the moment in Australia are the XBB.15 , XBB.1 and the XBB.1.9.1, it is expected that the more transmissible sub-lineages that have a much more better growth factor such as the XBB.1.16 and XBC.1.6 are expected to lead the new onslaughts in Australia for the period starting now till Winter.
https://cov-spectrum.org/explore/Australia/AllSamples/Past6M/variants?nextcladePangoLineage=xbb*&
https://www.thailandmedical.news/news/covid-19-news-south-australia-facing-a-new-sars-cov-2-onslaught-by-the-deltacron-xbc-1-6-sublineage
https://www.thailandmedical.news/news/who-sounds-alarm-about-xbb-1-16-that-seems-to-be-mutating-rapidly-and-spawning-newer-sub-lineages-as-its-starts-its-global-ravage
In summary, as Australia experiences rising COVID-19 cases and anticipates new waves, the government is focusing on increasing booster rates, expanding eligibility for antiviral treatments, and supporting healthcare workers. Australians are encouraged to remain vigilant and follow COVID safe guidelines to help mitigate the impact of the pandemic.
For the latest
COVID-19 News
, keep on logging to Thailand Medical News.