Japan Facing A COVID-19 Catastrophe With Emergence Of New SARS-CoV-2 Sub-Lineages Driving Disease Severity While Authorities Try To Underplay Situation!
SARS-CoV-2 Is Now Evolving To 'Out' Governments That Have Been Trying To Conceal Its Threat By Further Driving Disease Severity That Cannot Be Kept Hidden!
COVID-19 News
: Researchers and scientist are sounding warnings that urgent studies are needed on the emerging SARS-CoV-2 sub-lineages that are currently circulating in Japan that are not only driving a surge in COVID-19 infections but also a surge in disease severity as evident by the rising hospitalizations.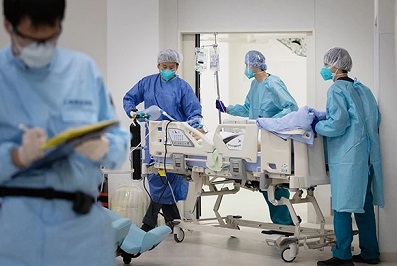 COVID-19 hospitalizations have increased at an exponential rate in the last three weeks across all prefectures in Japan, literally driving the public healthcare to the verge of collapse.
The country has seen a rise in COVID-19 cases for 8 straight weeks since May 8, when it downgraded the disease to a status on par with seasonal flu. The number of new hospital cases stands at 6,096 in the week through July 9, up from 5,494 a week before and is still increasing at an alarming rate.
Local Japanese experts are warning that Japan's ninth wave of COVID-19 infections is continuing, with the average number of new cases reported by around 5,000 designated medical institutions in the week through July 9 standing at 9.14, up from 7.24 a week before.
COVID-19 cases are seen rising at alarming rate in 45 of the nation's 47 prefectures, but the increases stand out in western Japan.
The Okinawa prefecture continues to see by far the highest number of patients per institution, at 41.67, though that is down slightly from 48.39 a week before. The Kyushu region has seen major increases, particularly in Kagoshima (17.18), Miyazaki (16), Saga (15.33) and Kumamoto (11.99) prefectures.
According to local
COVID-19 News
reports, during the recent seven-day period, 45,108 cases of COVID-19 were reported in 45 of 47 prefectures or subdivisions in Japan.
Experts are predicting that the trend will continue amid high heat, declining population-level immunity and the start of the holiday season. Warnings are also being issued that the elderly and young children are at a high risk
While some stupid 'experts' in certain South East Asian countries lacking any proper international credentials and also garbage media that are basically low-end news aggregators run by Australians and British in Asia who could not make it in their own home countries are claiming that the EG.5.1 sub-lineage is merely causing mild infections, Japanese physicians are sounding alarms of various kinds of anomalies that they have never witnessed before besides just disease severity. For instance, seemingly healthy individuals testing positive for COVID-19 with mild symptoms for a few days suddenly deteriorating at a rapid phase and dying from COVID-19. High fevers that last for days despite usage of anti-pyretic medications are also another anomaly being commonly seen.
The EG.5.1 sub-lineages are evolving at an unprecedented phase and spawning many concerning sub-lineages itself with unique mutations.
81">https://cov-spectrum.org/collections/181
https://twitter.com/mrmickme/status/1680773597210755074
It is now being speculated that some of these new EG5.1 sub-lineages could be driving disease severity and could also emerge as new VOCs with threat level similar to Delta if not worse and studies are currently underway to ascertain this.
Interestingly, Japan that has a very high COVID-19 vaccination and booster rate is not only seeing a rise in COVID-19 disease severity in this current surge but is also witnessing a surge in a wide array of other respiratory infections.
In the weekly report (for July 3 to 9) of the National Institute of Infectious Diseases in Japan, the number of herpangina, RSV (respiratory syncytial virus), influenza cases significantly increased from the previous week.
In the case of Herpangina, infections increased by 13% from the previous week and is at a record high when compared to data over the last 10 years.
RSV infections have increased by 6.6% from the previous week and influenza cases increased by 31.7% from the previous week. It's a record high for the same period in the last 10 years.
Hand and foot disease is also increasing at an alarming rate among children according to local reports.
Some doctors speculate that previous COVID-19 infections and also the vaccinations are driving immunodeficiency issues among the local masses, making them more susceptible to other infections and pediatricians are concerned that the innate immune systems of children are also being badly affected.
While Japan is undergoing a health crisis, local authorities there are finding ways to underplay the situation by censoring and restricting not only local coverages of what is happening but more so censoring all foreign coverages of COVID News and SARS-CoV-2 research developments while only focusing on the vaccines as the solutions to the COVID-19 crisis. (Most probably being pressured by the WEF, WHO and the American Government that is forcing most other governments to adopt such strategies.)
Readers are also advised to monitor what is brewing the next few weeks in countries like South Korea, Singapore, China, Taiwan, Philippines, Myanmar, Vietnam and Cambodia.
For the latest
COVID-19 News
, keep on logging to Thailand Medical News.