Thailand Medical: COVID-19 Infection Rising Exponentially In Bangkok. Local And Foreigners In The Country Should Take More Precautions
Thailand Medical
: It is interesting to note that prior to the Songkran break, no local authorities or so called Thai medical 'experts' warned the local population to take heed and adopt safety measures during the holiday season as the SARS-CoV-2 virus was still wreaking havoc across other geolocations in the world and also due to the emergence of various more transmissible, more immune evasive and pathogenic SARS-CoV-2 sub-lineages such as the XBB.1.16, XBB.1.9.1, XBB.1.9.2, XBB.2.3 and XBB.2.6 sub-lineages in many parts of the world.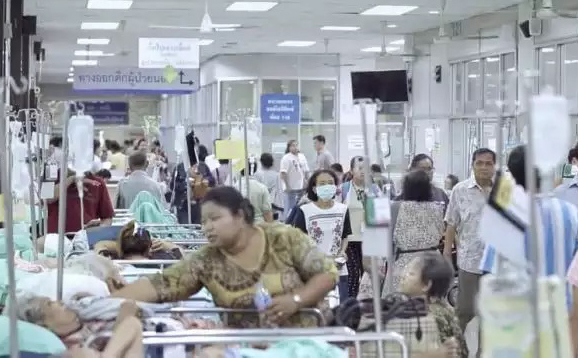 Instead, many locals were under the impression that COVID-19 was over or that it is mild and with the easing of various preventive measures, we had scenarios of locals and foreigners in overcrowded settings with many not even wearing masks during the Songkran festivities.
Fast forward, in the Post Songkran holiday scenario, we are now seeing a rise of COVID-19 infections across the country with a gradual daily rise in hospitalizations.
Officials and so-called
Thailand Medical
'experts' who make public statements that the current sub-lineages are only causing mild and non-severe infections should be countered with legal law suits as they are spreading dangerous misinformation and also making the masses to become more complacent. We still do not know what infections with these new emerging XBB sub-lineages can cause in terms of long-term health and medical issues or even in weeks after exposure. Also, despite claims that the current boosters can help prevent disease severity, many in the vulnerable groups even after having received boosters are still susceptible to disease severity with these more immune evasive variants especially the aged, the obese, those with existing comorbidities, those who are immunocompromised and also those with certain genetic makeups.
In Bangkok, it is now being reported that the daily number of COVID-19 infections is now more than 700, up from 400 prior to the Songkran holidays and these numbers are still increasing.
Many private hospitals are also seeing an increase in COVID-19 admissions not just in Bangkok but across the country.
The Bangkok Metropolitan Administration or BMA has warned that because many cases are not being reported or as a result of many not being tested, the actual daily infections could be much higher in the capital as could even exceed more than 1,000 cases per day.
According to the BMA, only 27 cases infection with the XBB.1.16 sub-lineages has been identified in Bangkok so far. (Please note that we cannot ascertain if this is true).
It should be noted that according to data from the COV-Spectrum platform that is based on genomic sequencings uploaded on GISAID, there are currently more than 25 different XBB sub-lineages in circulation in Thailand including the new XBB.2.3, XBB.2.3.3, XBB.2.4. XBB.2.5, XBB.2.6 and XBB.8 sub-lineages besides XBB.1.16, XBB.1.9.1 and XBB.1.9.2
https://cov-spectrum.org/explore/Thailand/AllSamples/Past6M/variants?nextcladePangoLineage=xbb*&
In another development, an unidentified homeless man aged about 50 years who had tested positive for COVD-19 was found dead at the Tha Phra Chan area of Bangkok which is quiet near to the Khao San area that is famous with tourist. Preliminary autopsy details had showed that he died from a pneumonia infection possibly caused by the SARS-CoV-2 virus.
Bangkokians and visitors to the capital should take more precautions like masking, social distancing and also avoiding crowded areas.
Keep on logging to
Thailand Medical
News for the latest COVID-19 Updates.