BREAKING! Scientists Warn Of Seven-Fold Rise in Incidence Of Stevens-Johnson Syndrome & Toxic Epidermal Necrolysis Due To COVID-19 And Vaccines!
Potentially Life-Threatening Conditions, Characterized By Severe Mucocutaneous Hypersensitivity Reaction Linked To COVID-19 Infections & COVID-19 Vaccines
Medical News
: In a shocking development, researchers from Concord Repatriation General Hospital and the University of Sydney in Australia have revealed a concerning association between Stevens-Johnson syndrome (SJS) and toxic epidermal necrolysis (TEN) with COVID-19 infections and COVID-19 vaccines.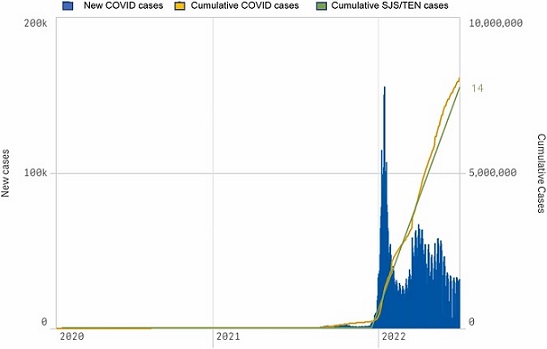 COVID & SJS/TEN cases diagnosed
These rare, potentially life-threatening conditions, characterized by severe mucocutaneous hypersensitivity reactions, have shown a seven-fold increase since the COVID-19 pandemic began. This alarming rise correlates with the surge in COVID-19 infections and vaccination rates. Scientists are now exploring the complex immunopathological relationships between these conditions and proposing several theories to explain their possible associations.
Stevens-Johnson syndrome (SJS) is a rare, serious disorder of the skin and mucous membranes. It's usually a reaction to medication that starts with flu-like symptoms, followed by a painful rash that spreads and blisters. Then the top layer of affected skin dies, sheds and begins to heal after several days
Toxic epidermal necrolysis (TEN) is a potentially life-threatening condition characterized by extensive exfoliation of the epidermis and mucous membrane, which may result in sepsis and death.
Stevens-Johnson syndrome and toxic epidermal necrolysis are both known to involve T-cell mediated pathways. While the exact mechanisms are still not fully understood, studies suggest that these conditions can be triggered by virus-induced, vaccine-induced, or threshold-lowering pathways.
The researchers present the largest case series to date, shedding light on the potential links between COVID-19, vaccines, and the development of SJS and TEN. Prior to the pandemic, their institution typically managed two to four cases per year, but in the first six months of 2022 alone, they witnessed fourteen cases. Five of these cases had a recent COVID-19 infection, while three had received a COVID-19 vaccine in the preceding month. Intriguingly, all fourteen cases had received a COVID-19 vaccine.
These patients received various medications, some known to trigger these conditions, during their treatment. Despite the challenge of establishing causality, given the involvement of other potential triggers, the significant increase in incidence since the pandemic and vaccination campaigns is deeply concerning.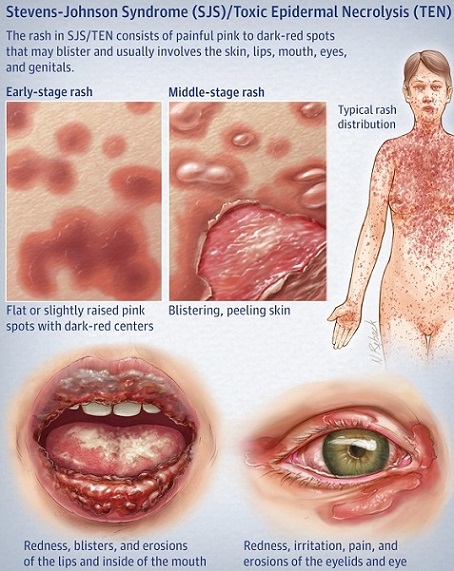 ; To explain this sudden rise, the study team propose three theories. Firstly, the SARS-CoV-2 virus itself may directly bind to receptors, triggering a T-cell mediated response that subsequently leads to SJS or TEN. Other viruses, such as herpes simplex, Epstein-Barr, cytomegalovirus, and influenza, have already been implicated in the development of these conditions. Secondly, the COVID-19 vaccine might directly bind to receptors and trigger a similar immune response. Many drugs, like viruses, have been known to induce these reactions by binding to MHC class I and activating cytotoxic T cells. Finally, the virus or vaccine might lower the threshold for a drug to trigger SJS or TEN. It is hypothesized that the virus or vaccine "primes" the immune system, making it more susceptible to developing a hypersensitivity reaction to certain drugs.
Corresponding author, Dr Edward A Stanley, a professor at the School of Medicine, The University of Sydney told Thailand
Medical News
, "This groundbreaking study underscores the urgent need for further research into the impact of viruses like SARS-CoV-2 on immune-mediated diseases such as SJS and TEN. With the rapid increase in COVID-19 cases and vaccination rates worldwide, it is crucial to understand and mitigate any potential risks associated with these treatments. The scientific community must work diligently to unravel the complex immunopathological mechanisms involved in these conditions, ensuring the safety and well-being of individuals receiving COVID-19 vaccines or facing COVID-19 infections."
As the medical community continues to grapple with the multifaceted consequences of the COVID-19 pandemic, studies like this provide critical insights that can shape public health strategies and guide future research efforts. The fight against COVID-19 extends beyond the immediate threat of the virus itself, and vigilance is required to address the potential unintended consequences that may arise along the way.
The study findings were published in the peer reviewed journal: Burns (Science Direct).
https://www.sciencedirect.com/science/article/pii/S0305417923001286
For the latest
Medical News
, keep on logging to Thailand
Medical News

.