COVID-19 News: While Authorities And Mainstream Media Downplay COVID-19 Crisis In France, Hospitals Are Under Stress Due To Increasing Caseloads!
COVID-19 News
: Authorities in France are trying their best to conceal the current impact of the COVID-19 crisis in the country not only to foreigners but also to their own local citizens. The media in cahoots with local authorities are only reporting on trivial issues like about the bed bug issue in France when COVID-19 infections are going up and so are COVID-19 hospitalizations.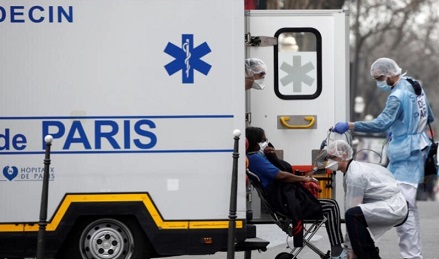 Credit: REUTERS/Benoit Tessier/File Photo
The French health authorities have even placed geo-location blocking for its website that reports on COVID-19 issues so that foreign journalist in other countries are not allowed to access its COVID-19 data.
https://www.santepubliquefrance.fr/
The local French media are not allowed to report on the local COVID-19 situation but are allowed to feature COVID-19 News coverages related to other countries.
The French health minister did however comment a few days ago in a local
COVID-19 News
coverage that COVID-19 infections were rising and that this would be inevitable and advised local citizens to get their vaccines.
https://www.connexionfrance.com/article/French-news/Covid-19/Covid-cases-really-are-rising-in-France-says-health-minister
He however stopped short of releasing any COVID-19 statistics such as weekly infections or COVID-19 hospitalization rates or even about the number of COVID-19 test being conducted daily and the COVID-19 test positivity rates.
Already social media post of certain platforms are showing a very worrisome issue as to what is developing at various hospitals around France.
A recent post on twitter simply said it all.
https://twitter.com/Brevesdepresse/status/1709240751949852696
Reports are also emerging that France is facing an acute shortage of various different types of drugs including certain basic antibiotics!
Thailand Medical News will be providing more updates on the situation in France and we also welcome readers sending links to any important updates and videos etc.
For the latest
COVID-19 News
, keep on logging to Thailand Medical News.