COVID-19 News: XBB.1.5 Is Not As Worrisome As Compared To China's Unique BF.7 and BA.5.2 Sub-lineages That Are Driving Hospitalizations And Deaths!
COVID-19 News
: While some stupids named XBB.1.5 as Kraken, a legendary frightful sea-monster of enormous size said to appear off the coasts of Norway to instill fear in the masses and was surprisingly adopted by many hypocritical virologists and variant trackers who in the past accused Thailand Medical News of being a fear monger (White racist hypocrites always have double standards!), people should be more concerned about the current variants that are predominant in China that are driving increased hospitalizations and deaths.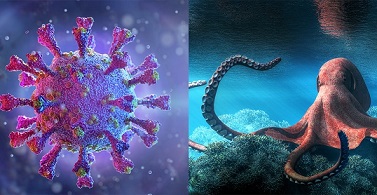 Some stupid doctors even had the audacity to say that the China variants are mild and are not as serious as XBB.1.5! We are not seeing increased deaths, mortuaries that are spilling over with corpses or serious long queues in crematoriums in the United States where the XBB.1.5 is currently the predominant circulating variant as compared to what is happening in China.
Strangely enough while there is a lot of talk about Kraken online and in many mainstream
COVID-19 News
coverages, there is not much about being researched or talked about the unique BF.7 variant in China with the C1243F mutation or about the various BA.5.2 sublineages with unique mutations of their own that are predominant in China.
https://www.thailandmedical.news/news/covid-19-news-besides-bf-7-with-c1243f-mutation,-other-new-concerning-sublineages-from-ba-2-3-20-and-ba-5-2-with-new-mutations-identified-in-china
Perhaps we need to name these variants and sub-lineages to get more attention. Maybe name B.7 and the BA.5,2 sub-lineages after some famous terrifying Chinese mythological monsters like Bai Ze, Jiangshi, Bashe etc
https://gobookmart.com/7-deadly-monsters-in-chinese-mythology/
Whatever it is, the situation is getting more worrisome in China as hospitals there are literally overflowing and COVID-19 death rates are indeed high with mortuaries really overflowing with bodies and crematoriums overwhelmed and even local physicians are saying that the number dying daily from COVID-19 are exceeding more than what was predicted by foreign media! The daily COVID-19 deaths could be as high as between 11,000 to 16,000!
https://www.theguardian.com/world/2022/dec/30/china-covid-experts-estimate-9000-deaths-a-day-as-us-says-it-may-sample-wastewater-from-planes
Scenes and updates at the various hospitalizations, mortuaries and crematoriums are showing images that are worsening.
https://apnews.com/article/politics-health-china-government-beijing-762d314d452875ecc525d5c21dbfa541
ng-hospital-as-covid-19-spreads/articleshow/96772415.cms?utm_source=contentofinterest&utm_medium=text&utm_campaign=cppst">https://economictimes.indiatimes.com/news/international/world-news/beds-run-out-at-beijing-hospital-as-covid-19-spreads/articleshow/96772415.cms?utm_source=contentofinterest&utm_medium=text&utm_campaign=cppst
https://www.youtube.com/watch?v=dyTs-fxIHDc
https://www.youtube.com/watch?v=8BmQ6bTAF8s
https://twitter.com/tyrannywillend/status/1609374758965248000
https://www.theglobeandmail.com/world/video-queues-at-morgues-as-china-condemns-traveler-covid-curbs/
https://twitter.com/ChinaUncensored/status/1608982326578667523
https://twitter.com/DailyLoud/status/1610840024748118018
https://twitter.com/moneycontrolcom/status/1607713071388332032
https://twitter.com/WaliKhan_TK/status/1611055694060605442
While some 'experts are claiming that China's sub-standard vaccine strategy has led to the majority having lower immunity protection hence the increased hospitalizations and deaths, there is emerging data showing that many who were fully vaccinated and also many otherwise healthy young adults and teenagers are also dying in the current onslaught.
Though there are increased genomic sequencings being submitted by China, no Western experts are conducting detailed research on these Chinese variants as compared to XBB.1.5. Even China's leading variant researcher seems to be more preoccupied with XBB.1.5 than the variants in China! (Maybe he is planning to seek political asylum in the U.S or Europe soon!)
https://twitter.com/yunlong_cao
While we know that the American variant, XBB.1.5 has better growth advantage, is more transmissible and more immune evasive, there is no evidence that it is more pathogenic or virulent or is causing drastic increases in hospitalizations or deaths. (Except for those in the vulnerable groups.) In fact, instead of Kraken, it should be renamed Shrek, a monster with a frightening appearance but who is actually good at heart!.. 'except for the serious long-term health issues that it can cause innocently!'
https://twitter.com/Tuliodna/status/1610710511783493658
As of now, we still do not have much data about the immune evasiveness, binding capability and transmissibility data about the Chinese variants with unique mutations.
Furthermore, there are strong suspicions that China is not divulging fully all its genomic sequencing data!
For the latest
COVID-19 News
, keep on logging to Thailand Medical News.