COVID-19 News: SARS-CoV-2 Infections Surging In Italy Once Again As EG.5 Variant And Its Spawns Become Predominant In Circulation
COVID-19 News
: Italy finds itself grappling with yet another surge in COVID-19 cases, marking a disconcerting trend of rising infections. Data released by the health ministry and the Higher Health Institute (ISS) on Friday reveals a staggering 44% increase in COVID-19 cases over the past week, with the number of new cases surging from 21,316 to 30,777. The incidence rate has also climbed, reaching 52 cases per 100,000 inhabitants, up from 36 in the previous week. In light of this concerning epidemiological situation, experts are emphasizing the importance of reinforcing protection and prevention measures, especially targeted at the vulnerable population.
https://www.epicentro.iss.it/coronavirus/bollettino/Bollettino-sorveglianza-integrata-COVID-19_13-settembre-2023.pdf
https://www.ansa.it/english/news/general_news/2023/09/15/covid-19-infection-rate-up-again-in-italy_9e2e8415-5ade-415b-84a7-eaf7d2e5af4d.html
https://www.ilfattoquotidiano.it/2023/09/15/la-variante-eris-continua-a-crescere-e-prevalente-per-il-435-reinfezioni-di-covid-stabili-al-39/7293364/
Local
COVID-19 News
coverages are also indicating a shortage of COVID-19 rapid test kits at various pharmacies while clinics and hospitals are seeing a rise in patients once again.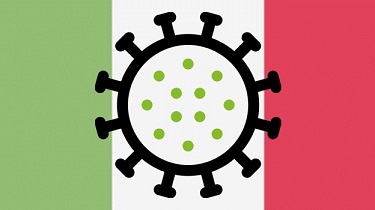 The Eris Variant and Escalating Concerns
Adding to the complexity of Italy's COVID-19 situation is the emergence and dominance of the EG.5 variant, commonly known as Eris. This variant now accounts for a significant 43.5% of cases in Italy, as well as in several other countries. Health experts have expressed growing concerns about Eris due to its resistance and ability to evade immunity, whether from previous infections or vaccinations. This heightened resistance can be attributed to a specific mutation, F456L, found in the Spike protein of the virus.
Moreover, the latest sequencing data, as of September 11, 2023, highlights the co-circulation of omicron recombinant viral strains, primarily attributable to XBB lineage, with a notable 13.9% being XBB.1.5 (Kraken). Additionally, EG.5, a descendant of XBB.1.9.2 with the added F456L mutation, has seen a substantial increase, now accounting for 43.5% of cases. Notably, there are no sequences of the BA.2.86 lineage (Pirola) deposited in I-Co-Gen (the Italian platform for SARS-CoV-2 sequences), a lineage characterized by numerous Spike protein mutations.
Alarming Incidence Rates
Data from the ISS's Integrated COVID-19 Surveillance for the period of September 4, 2023, to September 10, 2023, show a concerning incidence rate of 44 cases per 100,000 inhabitants. This represents a significant increase compared to the previous week's rate of 31 cases per 100 ,000 inhabitants. The incidence rate is on the rise in most regions, with the Veneto Region experiencing the highest incidence at 69 cases per 100,000 inhabitants and Molise having the lowest at 8 cases per 100,000 inhabitants.
The transmissibility index (Rt), based on cases with hospitalization as of September 5, 2023, is at 1.20, indicating that the virus is spreading at an accelerated pace. Furthermore, rates of serious illness, including hospitalization, ICU admissions, and deaths, are either stable or slightly increasing across all age groups. The highest rates are observed in the 90+ age group, emphasizing the vulnerability of elderly individuals to severe COVID-19 outcomes.
Conclusion and Recommendations
Italy is currently facing a worrisome resurgence of COVID-19 cases, driven in part by the prevalence of the Eris variant and its heightened resistance to immunity. The increasing incidence rates and the strain on medical facilities, including hospitalizations and intensive care unit admissions, raise concerns about the healthcare system's capacity to manage the surge.
In light of this situation, public health authorities and experts are urging the reinforcement of protection and prevention measures. This includes prioritizing vaccination efforts, particularly for vulnerable populations, as well as continued adherence to mask-wearing, social distancing, and hand hygiene. It is essential for the public to stay vigilant and cooperate with authorities to curb the spread of the virus and prevent further strain on the healthcare system.
As the situation continues to evolve, ongoing monitoring, research, and international collaboration will be crucial in understanding the dynamics of the Eris variant and its implications for the global fight against COVID-19. Italy, like many other nations, faces the challenge of adapting its response to address emerging variants and ensure the safety and well-being of its citizens.
For the latest
COVID-19 News
, keep on logging to Thailand Medical News.