Revolutionary Breakthrough: Daily Glucosamine Intake Reduces Dementia and Alzheimer's Risk - A New Ray of Hope!
Imagine a world where a simple supplement could potentially protect you from the debilitating effects of dementia and Alzheimer's disease.
A groundbreaking study conducted by scientists from the Hong Kong University of Science and Technology (Guangzhou), Guangdong – China has opened the doors to that possibility, suggesting that regular
glucosamine
usage may indeed lower the risk of developing these life-altering conditions. This captivating discovery has far-reaching implications for the future of dementia prevention and treatment.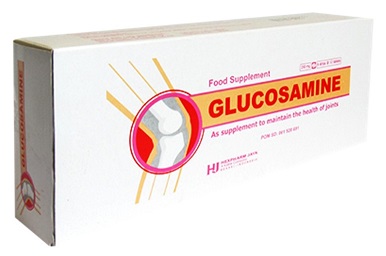 Dementia and Alzheimer's disease are notorious for their progressive cognitive decline and reduced ability to perform daily activities. These conditions place immense burdens on affected individuals, their families, and healthcare systems. In the absence of effective pharmaceutical therapies for dementia, researchers have been vigorously exploring modifiable factors that could have protective effects against these brain disorders.
Enter glucosamine, a widely-used non-mineral, non-vitamin supplement typically employed to alleviate joint pain and osteoarthritis. This wonder compound has been found to possess anti-neuroinflammatory and neuroprotective properties. Glucosamine is easily available and is very affordable, making it a cost-effective option for many.
Previous research has even suggested a link between glucosamine consumption and improved cognitive function, likely due to its impact on energy metabolism and involvement in the O-linked N-acetylglucosaminylation of proteins. However, limited data existed on the relationship between glucosamine intake and dementia risk - until now.
The comprehensive prospective cohort study assessed a whopping 55,794 participants from the UK Biobank, aged 40 to 70 years, with no history of dementia. The research spanned 22 sites across the United Kingdom, including Scotland, Wales, and England, from 2006 to 2010. To further test the causal relationship between glucosamine usage and dementia, a sophisticated two-sample Mendelian randomization (MR) analysis was conducted using genome-wide association study (GWAS) summary-level data.
After a nine-year follow-up period, the study found that daily glucosamine usage was associated with a remarkable 15.0% lower risk of any-cause dementia, 17.0% for Alzheimer's disease, and 26.0% for vascular dementia.
Furthermore, glucosamine use was linked to improved cognitive functions, including higher reasoning scores and faster reaction speeds compared to non-users.
Importantly, the apolipoprotein E (APOE ε4) genotypes for dementia did not modify the association, indicating that glucosamine's protective effects were independent of these known risk factors.
The study team hypothesize that glucosamine, which can pass through the blood-brain barrier, may enter the hippocampus, cortex, and striatum, thus exerting its beneficial effects on the brain. Moreover, glucosamine may simulate low-carbohydrate diets by reducing glycolysis, increasing amino acid catabolism, and potentially reversing intestinal microbial dysbiosis.
This monumental study has shed light on the potential causal relationship between glucosamine usage and a lower ris k of dementia. The findings offer a glimmer of hope for millions worldwide who face the life-altering impacts of dementia and Alzheimer's disease.
However, the researchers emphasize the need for future randomized controlled trials (RCTs) to validate and expand upon their findings.
In conclusion, this exciting discovery has the potential to spark a new era in dementia prevention and treatment. With the power of glucosamine at our fingertips, we may be one step closer to a brighter, dementia-free future. Get ready to share this extraordinary news with your friends and family, because this article is primed to go viral!
Details of Results From Study Abstract
It was found that during a median follow-up of 8.9 years, there were 2458 cases of all-cause Dementia, 924 cases of Alzheimer Disease and 491 cases of Vascular Dementia. In multivariable analysis, the hazard ratios (HR) of glucosamine users for all-cause Dementia, Alzheimer Disease, and Vascular dementia were 0.84 (95% CI 0.75–0.93), 0.83 (95% CI 0.71–0.98), and 0.74 (95% CI 0.58–0.95), respectively.
The inverse associations between glucosamine use and Alzheimer Disease appeared to be stronger among participants aged below 60 years than those aged above 60 years (p = 0.04 for interaction).
The APOE genotype did not modify this association (p > 0.05 for interaction). Single-variable MR suggested a causal relationship between glucosamine use and lower dementia risk. Multivariable MR showed that taking glucosamine continued to protect against dementia after controlling for vitamin, chondroitin supplement use and osteoarthritis (all-cause Dementia HR 0.88, 95% CI 0.81–0.95; Alzheimer Disease HR 0.78, 95% CI 0.72–0.85; Vascular Dementia HR 0.73, 95% CI 0.57–0.94). Single and multivariable inverse variance weighted (MV-IVW) and MR-Egger sensitivity analyses produced similar results for these estimations.
The study findings from this extensive cohort and MR analysis offer compelling evidence for the possible causal relationship between glucosamine intake and a reduced risk of Dementia, Alzheimer's disease, and Vascular Dementia. However, these findings warrant further investigation and confirmation through randomized controlled trials.
The study findings were published in the peer-reviewed BMC Medicine Journal.
https://bmcmedicine.biomedcentral.com/articles/10.1186/s12916-023-02816-8
For the latest on
Dementia, Alzheimer and Vascular Dementia
, keep on logging to Thailand Medical News.